As the new year rolled around, no one could have predicted the drastic changes grocery retailers would face in the first half of 2020. The COVID-19 pandemic created major disruptions in consumer buying patterns, online shopping, and store operations.
Consumer Buying Patterns
A big change in consumer buying patterns is the reversal of long-term food spending trends. Since the early 1990s, food retail gradually declined as foodservice sales increased. Food retail's share of food spending increased from 50% in February to 63% in March to 68% in April, according to the U.S. Grocery Shopper Trends 2020 report from FMI.
"The COVID-19 pandemic has completely changed consumer behavior and spending, creating significant challenges for CPG companies seeking to appropriately allocate their resources and effectively meet consumer demand," said Dr. Krishnakumar (KK) S. Davey, president of strategic analytics, IRI, in a press release announcing the IRI CPG Demand Index. The index tracks the weekly changes in consumer purchases, by dollar sales, compared to the same period last year.
As many areas of the country went under stay-at-home directives in March, consumers responded with panic buying that led to out-of-stock items and purchase limits. Buying peaked the weeks of March 15 and 22, leveled out for the following four weeks, and then jumped again around the end of April. Sales in in most food categories remained well above 2019 levels into July.
The IRI CPG Demand Index below show sales in the grocery channel since February. (100 equals the same as last year, above 100 is an increase, below 100 is a decrease.)


(Source: IRI)
Food Winners and Losers
The clear department winner is frozen foods, an obvious stock-up item for many consumers. Drilling deeper into data from the IRI Demand Index for fresh food categories reveals big gains for seafood sales. The uptick is generally attributed to consumers cooking more seafood at home because they cannot go to restaurants, which have typically been the major buyer of seafood.
However, fears of contracting the coronavirus shrunk deli and prepared food sales. The index for deli foods hit a low of 56 in mid-April, but rebounded to 75 by early July.
The natural products category has continued strong. Sales grew faster than conventional sales before and during peak pandemic stock-up, according to COVID-19 and Navigating the Path Ahead: Supporting The Natural Products Consumer, a report from SPINS and IRI. Also, as consumers looked to adopt healthier habits, organic food sales increased, as indicated by a mid-April Ecovia report and the 2020 Q1 Organic Produce Performance Report from the Organic Produce Network.
Plant-based meat sales have also done well, according to the Plant Based Foods Association. Sales were up 148% over last year, spiking at 50% over the peak panic buying of animal-based meat (see chart below).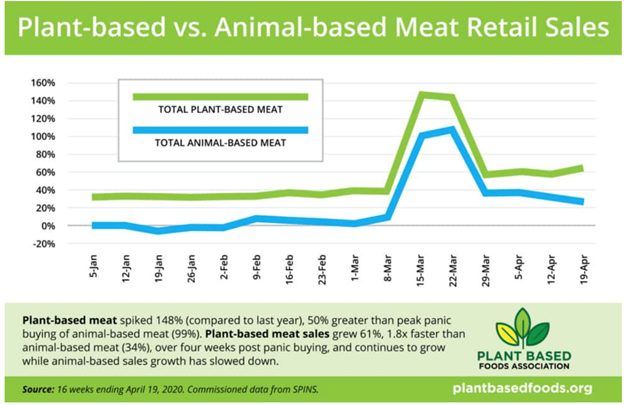 Grocery Store Visits
Another consumer behavior shift was in number of visits to the grocery store. In April the top 12 grocery stores saw an average decrease of 19.7% in visitors year over year, according to research from Placer.ai. Visits rebounded somewhat in May, still down 10.1% year over year.
The amount of change varied significantly depending on the retailer. Whole Foods and Trader Joe's were the hardest hit. Lidl managed to escape any decline in visits. (See Grocery Store Visits graph below for the change in monthly visits year over year for the top stores.)

(Source: Placer.ai)
Shift to Online Shopping As consumers made fewer store visits, online shopping for delivery and pickup soared. In mid-April, 28% of U.S. adults reported they shopped online more often than before the pandemic, 20% shopped online for the first time, and 7% returned to online shopping after a lapse, as indicated by FMI's U.S. Grocery Shopper Trends 2020.
Online grocery sales set a monthly record of $7.2 billion in Online grocery sales set a monthly record of $7.2 billion in June, according to research from Brick Meets Click and Mercatus. That represented a 9% increase over May's $6.6 billion in online sales, which was a 24% increase over April. Sales are up from $1.2 billion in August 2019. (See June Scorecard chart below for key metrics related to online ordering.)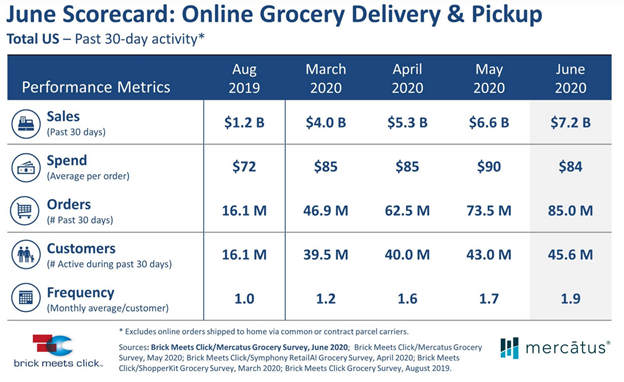 (Source: Brick Meets Click)
Operational Changes and Challenges
Meeting the challenges of COVID-19 required grocery retailers to adopt many operational changes. Social distancing requirements led to face masks, single-direction aisles, in-store shopper limits, and plastic protective barriers at checkouts. Stores implemented new cleaning protocols, including disinfecting carts, baskets, and registers. More stores promoted touchless payment. Special hours for shoppers at higher risk for COVID-19 became common. Some chains began operating dark and semi-dark stores to meet the demand for online orders.
Grocers were forced to make huge changes in prepared foods and self-serve departments. Bulk food containers and salad bars shut down. "The COVID-19 virus shattered consumer confidence in the safety of unpackaged food," stated Progressive Grocer's 87th Annual Report of the Grocery Industry.
Perhaps one of the biggest changes was hiring and wage increases. Between March 2 and May 11, listings for the job of grocery manager increased 648% on the job site Glassdoor. By mid-April, Walmart had hired more than 150,000 workers for its stores and warehouses. In mid-May, Kroger announced the company had hired more than 100,000 new workers since the start of the pandemic, while at the same time increasing the average wage to more than $15/hour.
Many stores implemented temporary wage increases for employees or gave out bonuses. However, some companies, such as Kroger and Albertson's, already ended increases, despite criticism of the move. In contrast, a few companies, such as H-E-B and Target announced permanent wage increases.
The challenges are likely to continue, especially with the second surge in COVID-19 cases that began in late June. Even with increased sales, margin growth has lagged significantly, according to McKinsey & Co. Scaling up onlineordering and delivery systems presents an additional cost.
At the same time, economic concerns mean many consumers have less money to spend. "Many retailers are caught between the demand of reassuring consumers, protecting workers, and maintaining supply at increasing costs, and the need to maintain value for consumers," stated McKinsey.
---
 By Carol Wiley, freelance writer and editor based in Seattle, WA. Reach her at carol@carolwiley.com.