The state of the marketplace for food and beverage industry leaders is volatile as it pushes companies into a downturn spiral. A staggering 1,406 restaurants in the U.K. alone closed their doors in the 12 months leading up to May 2022 – up 64% from the previous year, according to research from UHY Hacker Young.
A dive into the Business Insights and Conditions Survey (BICS) for March 2022 shows numerous challenges experienced by food and beverage businesses, from the energy crisis to labor shortages and fluctuations in supply chains, all of which tips businesses closer to the prospect of insolvency.

Business owners must keep their fingers on the pulse to forecast whether the cash in the business is sufficient to maintain operations and overcome the following volatile market conditions:
Energy prices – An unsurprising 60% reported being affected by the rise in energy prices, compared with 38% across all sectors. This had a direct effect on production and supply as goods now cost more to produce and business models that were once efficient before the energy crisis are no longer sustainable.
EU transition period – Approximately 31% of businesses in the food and beverage sector reported global supply chain challenges due to the end of the EU transition period in the form of disruption, higher costs, and increased red tape.
In search of a remedy, over half of food and beverage sector businesses turned their attention and custom to U.K. suppliers to incorporate diversity, while 25% expanded in different modes of freight to mitigate disruption.
Significant price increases -The average price of materials, goods, and services across supply chains soared to 100% or more. While food and drink businesses pay more for domestic and imported food, consumer prices are subsequently increasing. Food and beverage prices for consumers saw the highest annual growth rate (5.1%) since September 2011.
As a desperate lifeline to stay afloat and cope with increased costs, 58% of F&B businesses reported passing on price increases to customers in March 2022, which monumentally changed consumer spending habits. As the price of shopping baskets increased during a period of record high inflation and the cost-of-living crisis, 31% of respondents reported spending less on food shopping and essentials.
In January 2023, online grocers Ocado reported record Christmas sales according to The Guardian, although basket volumes fell 8.3% year-over-year in light of the cost-of-living crisis.
Labor shortages – 28% of businesses in the F&B sector reported experiencing worker shortages, in line with other sector businesses. This can be attributed to difficulties in recruiting and maintaining production and managerial staff.

To combat the hurdle, 29% of businesses reported paying higher wages for existing employees and 30% for new employees as the cost-of-living crisis raises employee expectations.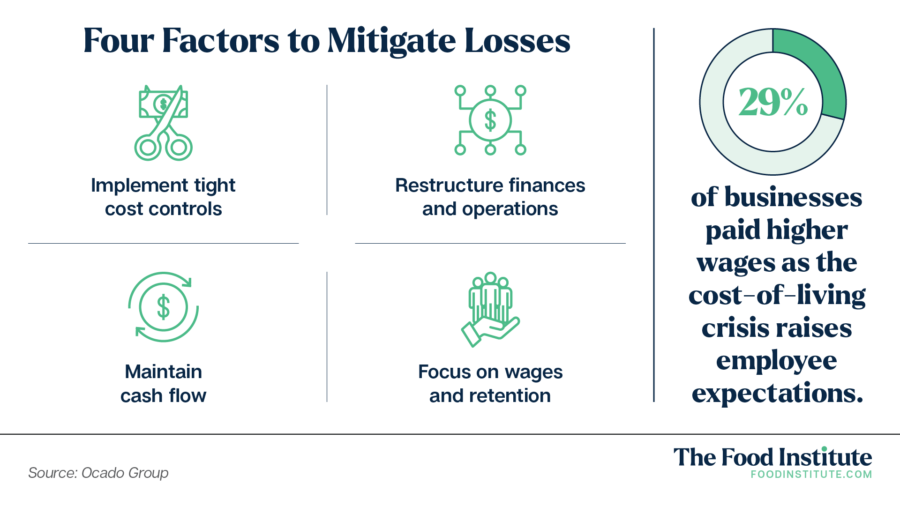 A lifeline for food industry leaders
Tight cost controls – Implement tight controls on costs to remain affordable for customers and operate a sustainable business model.
Restructuring – Return to the drawing board and review the financial and operational structure of the business to flush out inefficiencies and enhance cash flow and profitability. Restructuring can take many forms, such as corporate simplification, streamlining, or refinancing.
Balance sheet – Do company liabilities outweigh assets on the balance sheet? As new financial challenges disrupt production and supply chains, it's easy to lose track of company creditors. Keep tabs on creditor pressure and rebalance the scales so assets outweigh liabilities.
Cash flow – Is there sufficient cash flow to pay immediate short-term expenses and maintain long term loans?
Employee satisfaction – Survey employees to gauge satisfaction and focus on wages and retention to prevent an exodus as average pay across the sector inevitably increases to tackle the labor shortage.
The stakes are high for food industry leaders as disruption from the coronavirus pandemic continues to shape spending habits.
This is when self-care is essential as intervention from the right professionals, at the right time, can prevent the collapse of a business that was once prosperous.
Editor's note: Keith Tully is a highly experienced insolvency and company restructuring expert at Real Business Rescue.