Although the frozen food aisle showcased a 3% increase in dollar sales for the 52 weeks ending Oct. 17, a 0.5% drop in unit sales indicates demand in the red-hot frozen sector could be cooling, according to Food Institute analysis of IRI data.
However, sector analysts believe this blip belies strong demand for the category overall among consumers.
Growth for Frozen Meals, Breakfast Foods Outpace Pizza
Convenience remained king in the frozen aisle, with frozen meals posting a 4.5% increase in dollar sales to $23 billion. An underlying unit sales growth rate of 0.2% showed that despite growing inflationary pressures, consumers were still looking for ready-to-heat options to feed their families in the comfort of their own homes.
Unit sales increases for frozen dinners/entrees (+1.6%) and frozen breakfast food (+4.3%) showed American consumers were turning more towards these meal solutions for their daily meals.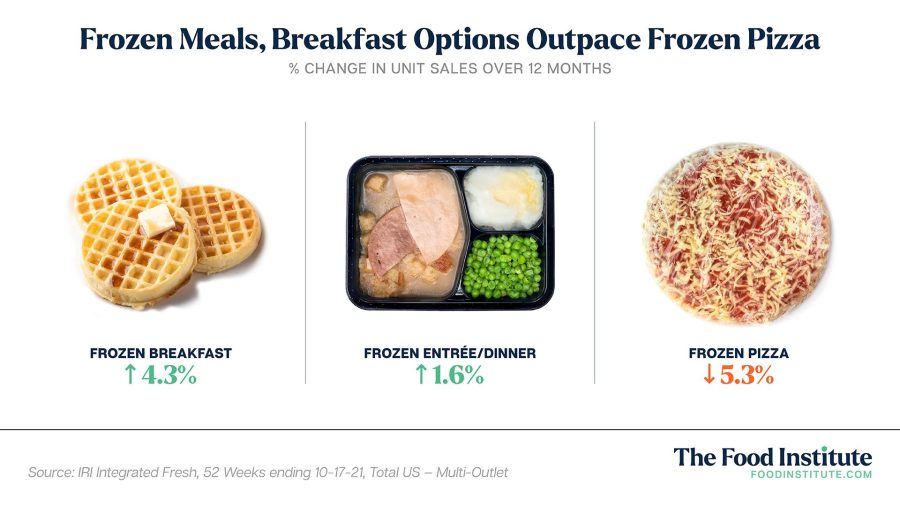 "While normally time is the big pressure point for the breakfast meal occasion, shoppers had a little more time to warm up some waffles, pancakes or breakfast sandwiches rather than hurrying out the door with a breakfast bar in hand," said Anne-Marie Roerink, Principal at 210 Analytics LLC, in an e-mail to The Food Institute.
However, frozen pizza unit sales slowed (-5.3%), indicating consumers were either still frequenting their local pizzerias, or looking for more innovative frozen items.
"Frozen pizza had a monster year in 2020, especially early on in the pandemic as an easy meal to have on hand…So frozen pizza was last man standing for a few months, creating a very tough road for growth this year.
Roerink wasn't the only one who was bullish on the pizza market: Future Market Insights projects demand for frozen pizza to rise in the U.S. over the next ten years.
---

---
Seafood Leads the Pack of Frozen Animal Proteins
Frozen animal proteins (a category that includes meat, poultry, and seafood) saw significant increases during the period. The category overall saw dollar sales rise 4.4% to $16.6 billion, and a 0.1% increase in unit sales shows consumers are sticking with frozen animal proteins in the current inflationary environment.
Frozen seafood purchases drove the increase of the frozen animal protein category, rising 6.8% to $7.2 billion on a dollar sales basis. Unit sales also increased (+3.3%), tying into a larger theme for consumers turning towards blue foods.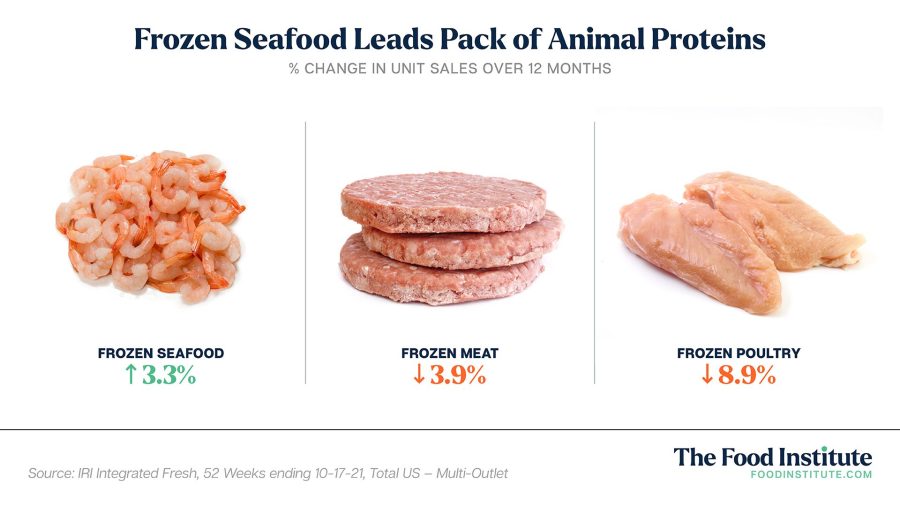 "While small, seafood has seen unbelievable growth and continues to pace ahead of year ago levels. Frozen seafood is still 40% or more above the 2019 pre-pandemic normal and fresh is about 30% ahead," said Roerink.
The category was also boosted by a 5.7% increase in unit sales for processed poultry.
However, a closer look into the frozen animal proteins category shows an interesting story: decreases for both dollar sales and unit sales for frozen poultry (-4.6% and -8.9%) and frozen meat (-0.3% and -3.9%) indicate consumers are buying less of these products overall. These unit losses outpaced those found in the meat department, with fresh chicken (-3%), turkey (-5%), and beef (-3.2%) all posting losses as well.
"Last year, during the fresh protein shortages, we saw shoppers seamlessly switch over to frozen meat and poultry and that again makes it hard for meat to top those numbers. However, right now, with renewed constraints, we're seeing frozen gear up once more," said Roerink.
Frozen Produce, Beverages Pull Unit Sales Down
Unit sales of frozen fruits & vegetables (-3.8%) and other frozen foods (-20.7%) were the main catalysts of the category's overall unit sales drop, with frozen plain vegetables (-6.3%) representing the lion's share of the decrease. Losses in prepared vegetables and corn on the cob also pushed the category down.
The frozen beverages market also showed the effects of inflation, with dollar sales up 0.1% to $274.1 million despite a 7.4% drop in unit sales during the period.