In the seasonal candy playing field, Easter has been knocking it out of the park.
Per IRI data, combined sales for chocolate and non-chocolate seasonal candy totaled $1.3 billion in the 7-week period ending April 3, 2021, according to the National Confectioners Association (NCA) State of Treating Report — a noteworthy 16.7% increase from 2020's monumental peaks.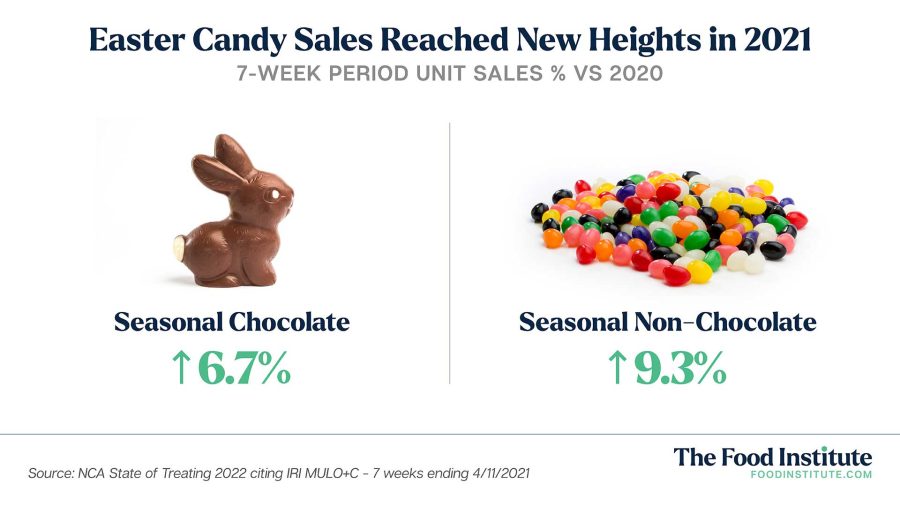 Furthermore, a recent NCA survey predicts that 2022 Easter confectionery sales will continue their upward trajectory with a 5%-7% increase year over year, reported Candy & Snack Today.

Holiday Showdown
Easter candy sales fell just short of the $1.4 billion combined total for winter holiday confections in 2021 and well above other seasonal heavy hitters, including Halloween ($840M) and Valentine's Day ($678M).
Furthermore, in a recent Instacart survey conducted by The Harris Poll, nearly two-thirds of Americans (65%) agreed that Easter candy is the best seasonal candy, and 57% said Easter candy is better than Halloween candy.
"Although Halloween may be the ultimate sweets holiday largely centered around trick-or-treating for fun-sized candies, there's a sensible reason many folks are more partial to Easter candy," said Instacart trends expert Laurentia Romaniuk in a company blog post. "With marshmallow chicks, chocolate bunnies and eggs, and jelly beans hitting store shelves just once a year, consumers are able to look forward to the limited-time offering of the specialty candies."

Playing Favorites
While most U.S. consumers agree that Easter candy is a high priority, they are more divided on the type of treats to include in their baskets.
According to an NCA raking, 44% of Americans favor chocolate eggs and bunnies, followed by jelly beans (20%), candy-coated eggs (18%), and marshmallow candy (15%).
In terms of brand preference, Instacart data from 2021 revealed the most purchased Easter candies by volume in the weeks leading up to the holiday.
The top five are:
Cadbury Easter Creme Eggs
Reese's Peanut Butter Eggs
Starburst Easter Jelly Beans
Cadbury Chocolate Mini Eggs
Hershey's Milk Chocolate Kisses
The Instacart survey also tallied the most popular Easter candies by state. With a stronghold on the West Coast, Cadbury Easter Creme Eggs ranked most popular in 24 states, while Reese's Peanut Butter Eggs led in 20 predominantly Midwest and East Coast states. Combined, these two seasonal treats are the winning Easter candies across 88% of the country.