A recent webinar from market research firm IRI unpacked various snacking opportunities around the globe that are enticing shoppers amid current economic challenges and new patterns of consumption.
Here are a few key takeaways:
Packaging for Redefined Convenience
Increased at-home occasions have reshaped when, where, and why people snack.
51% of U.S. consumers are looking for snacks that can be eaten on-the-go — but that doesn't necessarily mean "out-of-the-house" anymore.
"With hybrid working models, consumers are eating in the home as well as out of home," said Sally Lyons Wyatt, EVP & Practice Leader at IRI, in the webinar. "What we found is the variety of packaging has changed to align with that."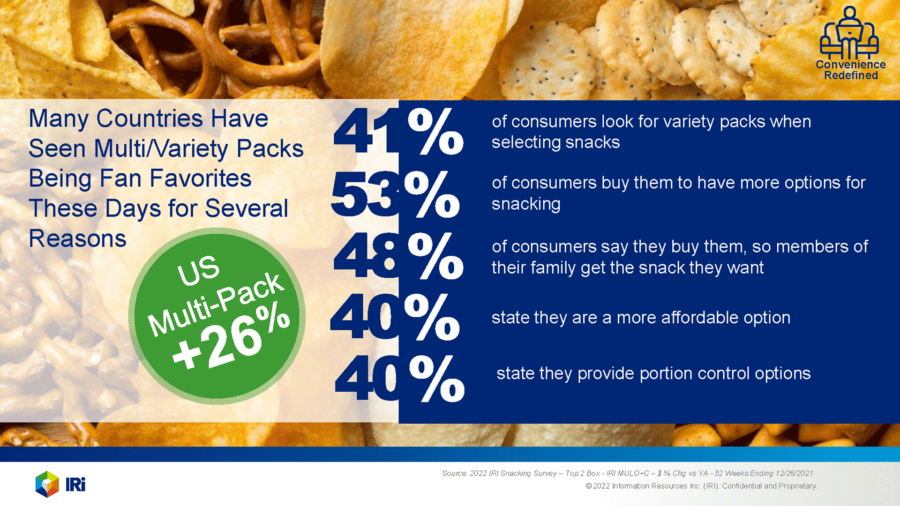 The use of resealable bags is trending across Europe, while multi/variety packs continue to retain popularity internationally.
From a dollar perspective, the U.S. has seen a 26% increase in multipacks across IRI's food, drug, and mass convenience channels while units and volume are also growing, said Wyatt.

Experiential Influencers
"Consumers are looking for snack products with more than one benefit across sustainability and holistic health," said Wyatt.
Food manufacturers who communicate these benefits through on-packaging claims and digital engagement — with a focus on monitoring what resonates with their target consumers — are best positioned for success.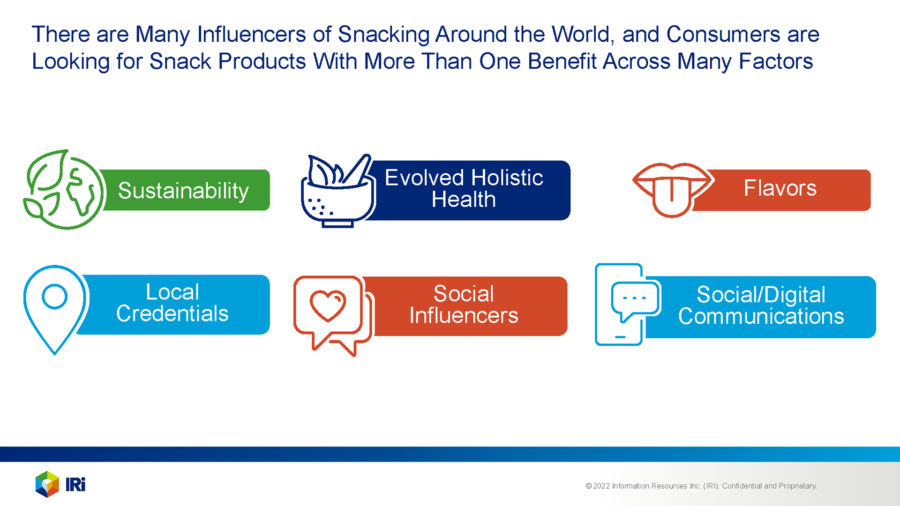 Sustainability
Sustainably marketed products are important to consumers and the snack category is no exception. Recent targets include:
Increased prioritization of clean label claims, including Fairtrade, B Corporation, Rainforest Alliance Certified
Eco-friendly packaging innovations like substituting plastic with paper or glass.
Upcycling, or reusing excess food from other productions as ingredients
Evolved Holistic Health
Snacks catering to dietary requirements are fueling category growth. In the U.S., for instance, 29% of consumers buy snacks to support the diets they follow.
Trends with traction include:
Zero/No Sugar: Strong in the U.S. with potential internationally.
Protein/Energy: From a functional standpoint these are fan favorites. In several countries including Italy, the U.S. and U.K., the protein offer is expanding into new categories like pudding, bagels, chips, and confectionary.
Plant-based: While it has yet to appeal to the masses, plant-based is gaining penetration and increasing sales.
Immunity/Gut Health, Probiotics: IRI predicts that this trend will transcend the others in terms of expansion into new snacking categories.

Leveraging Flavors
Consumers turn to snacks for excitement and experiences and don't want to sacrifice taste and flavor.
In the U.S., 88% of consumers eat snacks that have the flavor they prefer. However, they also like to experiment. For instance, fruit flavors have been strong performers but hot and spicy is currently outpacing them.
Internationally, IRI is also seeing some shake up in mixing of savory, sweet, hot, and spicy.
Additional Trends to Watch:
Multi-benefit / Cause Based Cobranding
LTOs / New Holidays
CBD
Edible Packaging
Traceable Fruits and Vegetables
Meal Kits & Shoppable Recipes