Grocery shoppers are on the hunt for deals with food-at-home prices rising 14.4% year-over-year as of July 31, according to new data from IRI.
"Consumers are responding to rising prices by shopping promotions, prioritizing value options, and trading down to avoid going without," said Krishnakumar (KK) Davey, president of thought leadership for CPG and retail for IRI, in a statement.
IRI noted that food and beverage inflation persists despite recent price decreases in other areas of the economy, such as gasoline.
Food categories with the largest recent price increases include: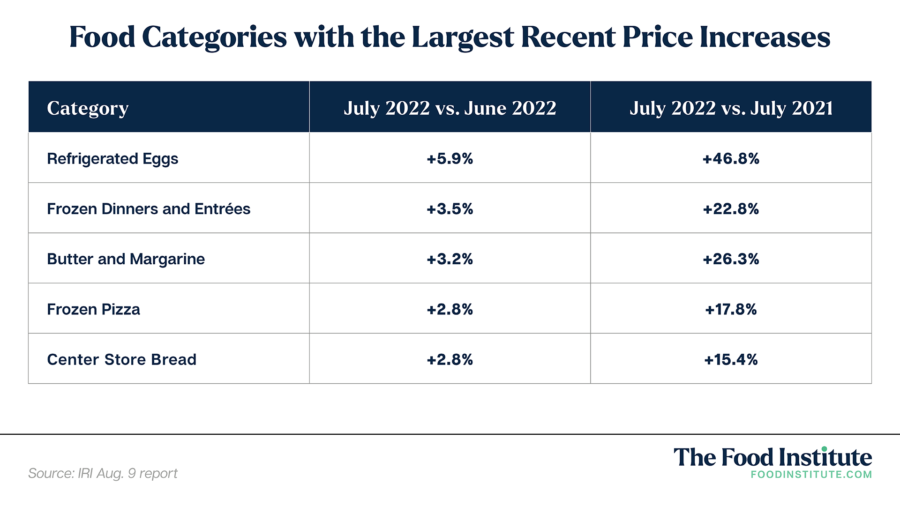 Meanwhile, a few food categories have seen price decreases recently, including fresh citrus fruit (-2.4% in July 2022 versus a month prior) and bacon (-1.4% month-over-month).
BARGAIN HUNTING ABOUNDS
Consumers are responding in eye-opening fashion when promotions are available. In some of the most-promoted categories within the grocery channel over the month leading up to July 10, percent of dollar sales and percent of sales volume lift have increased significantly.
For example, 55% of ice cream and sherbet was purchased at promotional pricing in the aforementioned four-week period, 9% above what it was two months ago.

CONSUMERS SEEKING VALUE-ORIENTED CATEGORIES
In the 13-week period ending July 10 versus the previous 13-week period, consumers bought less in categories such as sports drinks (-9%), refrigerated entries (-8%) and frozen novelties (-6%).
Conversely, during that time frame, consumers purchased greater-value meal solutions such as pasta (+6%) and frozen potatoes (+6%).
 PRIVATE LABEL IS GROWING
In the four-week period ending July 24, private label share grew most in food and beverage categories like fresh eggs (+6%), sugar (+5%), and bottled water (+4%).
In summarizing the entirety of IRI's report, Davey said: "We are advising our manufacturer clients to deploy all levers of strategic revenue management, prioritize strong in-market execution, and invest in retailer partnerships to ensure that the right products are available in the right places at the right times."