From bottled water and better-for-you bubblies to convenient coffees and cocktails, the beverage market is booming.
Total sales for center store beverages reached $86 billion in the 52-week period ending June 12, per IRI, making the category second largest by dollar size across total edibles.
What's more, this figure excludes several fast-growing perimeter categories, including refrigerated ready-to-drink smoothies, coffees, teas, and alcoholic beverages.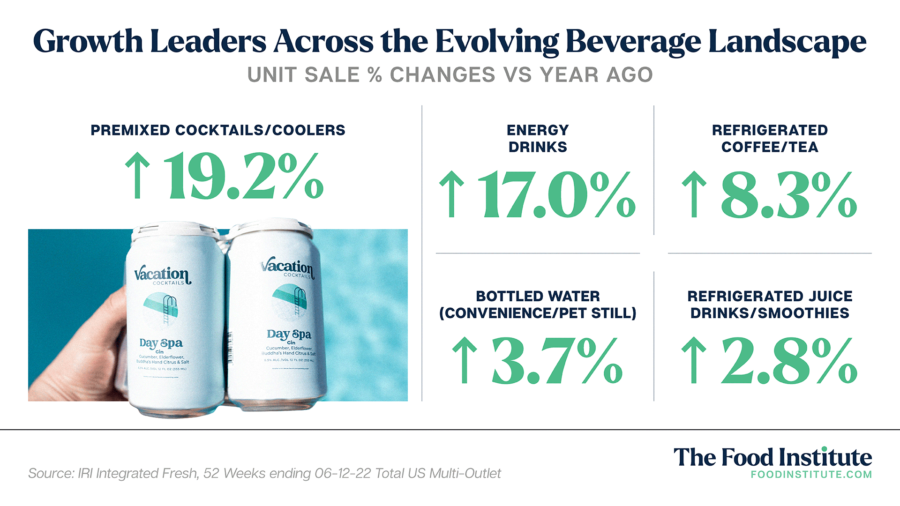 Innovation has been a key component of this growth. A record 46 beverages made the IRI New Product Pacesetters top 100 list in 2021 and eight ranked among the top 10.
As the report notes, 2021 saw several new brand launches and extensions in both non-alcoholic and alcoholic varieties that were aimed at meeting new leisure and home entertaining occasions.
Top trends include:
Heightened flavor exploration (multipacks, LTOs)
Updated products claims (low/no sugar, natural sweeteners, added protein)
Blurred category lines (still/sparkling waters, juices/smoothies, functionality/mood enhancement)
"People are looking for beverages and supplements that not only support their physical health and immunity but their mental health as well," Tom Hutchison, chief marketing officer of The Alkaline Water Company told The Food Institute. "And they're seeing hydration and functional hydration as ready-solutions."

Water in High Demand
Still water sales have continued their pattern of popularity, building on record numbers from the peak pandemic period. Per IRI, unit sales for bottled water in June were up 3.7% year over year and 7.4% versus two years ago.
"Shelf-stable water has been growing double digits (between 10% – 15%) YOY in North America for the last three years," Nicholas Reichenbach, founder and CEO of Flow told The Food Institute, adding that demand is further boosted by the scarcity of fresh and pure drinking water in some regions.
Although less of a sales powerhouse in 2022, unit sales for seltzers and sparkling waters were up 7.2% in a two-year comparison and the category is a wellspring of experimentation.
Six of the top ten IRI pacesetters were carbonated drinks, including AHA Sparkling Water by The Coca-Cola Co., which took the No. 2 spot in food and beverage. There has also been a notable uptick in consumer demand for both still and sparkling super premium waters.
"The bottled water industry has been able to take advantage of the broader trend of health and wellness, especially among younger consumers who are shying away from sugary drinks," Linda Zayer, professor of marketing at Loyola University Chicago, told The Food Institute. "People view water as inherently healthy and paired with innovations in the product category…water becomes the go-to drink of choice for many consumers."

Soda Still a Sweet Spot
Despite the better-for-you boom, soft drinks remain the largest category in the beverage segment by dollar size, with current sales totaling $5.4 billion, per IRI.
Accordingly, Dr Pepper & Cream Soda earned the No. 1 spot among IRI's food and beverage Pacesetters. As the report notes, Gen Z's eagerness to explore flavor combinations is driving renewed interest in the carbonated soft drink market.
As Today reports, this behavior is also reflected in the explosive popularity of "dirty sodas" — carbonated concoctions that blend soft drinks with add-ins like cream, flavored syrups and fruit purees — in the Mountain States and on social media platforms like TikTok.
The trend appears to be proliferating outside the home as well. Utah-based drive-thru soda shop Swig, which serves up "dirty" sodas, energy drinks and boba teas, has expanded its concept into multiple states and recently opened its 41st location in Norman, Oklahoma.