In-store bakery performance is on the rise, with a whopping 95% of shoppers eating a bakery item at least occasionally and 63% doing so weekly, according to a new FMI report.
The report, which explored shoppers' perceptions and behaviors around the bakery department, found that retailers can drive success by emphasizing freshness, expanding indulgent options, and inspiring impulse purchases.

"Our first-ever exploration on consumer perceptions of in-store bakery reveal several opportunities to enhance grocers' strategies: Expand customer loyalty by enticing shoppers with freshness and assortment; incorporate and communicate quality ingredients; and lead with transparency on ingredient and nutrition callouts, even for those indulgent items," said Rick Stein, FMI's VP of Fresh Foods.
BY THE NUMBERS
The first two years of the pandemic were difficult for the bakery department, but 2022 was a much better year. Bakery unit sales increased 7.4%—nearly a full recovery to 2019 figures. Meanwhile, dollar sales grew 14.3%, up 21.3% compared to pre-pandemic.
In total, annual in-store bakery sales reached $17.6 billion in 2022.
Muffins were the best-selling bakery item (+24.2%), followed by cupcakes (+23.6%) and cookies (+21.7%) in terms of dollar sales increases.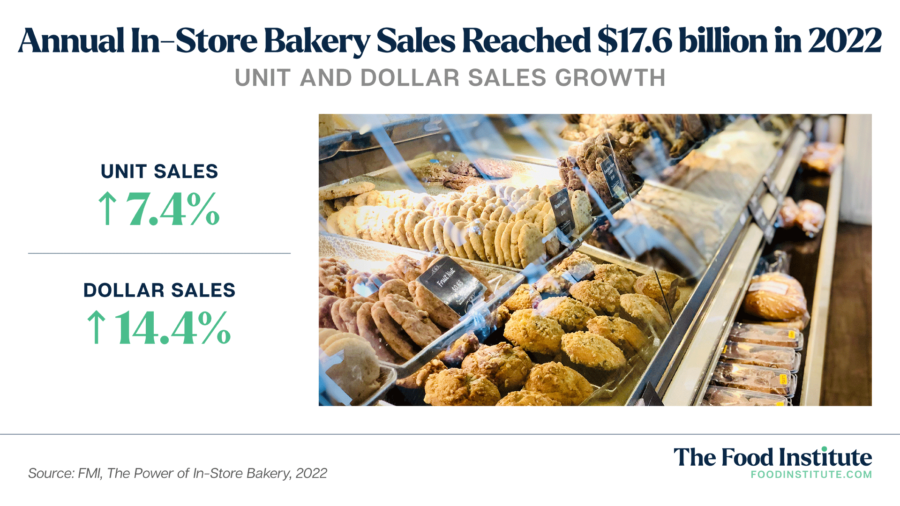 FRESHNESS FIRST
More than half of shoppers (53%) say in-store bakery items are fresher and taste better than those in the commercial bakery aisle. The service and quality of ingredients are also perceived to be better at the in-store bakery. Consumers view commercial bakery aisle goods as less expensive, however, and better at providing nutritional information.
In order to drive sales, retailers must focus on the in-store bakery attributes—freshness, taste, service and quality ingredients—that set the bakery department apart from the commercial aisle. And while price-conscious shoppers may continue to choose the commercial bakery aisle, retailers can entice others by offering as much ingredient information as possible.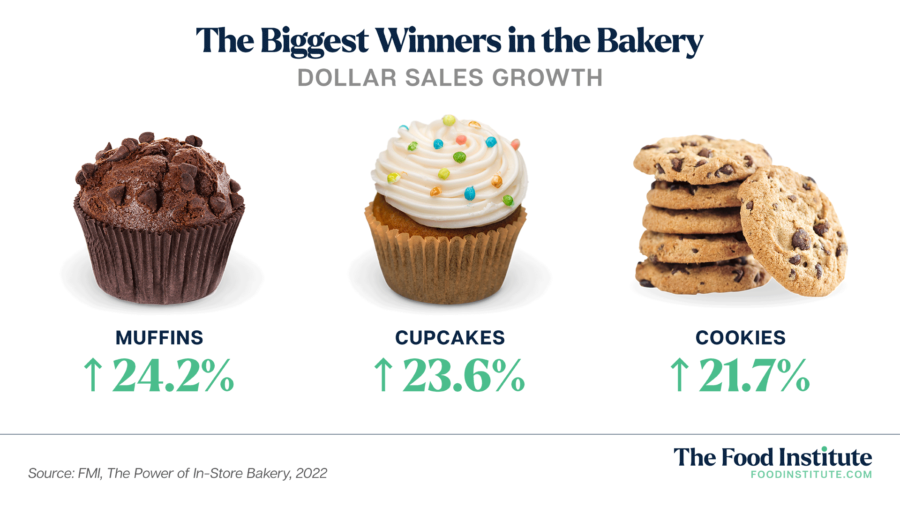 MORE INDULGENCE 
Indulgent items, such as donuts, cakes, cookies, and pies, are eaten at least once a week by more than half of Americans, and most shoppers (72%) buy these sweet treats at the same store where they purchase their groceries.
But when it comes to special occasion items (such as birthday cakes) shoppers are more likely to look elsewhere. Retailers have an opportunity to capture a much larger share of bakery sales by expanding the higher margin indulgent and special occasion products they offer.
INSPIRE IMPULSES
Many in-store bakery purchases, especially indulgent items, are impulse buys. Consumers acknowledged that purchases of items such as donuts, cookies, snack/coffee cakes, single-serve desserts, and cupcakes are usually unplanned. Rather, these are the indulgences that shoppers say they "must have" when they see it.
According to FMI's analysis, retailers can inspire more impulse purchases by appealing to consumers' desire for freshness. Clearly communicating what was baked in-store today will make sweet treats even harder to resist.
---
The Food Institute Podcast
Click the play button above to listen to the episode.
Recent cyberattacks have shown the business and reputational impacts of a breach, but what technologies can be used to protect your organization? SmartLedger's Bryan Daugherty and Gregory Ward explain how CERTIHASH Sentinel Node can help a company detect a cyber intrusion more quickly, while IBM's Patryk Walaszczyk shares how the technology could redefine cybersecurity.