In early April, Circana (formerly IRI) presented its annual snacking webinar and report. The title: How to Win in the 2023 Snacking Universe. The host: Sally Lyons Wyatt, Circana snacking executive and recognized thought leader in snacking. The topic: Snacks, obviously, and the industries, stakeholders, and consumers who love to munch 'n' crunch. 
The webinar was divided into six sections; a brief summary of each along with some new commentary is below. As spring turns to summer and snackers across the country take their snacks to the park, to the neighborhood barbecue, and on road trips across the country and abroad, there are some key stats and ideas to keep in mind. All data is courtesy of the Circana 2023 Snacking Survey, and additional commentary is provided via Food Institute interviews.
Snacking Supernova
"Snacking is still a lifestyle in the U.S., fueled by the younger generation," Wyatt began. "We're in an unprecedented situation that's transformed snacking as price hikes in this category are outpacing other food/bev categories." 
Almost 50% of consumers snack more than three times per day, which is up 4 points in the past two years. Here's a breakdown of who is snacking not once, not twice, but three times per day and more:
18 – 24: 58% of U.S. consumers

25 – 34: 68%

35 – 44: 60%

45 – 54: 43%

55 – 64: 38%

65+: 24%
Snacking, in other words, occurs most often at the workplace, whether that's in the office or at home. Working America loves its snacks, often opting for a quick healthy (or sweet) fix in lieu of a full-blown meal. Morning and late evening snacking has experienced the most growth though snacking is spread across the entire day – morning, noon, and night.
Wyatt also mentioned that branded premium sales are decreasing while branded value sales are increasing, echoing foot traffic away from superstores and traditional grocers and into C-stores, dollar stores, and other value-oriented outlets. What's happening is that brick and mortar is starting to steal market share away from online/e-commerce retailers.
For manufacturers, Wyatt advised weighing the pros and cons of market moves from a size/price standpoint. It's a tricky alchemy to sacrifice price and try to re-capture the same market with a similar, often smaller product. Those who can afford to have snacks shipped to them regularly do, but most are canceling discretionary spending luxuries, such as snacks. For example, 20% of consumers are buying less snack assortments to save money and 61% of snackers enjoy snacks that have convenient portion sizes, such as single-serve chip bags or health/value-oriented multipacks. 
Multipacks have seen 20% growth in unit sales and 0.1% growth in volume.
The 84.51° Insights team was also able to weigh in on the conversation in a post-webinar chat with The Food Institute.
"From the height of the pandemic to the current state of inflation, snack purchases have seen ebbs and flows," said 84.51°. 
"In 2020, there was a dramatic spike in snack sales in both sales and units sold – a double-digit increase in sales and single-digit increase in units. In 2021, sales began to plateau compared to 2020. And when consumer concerns around inflation set in in 2022, there was a repeat of a double-digit increase in sales on a dollar basis though a decrease in units sold."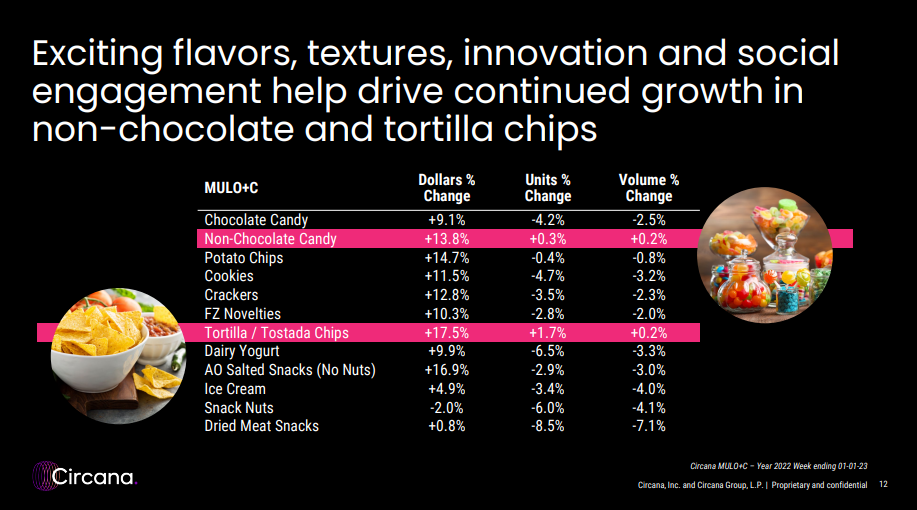 Snacking Superstars
In today's market, bold flavors and convenience rule the day. Smartphone apps for snacking are on the rise as influencers flex their digital muscle, challenging traditional snacking structures. 
Some fast facts: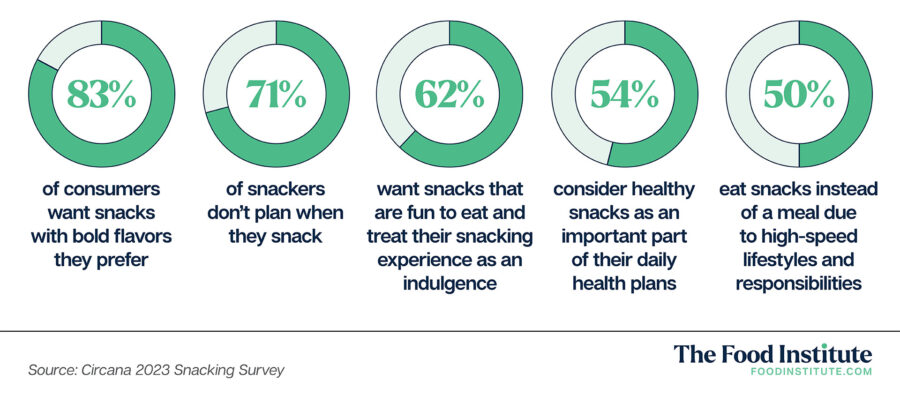 The takeaway? It's more important to have favored snacks handy than to rely upon the office potluck or the gas station across the street. For those who know what they like, readymade snacking that fits their lifestyle and health goals is the key to daily snacking habits. What's more, 46% of consumers eat snacks immediately before/during/after workouts for a swift energy boost, a six-point rise from two years ago as consumers realign their daily health habits in the new-look, post-pandemic workday. About 1/3 of those surveyed also buy snacks that support their preferred diets, from Atkins to Keto to Paleo and more.
Health and wellbeing is top-of-mind for snackers. Chocolate and fruit-based drinks are the top choices for supporting mental health while fresh vegetables and granola bars help snackers manage weight and sugar intake. Data from 84.51° also confirmed this notion – "fruits and potato chips are the most popular types of snacks consumers regularly consume (70% and 62%, respectively). Protein bars are the most popular snacks eat on-the-go (70%)."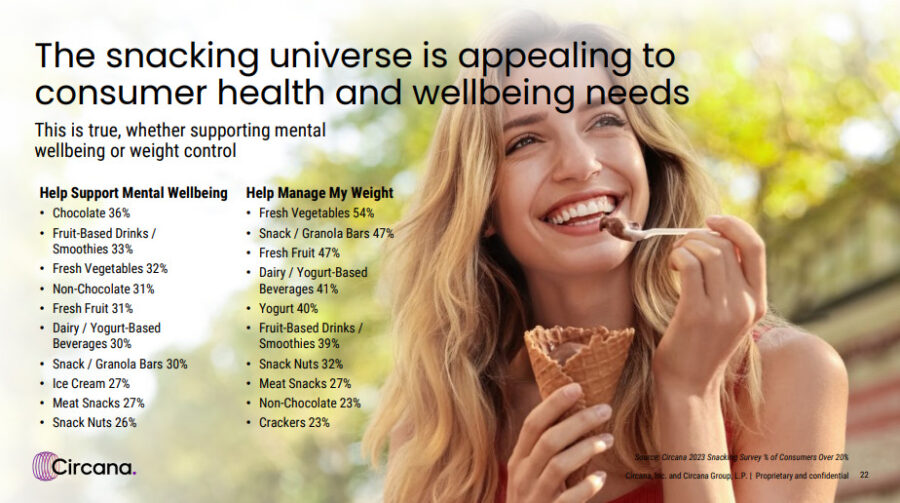 Energy drinks are another hot snacking category that's competing for consumer attention and needs. There's been an 11% increase in dollar share and a 5% increase in unit growth since this time last year. Over half of those surveyed said energy drinks provide energy and fuel; 35% cited mental well-being as the primary benefit, and 31% said they benefit from immunity boosts due to energy drinks.
"When I think of snacks with benefits, Blue Diamond Almonds come to mind as a great source of plant protein (6 grams per serving)," said Bonnie Taub-Dix, RDN, author of Read It Before You Eat It – Taking You from Label to Table. "Almonds are the nut highest in fiber and calcium – two essential nutrients that so many of us are not getting enough of."
Confections are also on the rise. Almost 25% of young consumers enjoy confections as a midday treat with non-chocolate trending upwards. Bold flavors and crunchy snacks are driving this trend as consumers mix and match flavors such as flamin' hot honey, hot chili pepper & lime, cheddar jalapeno, and sour cream & onion/cheddar, and infusing all manner of snacks with chocolate for a taste of richness.
Meanwhile, the convenience channel is growing and outpacing other contenders. The following chart shows the past year of traffic on the left with the percent change on the right; C-stores have jumped 2% and continue to eat into other channels' shares as consumers continue to reach for in-store snacks, particularly those under 5 ounces.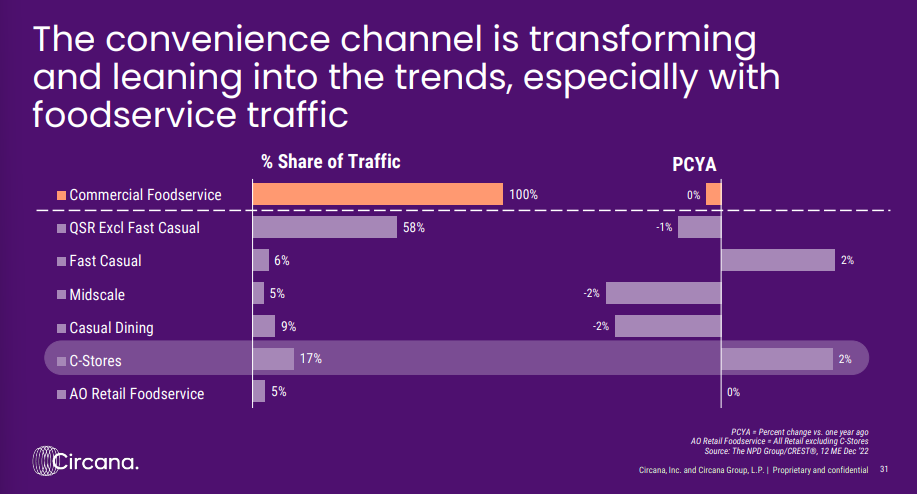 Convenience can also be found at home, where apps like 7Now Delivery (7-Eleven), Wawa Online Delivery (Wawa), and Casey's Delivery (Casey's) continue to woo consumers with guaranteed delivery on thousands of items, incentive programs, and partnerships with DoorDash and other delivery services to marry price with convenience.
Bold flavors aren't just limited to the crunchy and dry, either – brands such as Gallivant Ice Cream are getting in on the game, combining dairy-sensitive ingredients and global flavors. 
"The ice creams are made using Ayurvedic principles of dairy processing where milk and Mawa (Indian Milk Solids) are cooked together" at higher temperatures and longer times than traditional ice cream methods, helping to reduce the 'harming' properties of milk that elevate lactose intolerance," said Snehee Chaplot, founder of Gallivant Mawa Ice Cream. 
"The 'cooking' process results in an ice cream that has a buttery-rich caramelized texture with half the amount of fat as an American premium ice cream," she noted, available in flavors such as Chinese Black Sesame, Thai Coconut, Spanish Saffron, Vietnamese Coffee, and more.
Brands that can take advantage of not just one but many trends in snacking – bold flavors; humanely sourced; focused on wellbeing – are well poised to make a splash in the wild world of contemporary snacking.

The Private Galaxy
Private brands are exploding amid inflation. Sixty-one percent of consumers said they switched to private label when their budgets are tight – a 5% increase from just one year ago. Private brands have held a consistent 13% dollar share but are making positive gains in almost every category for both dollars and units sold. Some of the categories suffering a bit include frozen pretzels, ice pop novelties, and frozen dips.
One Giant Leap for Wellbeing
Why do we snack? Why eschew traditional meals? Taste and flavor continue to rule the day, but wellbeing is rapidly rising, and snacks provide a satiating bit of literal comfort food that also makes people feel good about what they're putting in their bodies. Consumers enjoy the control snacks offer over a larger meal. 
Here are some wellbeing stats for today's conscientious snacker:
61% want snacks that contain vitamins and minerals (+5% versus two years ago)

59% expect snacks to contain additional health benefits (+4%)

48% want snacks that deliver probiotic benefits (+9%)
Perhaps more surprising is that the better-for-you trend is now found in traditional snacking categories, from grain-free and protein-laden chips to plant-based jerky, ESG-minded products whose revenue is re-invested in the earth, and vegan chocolate. Product innovation continues to focus on health and no/low sugar brands are experiencing wild growth. Even allergen and sensitivity-free foods are experiencing a boon as food allergies are on the rise in America.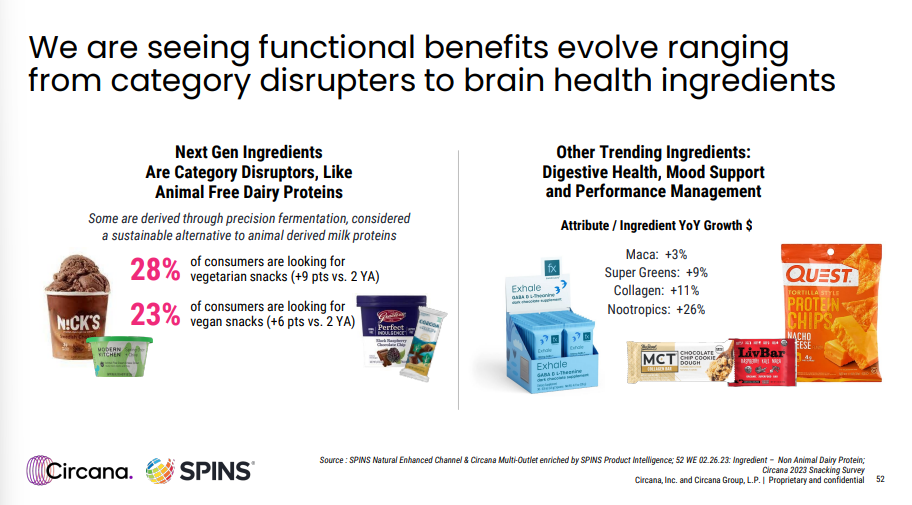 Furthermore, snacks that are certified free trade, promote animal wellbeing, and use upcycled materials in packaging are benefiting from the health- and eco-conscious consumer, particularly among millennials and Gen Z. Upcycled snacks experienced a whopping 35% growth year-over-year.
Nootropic snack sales are up 26% year-over-year. Removing preservatives also means fresh snacking, commonly found in plant-based snack packs. 
Snacking at the Speed of Licensing
Licensing is a $261 billion global business and the U.S. accounts for half of it. Food accounts for 11% of licensors and almost $20 billion in revenue. Global sales of licensed food and beverages enjoyed a 12.1% increase from 2019 – 2021, a truly remarkable number considering how the pandemic, supply chain malfunctions, and inflationary pricing have affected the average consumer. 
Influencer and creator partnerships are massive. Sites like Etsy, D-Pop, Instagram, and certainly TikTok are rife areas for entrepreneurs, food creators, and brands as everyone benefits from the right viral video or hot take at the right time. From Taco Bell to pink sauce, no one knows how or even exactly why some brands, flavors, and foods explode like they do via TikTok, but you can't get a piece of the action without spending some time in these non-traditional outlets for snacking.

Snacking to Infinity and Beyond
Snacking is going digital. And virtual. Definitely meta. Digital lands such as The Sandbox, Roblox, Fortnite, and more provide brands an opportunity to reach rabid fandoms of popular games and concepts. Phigital products – a new portmanteau for the snacking hoi polloi – offer digital products with physical brand purchases or vice versa. Younger consumers look for brands they trust in the metaverse while many brands look to gamification and mass events via Discord and other media to help launch new products and visions.
Popular food brands in the metaverse include Pringles, Slim Jim, Oreo, Cheetos, and more. Wyatt warned that brands need to "validate opportunities and/or measure success within the metaverse" to truly make investment worthwhile. Future opportunities will abound as the metaverse becomes more accessible and the steady pace of technology continues to reach the average (and younger) consumer.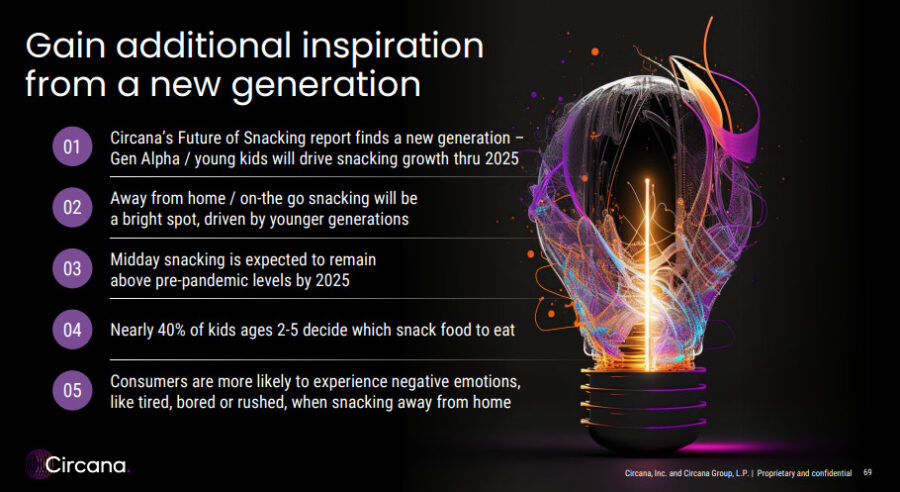 For more information, the full webinar slideshow can be found here.