Rural populations showed further signs of decline in the recent release of the 2020 U.S. census. The data reflects shifting demographics and signals continued labor shortages across the nation's farming and ranching regions.
A Stateline analysis by Pew Research showed rural areas lost 226,000 people between 2010 and 2020, a decline of about 0.5%, while cities and suburbs grew by about 8%.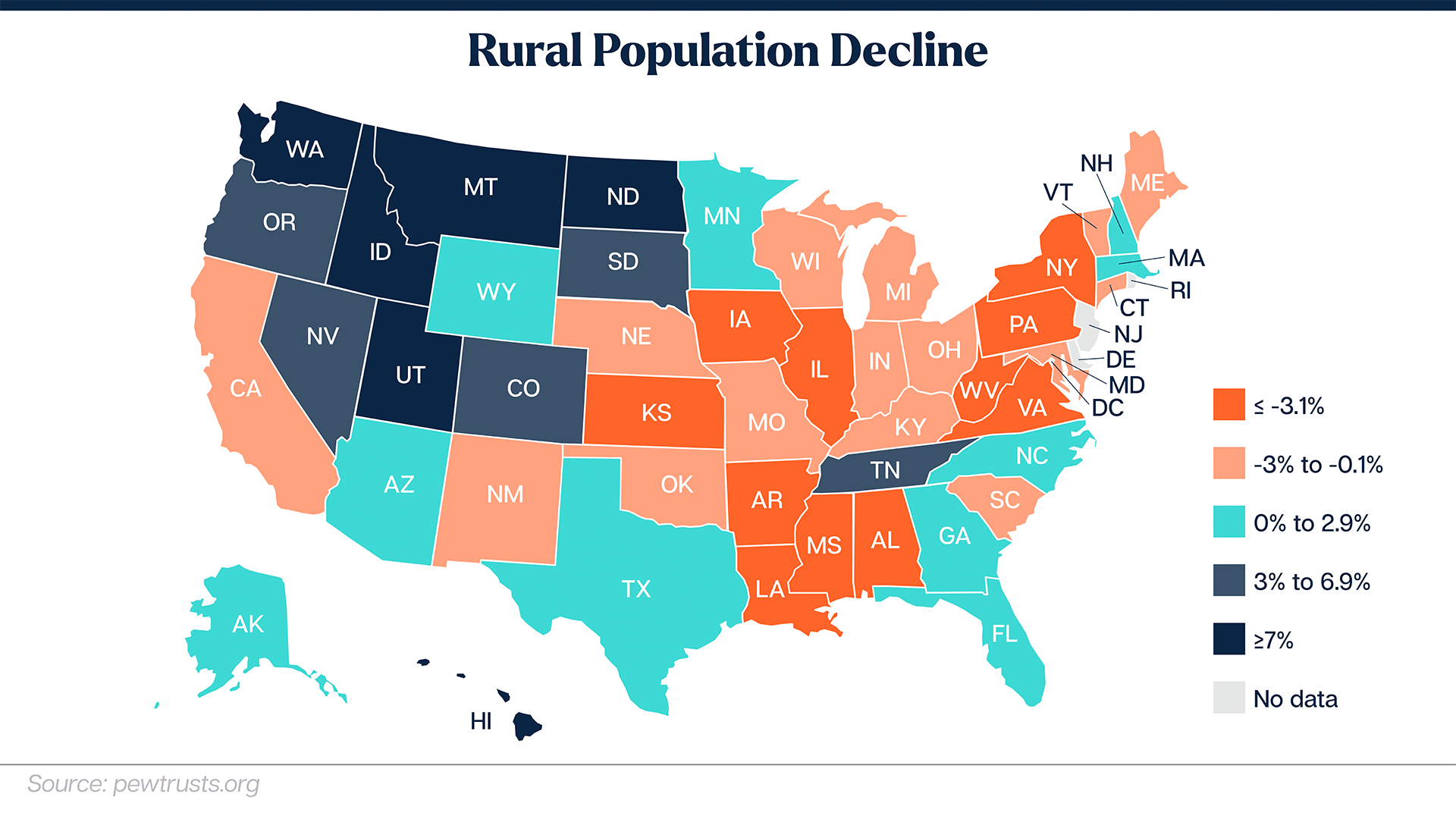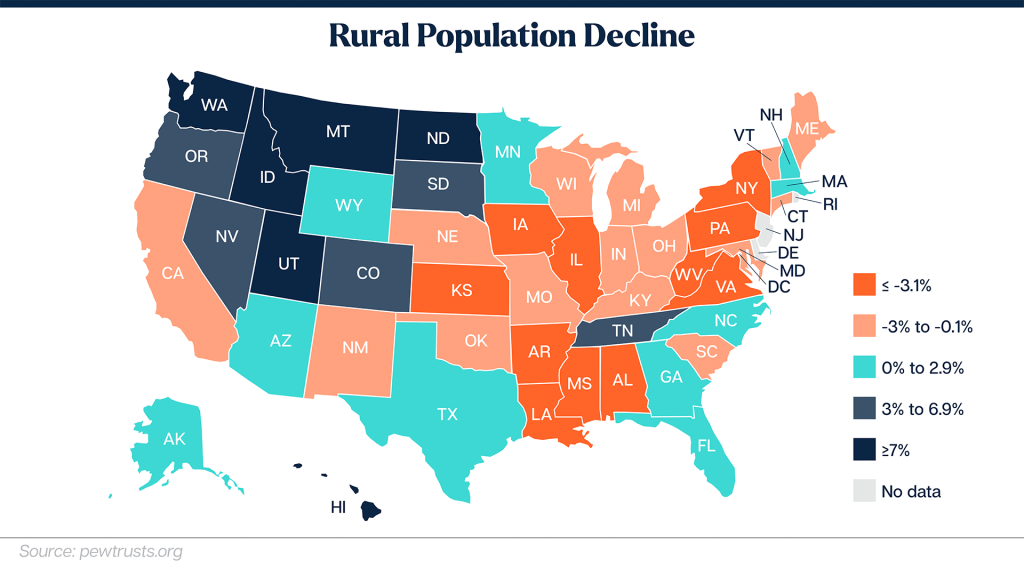 Furthermore, hired farm workers dropped 11% in April according to USDA data, even as wage rates increased 6% from the previous year.
"Consolidation of the farming industry is accelerating the decline of rural populations and making farming less attractive to younger generations," Corwin Heatwole, the CEO of Farmer Focus told The Food Institute. "Farmers are being forced to leave farming and return to cities as a result of unsustainable debt and poor working conditions."
Population slumps are also driving further meat industry consolidation. The number of smaller operations that meet local demand plunged by 42% between 1990 and 2016, according to USDA data. Today, over 80% of meat is slaughtered by a few major companies.
Demographic Shifts
Recent census data revealed that the non-Hispanic white share of the population fell to 57.8%. Meanwhile, population gains in many rural areas were driven by Hispanic and Latino residents, many of whom come as immigrants to work on farms and meat production facilities.
The population trend is clear in states like Nebraska, where only 24 of 93 counties gained residents and eight reported an increase in the white population, reported The Associated Press (Aug 15).
"In the rural areas, if you didn't have the Latino growth, employers would be struggling even more just to fill those positions," David Drozd, a researcher for the University of Nebraska Omaha, told The Associated Press.
In the same article, Bob Ford, executive director of the North Carolina Poultry Federation, noted that wage increases and improved housing and health care benefits could help alleviate widespread labor shortages, but broader changes to immigration policy would be the best solution.

Legislative Uncertainty
The decrease in rural population will also impact state legislative and congressional redistricting.
"Major farm states, including Illinois, Ohio, Michigan, Minnesota, and California, are expected to lose at least one House seat based on the 2020 Census data," Curt Covington, Senior Director of Institutional Credit at AgAmerica told The Food Institute. "Losing representation for rural America in Congress could mean losing the number of spokespeople for our nation's hardworking farmers."
The pending $1.2 trillion infrastructure bill adds further uncertainty to the future of agricultural legislation, Covington said. If passed, the bill could significantly revitalize rural communities with substantial improvements to roads, broadband, and job opportunities.
Technological Impacts
Between 2012 and 2017, the number of agricultural producers under age 35 grew 11%, according to USDA statistics. These younger farmers often don't have a family background in farming and are more comfortable using high-tech methods and software, reported The Wall Street Journal (Aug 15).
While investments in indoor urban farming innovations continue to accelerate, Carlos Anchia, CEO of vision AI provider Plainsight, believes that a fair share of these younger farmers will also blaze new trails into rural areas.
"It's the technology-first farming generation that will start a revolution in how our society regards the entire agriculture sector with innovations in livestock health, sustainable farming, and land conservation," said Anchia.
Only Time Will Tell
While concerns that declining populations will continue to push the agricultural sector in a more tech-driven, automated direction have merit, Covington stresses that agriculture is essential and adaptable. "It will continue to evolve, but it will never cease to exist."
Furthermore, the impacts of COVID-19 are not fully realized in the latest census report.
"The wave of remote work opportunities in the last year have more people leaving expensive and crowded urban living and moving to a more affordable rural area," Covington said. "It will be interesting to see the changes in rural population in 2030 to get a clearer picture of the long-lasting impacts of these recent events."