As U.S. consumers become more selective about food-related health and wellness concerns, the hot dog stands as a perfect example of a growing desire for "all things in moderation."
Many foods associated with summer grilling are highly processed or contain ingredients which contribute to heart health risks — and traditional hot dogs are no exception. Per Livestrong, one all-beef hot dog contains 34% of the recommended daily intake of saturated fat and 21% of the recommended sodium.
Meanwhile, National Hot Dog and Sausage Council consumption statistics show that Americans typically consume 7 billion hot dogs during peak hot dog season, from Memorial Day to Labor Day. In the age of the health-conscious consumer, that's a lot of processed meat.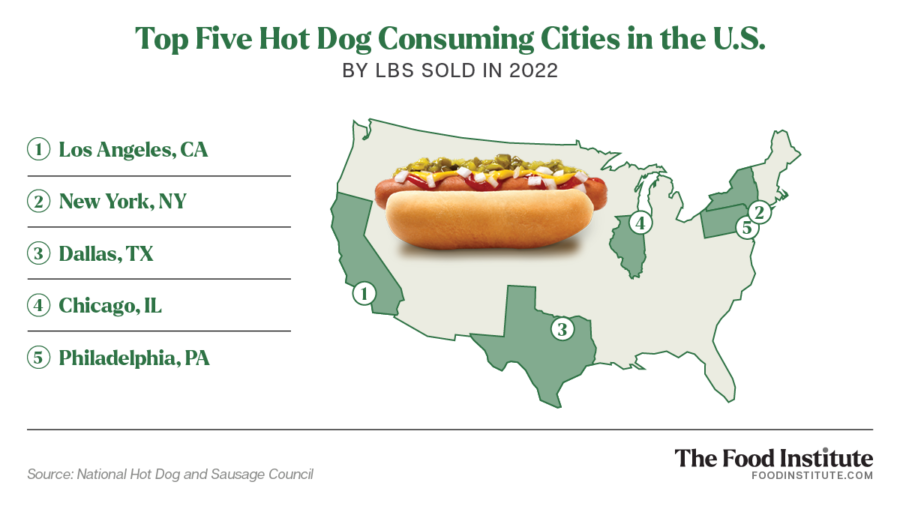 According to Anne-Marie Roerink, CEO of 210 Analytics, the concept of "everything in moderation" is making a strong comeback in consumer interviews and surveys, and that's squarely where hot dogs sit. In addition to growing innovations in the category, hot dogs are an iconic American staple central to strong emotional connections — most notably, perhaps, a sense of happiness.
"That, more than anything, is the new definition of health and wellbeing," Roerink told The Food Institute. "It's not always about physical health, but just as much about emotional wellbeing; in fact, many consumers believe that health and happiness are interwoven."
So where do plant-based varieties stand?

Plant-Based Hot Dog Growth and Challenges
According to AI-powered food intelligence platform Tastewise, the plant-based hot dog market has witnessed an extraordinary surge over the past three years, growing at a compound annual rate of 25%. Several market challenges, however, impede its full potential.
"Plant-based hot dogs, sausage, grinds, and patties have all seen the same path: very fast sales growth upon launch, and an equally fast drop down once distribution-based growth has come to a halt and the category has to grow based on selling as much or more," said Roerink. "The issue continues to be a very low buy-rate, and a literal handful of times a year combined with very low household penetration."
Taste remains the ultimate barrier for widespread adoption of plant-based hotdogs. Tastewise's insights highlight the need for continued innovation and culinary mastery to create plant-based alternatives that are indistinguishable from their meat-based counterparts.
As Roerink notes, the biggest lesson of all in anything innovation is that it has to taste good. "A package callout referring to plant-based, organic, grass-fed — you name it — can get you the first purchase, but if the eating experience wasn't positive, consumers are very unlikely to purchase it again."
Furthermore, consumers still associate plant-based with long ingredient labels and heavily processed, artificial products.
"The argument here is similar for regular and plant-based hot dogs, but I would argue that regular hot dogs, while highly processed, get a bit of a pass because of that "everything in moderation" attitude combined with the strong emotional connections," said Roerink.  "In both cases though, I think manufacturers are very cognizant of the drive for cleaner labels and shorter ingredient lists and are continuing to innovate."
Market Innovation and Opportunities
Beyond improving taste and texture, educating consumers about the nutritional benefits, clean ingredients, and sustainable aspects of plant-based hot dog alternatives will be crucial in the years ahead. Per FMI, the global plant-based hot dog market is expected to reach a market valuation of $828.9 million by 2033, growing at a compound annual rate of 16.7% during the forecast period.
According to Tastewise analysis, the plant-based hot dog market offers opportunities for chefs and food companies to experiment with a diverse range of ingredients such as legumes, mushrooms, and functional ingredients.
For flexitarian consumers seeking more authentic hot-dog eating experience, hybrid product innovations are also on the rise.
"I recently had the pleasure of trying a blended hotdog that features animal protein with mushrooms and other vegetables, which tasted like the best of both worlds," said Roerink. "I can't wait for it to come to market."