Brace yourself for a sea of Swifties, Barbies, Spider-Men…and many requests for peanut butter cups.
According to new research from Acosta Group, Halloween 2023 appears likely to feature tons of Taylor Swift costumes and bulk candy purchases.

According to Acosta Group's new Halloween 2023 Trends and Insights, conducted through the company's shopper community in late September, 76% of consumers plan to hand out candy next week – a figure that's up 5% from last year. Nearly half of those celebrating Halloween plan to spend at least $50 on the holiday, mostly on candy.
"If there's one thing that shoppers have continued to do in 2023 despite the impact of inflation on their financial wellness, it's celebrating the holidays," said Kathy Risch, SVP, shopper insights & thought leadership at Acosta Group, in a statement sent to The Food Institute.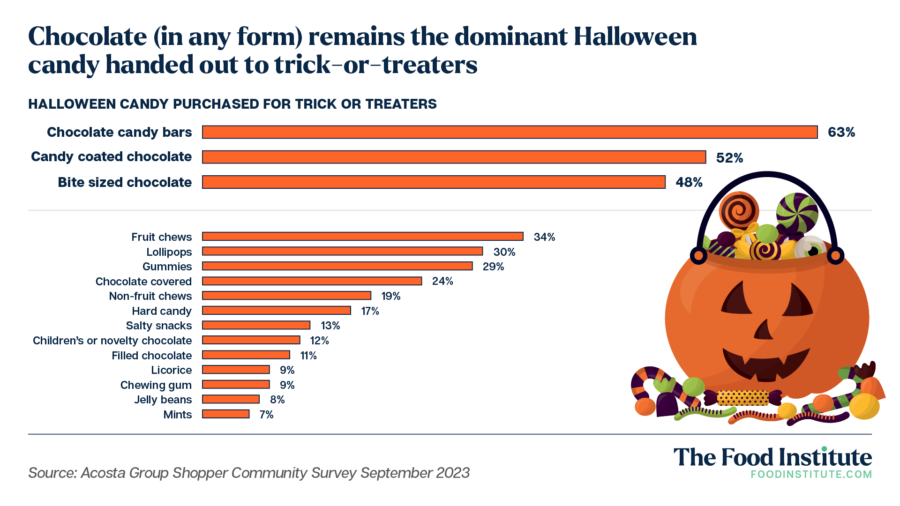 All told, consumers are projected to spend $12.2 billion on Halloween in 2023, which would surpass last year's record of $10.6 billion, according to the National Retail Federation.
"Even more households than last year will be handing out candy or other treats to trick-or-treaters," Risch noted, "despite the fact most [77%] think that the price of Halloween candy is higher this year."
Approximately 85% of consumers plan to purchase candy this year. A quarter of shoppers said they had already purchased Halloween candy by the end of September, while 41% indicated they typically buy their candy corn, Reese's Peanut Butter Pumpkins, and more in the middle of October. Just 4% of shoppers said they wait until late October to buy Halloween candy.

Among the other noteworthy findings from Acosta Group:
Chocolate candy bars (63%) are the No. 1 Halloween candy
52% of shoppers wish new types of Halloween treats were available (i.e., bubble tea flavored gummies)
Healthy items aren't a priority at Halloween, with only 1 in 4 households with kids saying that there aren't enough healthy choices
The top food choices for those hosting Halloween parties are pizza (58%) and sandwiches (45%) – with sandwiches up 10% from last year
64% plan to buy candy at a mass merchandiser this month, with traditional grocers (51%) second most popular
America's most beloved candy is the Reese's Peanut Butter cup according to recent research by HubScore. Reese's centerpiece product is the preferred candy in 21 U.S. states, according to HubScore's findings.
A final, noteworthy finding from recent consumer research:
"Fun fact for retailers," Risch said. "Fifty-four percent of shoppers admit to buying Halloween candy early and eating so much of it that they have to do another round of candy shopping before Halloween."