The bakery department bounced back in 2021, with the fresh perimeter making a full recovery and overtaking aisle bakery as the sales growth leader.
Furthermore, perimeters that faired best were those that didn't just try to make things like 2019 — they explored new possibilities, Jonna Parker, Team Lead for IRI Fresh told The Food Institute.
"Bakery retailers, suppliers, and stores who embraced trends like flavor variety and focused a little bit on more health and portion size had an even stronger return in 2021 and can expect to continue that growth in 2022," Parker said.
Department Overview
According to IRI data, bakery department sales totaled $36.3 billion in the 52-week period ending December 26, up 4.9% year over year and down 1.3% compared to 2019.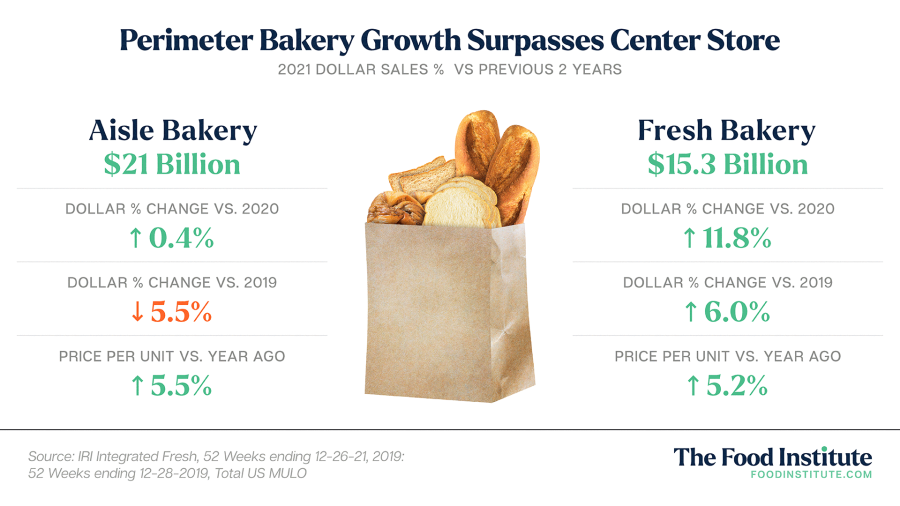 In 2020, it was the bakery aisle, or center store, offerings that drove department sales — and keeping up with those peaks proved difficult in 2021, noted Anne-Marie Roerink in a December report by 210 Analytics, LLC. While aisle bakery came out slightly ahead in 2021, this was inflation driven, with the average price per unit increasing by 5.5% by year's end.
Meanwhile, activity in fresh or perimeter bakery ramped back up, as many self- and full-service areas reopened, and celebrations resumed — albeit on a smaller scale.
Prices in the fresh bakery increased by 5.2% in 2021, but that would include upsizing and more premium choices, not just same-item inflation as it is price per unit, the report also stated.

Mixed Outlook
Although sales shifted in favor of fresh bakery, respondents in the Supermarket News 2022 Retailer Expectation Survey seemed to be on the fence about the department's outlook — 29% expect it to be a top performing category, while 17% pegged it as the most challenging.
In addition to being the department with the most radically different back of house from store to store and retailer to retailer, Parker ties this mixed outlook to overall household penetration.
"Bakery is the most popular among Generation X, and especially baby boomers and seniors," she said. "No other department at this point in any channel has that much of a skew toward the older consumer."
Many retailers are hesitant to alienate these core consumers by walking away from things like scratch, baked just in time, and custom cake programs. Furthermore, these types of services typically require more store staff, which is an ongoing challenge for operators moving into 2022.
"At the end of the day it's less about how much you're doing at the store level and much more about what you're carrying," said Parker.  It's going to be a tough outlook for operators who can't break from their core — "if not from a staffing perspective, then definitely to make money in light of rising input costs."

Room for Opportunities
Despite its challenges, perimeter bakery holds a wealth of potential for operators who are willing to look past the difficulties and try a different path.
Parker notes that grocers can start this process by asking few key questions, such as: Is what I'm carrying really unique? Does it make people want to try it? Does it appeal to health and convenience, which can be enforced in size or taken back?
Other areas for consideration include:
Product Exploration – "People visit perimeter bakery for something that's more restaurant quality and better than they can make themselves," said Parker. They also go there seeking attributes like gluten-free, or items they haven't tried before like sprouted grain bread, for instance.
Online Differentiation – Designating banner ads and pages to showroom products online, based on holidays or events, is also a great approach to spotlight fresh bakery items.
When it comes to omnichannel and digital, "bakery is kind of an afterthought," Parker concluded. "But I think you're going to start to see gold standards develop that don't exist today."