Here are trending economic and food industry data points, as well as major economic and company earnings releases for the coming week: employment, earnings from The J. M. Smucker Company (SJM) and more.
---
Is America ready to get back to work?
As of end of May, weekly initial jobless claims dropped to 385K, falling below the 400K mark for the first time since March 2020, when the pandemic hit the U.S. economy. Reported claims were better than initial expectations of 390K. On the other hand, the total number of Americans who continued to receive unemployment benefits did not subside (3.77 million). Many states decided recently to withdraw from federal unemployment benefit programs, following reports that it has been more difficult for companies to hire workers with unemployment benefits paying more than minimum wage. Millions of people in 24 states are set to lose unemployment benefits as early as June 12.
Foodservice labor shortage
The food industry, particularly restaurants, is struggling to find enough workers. There were a record-high 8.1 million unfilled jobs at the end of March, including 993K at restaurants and hotels and 878K at stores. Shake Shack founder Danny Meyer says it could take months to fill restaurant job openings. Charleston restauranteur Patrick Whalen is less optimistic. He thinks that the inherent issues of low pay, lack of benefits, and 'toxic' workplaces are some of the reasons that workers won't return. COVID-19 was simply the straw that broke the camel's back.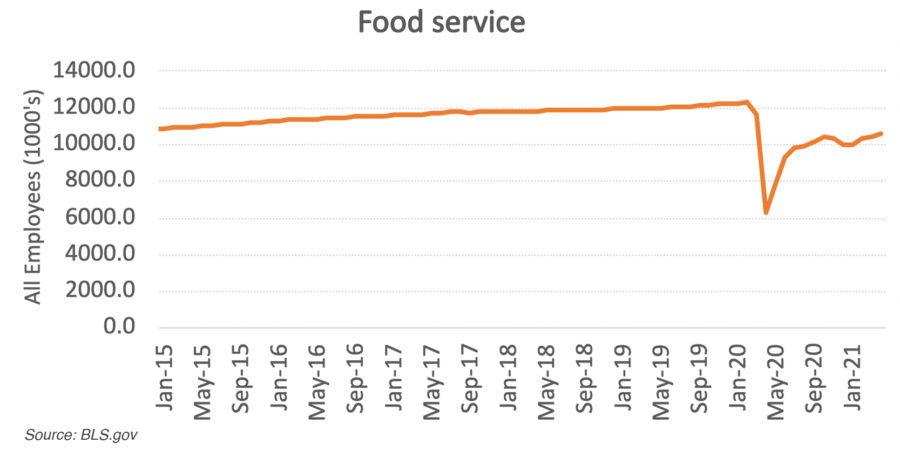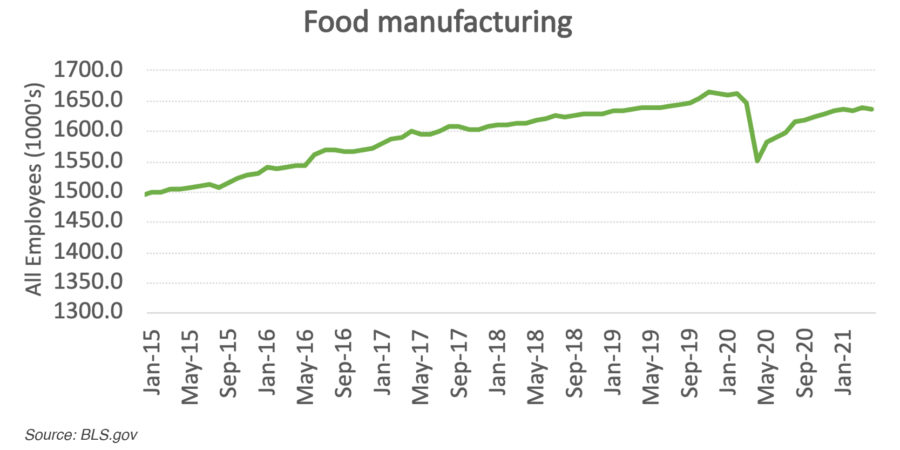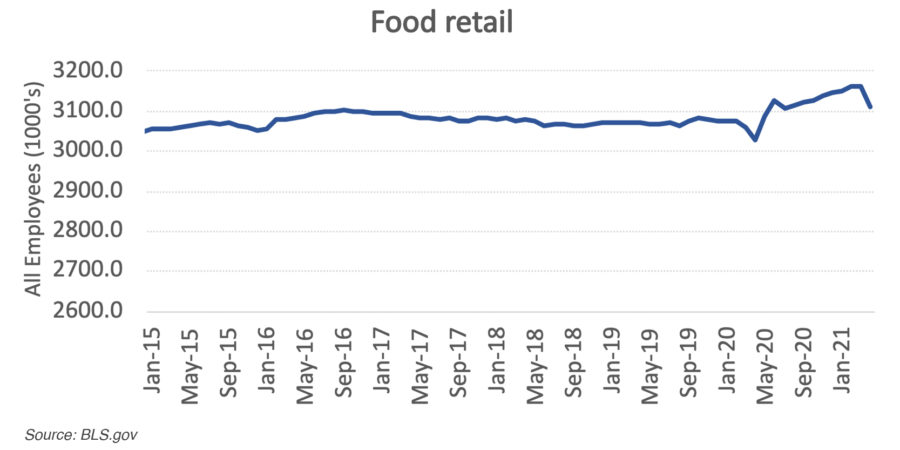 Food manufacturing recovery
Food manufacturing plants also felt labor market strains, albeit to a lesser degree than foodservice. Pre-pandemic, food manufacturing businesses employed 1.66 million workers. As of April, the industry re-hired 77% of the 1.1 million jobs lost during the pandemic shutdowns (see chart).
Food retail expansion
At the same time, food delivery businesses have less trouble finding workers as e-commerce continued to grow at a record pace across America. Pre-pandemic, food retail employed 3.07 million workers, and as of April, the total workforce expanded to 3.11 million (see chart). Amazon recently announced that it will hire another 75K in its fulfillment and logistics network. The positions pay an average of $17 an hour and include signing bonuses of up to $1,000, plus an additional $100 for new hires who can show proof they are fully vaccinated against COVID-19.
Looking ahead
ADP Chief Economist Nela Richardson expects continued job recovery, particularly among the consumer-facing industry. Private businesses in the U.S. hired 978K workers in May, the most in 11 months, led by leisure & hospitality (440K); education & health (139K); and trade, transportation & utilities (118K). Most economists expect the overall unemployment rate to fall below 6% by the end of June, and 5.5% in 12-month time.
Others are more wary of social and health factors that have resulted in less than robust job recovery. A recent survey showed three main reasons of the current labor shortage:
Continuing child-care demands keeping parents at home
Extended, enhanced unemployment benefits
Lingering health concerns
The labor shortage is prompting businesses to re-think compensation, benefits, as well as work conditions amidst re-opening efforts.
---
Upcoming Economic Releases
| | | | | |
| --- | --- | --- | --- | --- |
| | | | Forecast | Previous |
| 6/7/2021 | | Consumer credit (Apr) | $20 bil | $26 bil |
| 6/8/2021 | | Trade deficit (Apr) | -$72.9 bil | -$74.4 bil |
| 6/8/2021 | | Job openings (Apr) | 7.3 mil | 8.1 mil |
| 6/10/2021 | | Consumer price index (May) | 0.4% | 0.8% |
Source: Bloomberg, CNBC, Trading Economics, Food Institute
>> For more information on CPI/PPI and Retail Sales, go to Food Institute Economic Benchmarking.
---
Select Food & Beverage Industry Data Points
Foodservice – Restaurants
OpenTable restaurant diner growth data (2019 baseline): U.S. = -17% as of June 2, 2021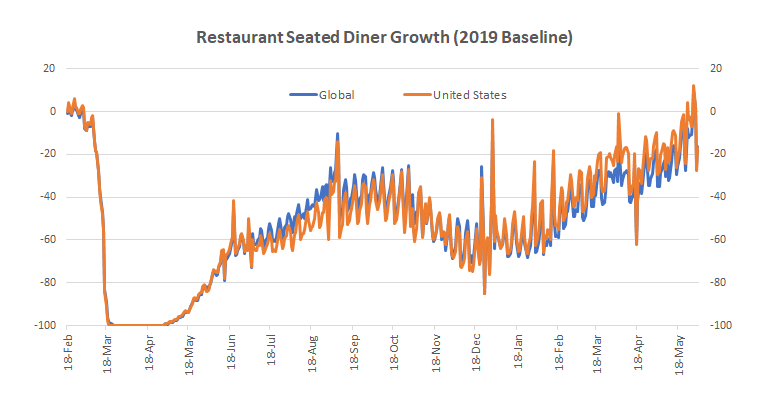 ---
Food Manufacturing
J.M. Smucker Co. (SJM) reported Q4 2021 results
Net Sales: $1.92 billion (-8% Y/Y)

Excluding noncomparable net sales (i.e., Crisco and Natural Balance businesses) and FX, net sales decreased 3%
Decline in volume/mix in U.S. Retail Pet Food segment contributed -4% to the net sales decrease
Favorable pricing in U.S. Retail Consumer Foods & Pet Food segments contributed +1% to net sales

Operating Income: $238.7 million (-31%)
Segment Results (Net Sales):

U.S. Retail Pet Foods: $674.6 million (-12% Y/Y)
U.S. Retail Coffee: $581.1 million (0% Y/Y)
U.S. Retail Consumer Foods: $419.8 million (-13% Y/Y)
International & Away From Home: $242.7 million (-7% Y/Y)
Key Takeaways:
2022 Outlook: -2% to -3% vs. 2021 net sales
Management is continuing its plan on divesting non-core businesses while looking for acquisitions to spur growth
CEO Mark Smucker sees inflation "across the board" and is passing some increased costs to consumers
---

Earnings Calendar of Select Companies
| | | | | |
| --- | --- | --- | --- | --- |
| Announce Date | | Company | EPS Estimate | Previous Quarter EPS |
| 6/9/2021 | | Campbell Soup Company (CPB) |  $                0.66 |  $                0.84 |
| 6/10/2021 | | Chewy, Inc. (CHWY) |  $                0.05 |  $                0.03 |
Source: Bloomberg, CNBC, Yahoo Finance, Food Institute