Here are trending economic and food industry data points, as well as major economic and company earnings releases for the coming week: grocery inflation, menu price hikes, cost saving ideas, and more.
---
Don't be surprised to spend an extra $6K on food this year
Inflation is taking the food industry by storm. Since the pandemic began, grocery bills have shot up 8%-9%. Recently meat, corn, soybeans, and wheat have reached record highs. Casual and fast-food restaurants are raising menu prices at the fastest rate in history. Rising wages and higher transportation costs are adding further inflationary pressure. With these factors in mind, consumers should be prepared to increase their food budgets.
Relative to 2019, the average consumer can expect to pay 10% or more for food this year. Assuming each meal costs $15/person for a family of four, the total increase amounts to >$6,570 a year. Let's take a closer look.
Higher prices for staple foods and meats
With higher wheat/grain prices throughout this year, and possibly next year, costs for staple foods like bread, pasta, rice, potatoes prices are rising at a faster rate than other foods. Meat prices are also higher than 2019, especially pork and chicken. This year, seafood prices haven't increased as fast as red meat or chicken. Relative to 2020 panic shopping frenzy, canned-food prices are coming down toward pre-pandemic levels. Vegetable prices also have not changed much. Avocado prices are surprisingly down >9%.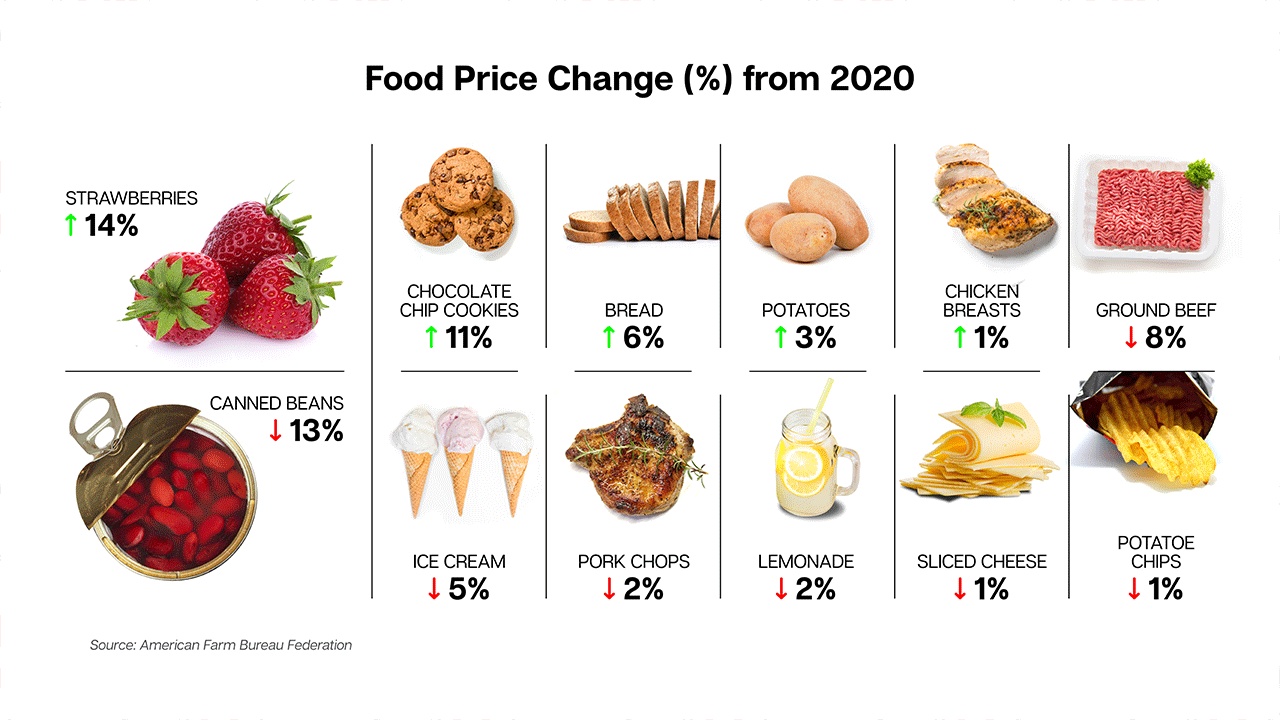 Casual and fast-food restaurants are raising prices faster than full-service restaurants
Limited-service meals, which include take-out and delivery, were up 6.2% in 2020, a record. This year, we can only expect menu prices to climb even higher. Most recently Chipotle Mexican Grill raised its prices by 4%. Several other popular chains also hiked prices by 3%-4%.  McDonald's has not made any announcements yet. We can only expect that rising costs will pressure many restaurants to follow suit.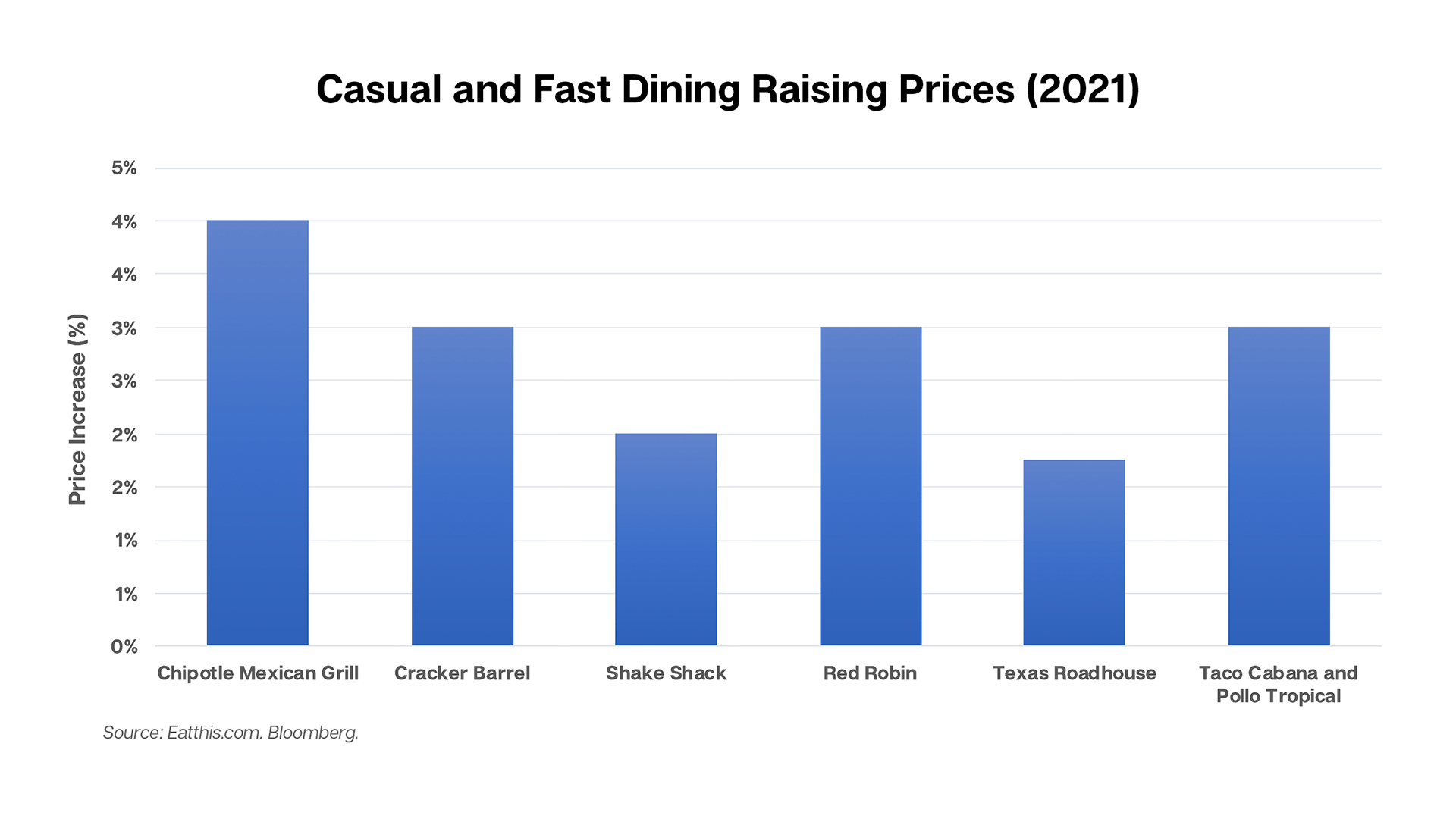 To retain cost-conscious customers, restaurants are exploring different tactics. MoneyTalksNews listed 24 restaurant chains that offer seniors discounts. Coupons are also coming back in a big way, but with a paperless focus. Digital coupons have overtaken print circulars. Load-to-card coupon redemption increased 27% last year.
Maybe summer is not the time to worry about rising food costs. "We are going to be paying higher prices in restaurants," David Henkes, senior principal at industry researcher Technomic told Bloomberg. "Part of the calculus right now is there's probably some appetite of consumers to pay whatever because they haven't been out for a while."
---
Upcoming Economic Releases
| | | | | |
| --- | --- | --- | --- | --- |
| | | | Forecast | Previous |
| 7/13/2021 | | NFIB small-business index (Jun) | 100.0 | 99.6 |
| 7/13/2021 | | Consumer price index (Jun) | 0.4% | 0.7% |
| 7/14/2021 | | Producer price index (Jun) | 0.9% | 0.8% |
| 7/16/2021 | | Retail sales (Jun) | 0.0% | -1.3% |
Source: Bloomberg, CNBC, Trading Economics, Food Institute
For more information on CPI/PPI and Retail Sales, go to Food Institute Economic Benchmarking.
---
Select Food & Beverage Industry Data Points
Foodservice – Restaurants
OpenTable restaurant diner growth data (2019 baseline): U.S. = -10% as of July 7, 2021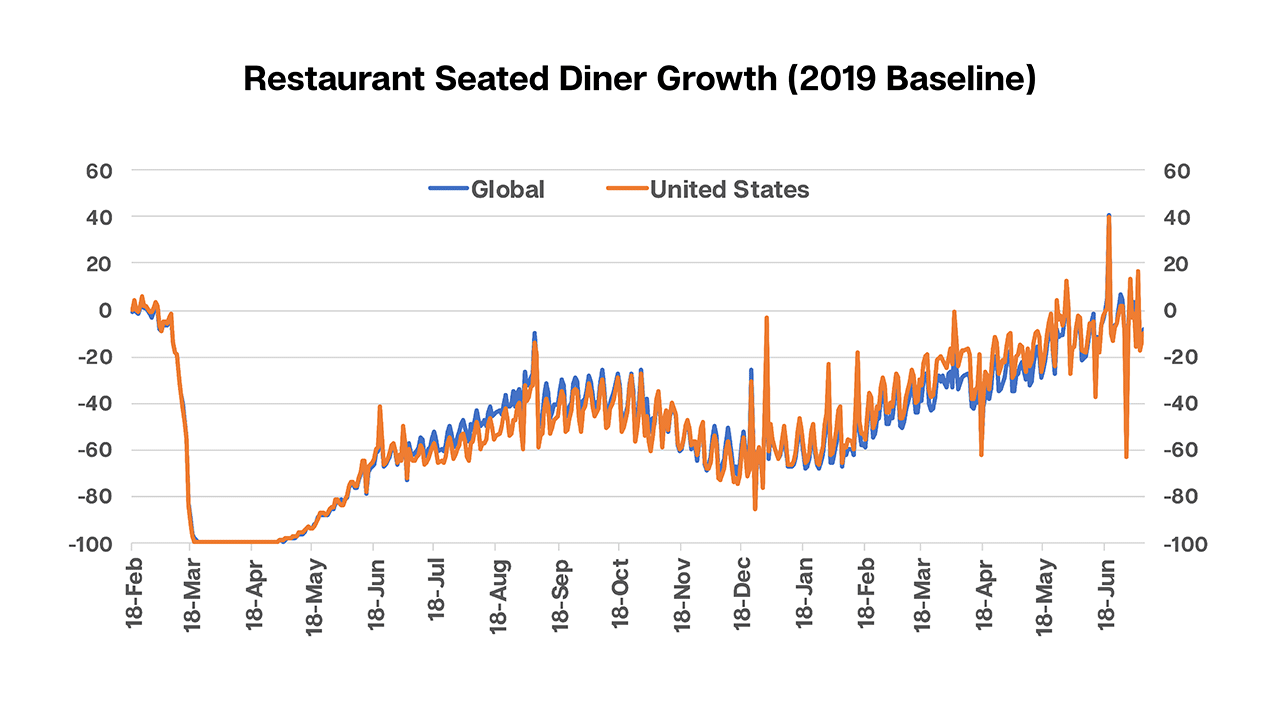 ---