With food more expensive than it has been in decades and inflation surging, business owners and consumers alike are worried about what the future holds.
How high can prices go? When will inflation starts to fade? How will labor and transportation issues play out?
For some perspective, The Food Institute examined recent statements from food industry executives, Wall Street strategists, and economists on the prospects for 2022.
---

---
Food Manufacturing
Tyson Foods: Over the most recent quarter, Tyson said the company's average beef prices rose by nearly 33% compared with last year, while pork prices increased by 38% and chicken about 19% (The Wall Street Journal, Nov 15). "Some of the inflation for us has been substantial," CEO Donnie King told investors. He also pointed out that labor costs will remain high for the foreseeable future. The comprehensive labor cost (wage, benefits, etc) is expected to be $24/hour going forward. "The inflation we incur needs to be passed on," added CFO Stewart Glendinning.
Mondelez International: Mondelez will raise prices by 7% starting 2022, CEO Dirk Van de Put told CNBC (Nov 2). He expects costs to increase by 6% next year due to higher commodity prices and transportation shortages. Kraft Heinz is also planning to hike prices in early 2022.
General Mills: General Mills plans to raise prices in mid-January for dozens of brands including Annie's, Progresso, Yoplait, Fruit Roll-Ups, Betty Crocker, Pillsbury, Cheerios, Wheaties, Reese's, Trix and more, reported CNN (Nov 23). For some items, prices will go up ~20% beginning next year. The company expects its input cost inflation to be 7% to 8% for its 2022 fiscal year.
Danone: Danone's input costs are seen 8% higher. "Like just about everyone across the sector and beyond, we see inflationary pressures across the board," said CFO Juergen Esser in a press release. "What started as increased inflation on material costs evolved into widespread constraints impacting our supply chain in many parts of the world."
Based on calculations from RBC Capital Markets, food inflation is expected to be up about 6-7% in 2022, and for beverages it could be in the 7-8% range, Managing Director Nik Modi told The Food Institute.
Food Retail
Kroger: Kroger is under pressure from higher costs and rising levels of theft. In December, CFO Gary Millerchip told investors that "(the stores) will pass along higher cost to the customer (on select items) where it makes sense to do so."
Costco Wholesale Corp: Typically, Costco has been slower to raise prices than other retailers. Nevertheless, it announced earlier this year that it will raise membership fees by 8.3% next year. CFO Richard Galanti told investors, "For Q1 '22, senior merchants, we estimate that overall year-over-year price inflation to be in the 4.5% to 5% range."
IRI is forecasting consumer packaged goods (CPGs) inflation to accelerate to 8% in the first half of 2022, and then moderate to 4% in the second half.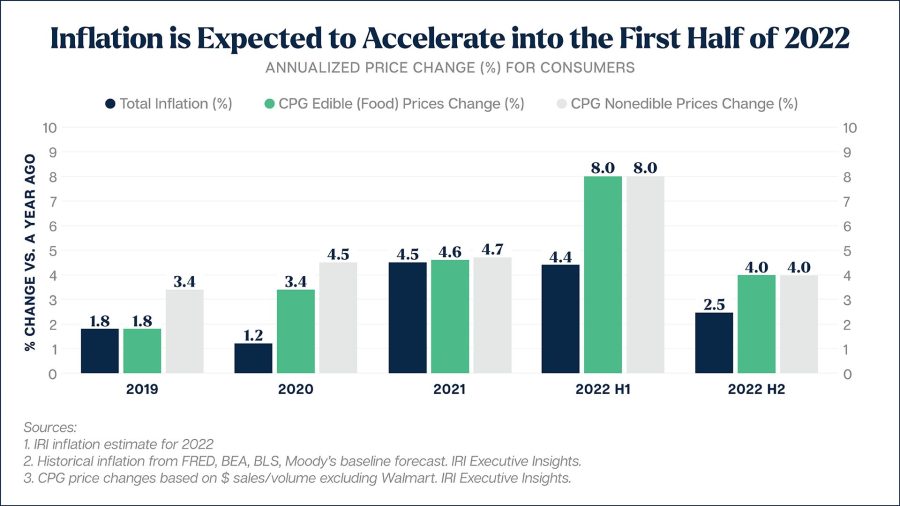 Foodservice
Jack in the Box: CFO Tim Mullany told investors that in 2022, the company will look to increase menu prices by a mid- to high-single digit percentage.
McDonald's: McDonald's was among the first major fast-food companies to announce menu price hikes. The average menu price increased by 6% in 2021, reported WSJ (Oct 27). "Our franchisees are increasing wages; they are over 10% wage inflation year-to-date that we're seeing in our McOpCo restaurants. We're up over 15% on wages," CEO Chris Kempczinski told investors. McDonald's also expects its commodity costs to rise by 3.5% to 4%.
David Henkes, Senior Principle of Technomic, tweeted that "menu price inflation in restaurants is running hotter than it's been in 40+ years. Commodity prices are way up-a great example chicken. For a chain like Wingstop, they plan to raise prices another 4-5% in the coming weeks (10% total this year)."
Supply Chain Disruption May Continue Through 2022
Many food industry experts have cited supply chain disruption as a key issue driving up production costs. Unfortunately, it's unlikely to be resolved any time soon.
"We are seeing continual pricing pressure from Asia and European shipments. South America is also increasing. Pricing remains very high across ocean rates, trucking, etc." President of Camerican International, Josh Gellert told The Food Institute. "We expect pricing to remain high through at least Q2 2022 and possibly all of 2022."
"Transitory" Doesn't Necessarily Mean Short-Term
For most of 2021, producer costs (i.e. PPI) have been rising faster than consumer prices (i.e. CPI). Food industry executives debated how much cost increases should be passed onto consumers, as many expected the current inflation surge to be "transitory," a phrase coined by the Federal Reserve.
As Jonathan Golub, Credit Suisse Chief U.S. Equity Strategist & Head of Quantitative Research, rightly pointed out, transitory doesn't mean short-term. He said in a September interview with Yahoo Finance, "It's pretty clear that transitory is going to be longer than a couple of quarters. I don't know whether it's going to be a year or two years. It's going to take a while to work through the supply chain issues, labor issues…"
Jacob Manoukian, U.S. Head of Investment Strategy at JP Morgan Private Bank, said higher inflation may be here to stay. In a November research report, he argues that the current price surges are supported by strong consumer demand. The risk is not inflation, but the Federal Reserve policy response.
BMO Capital Markets' Chief Investment Strategist Brian Belski is more optimistic. In his 2022 outlook, he expects the strong possibility of decelerating inflation during the second half of 2022.
Likewise, Oxford Economics Chief U.S. Economist Gregory Daco tweeted in December that he "sees core inflation continuing to rise in the coming months & peaking in February 2022 around 5.3% y/y."
Syz Group also expects inflation rates to slow in developed economies and to converge toward central banks' targets ~2% by the end of 2022. Valérie Noël, Head of Trading, shared the bank's outlook with The Food Institute. The research report points out that the "two factors behind 2021's rise in inflation will no longer be valid next year: a very low starting point and the simultaneous supply/demand tensions…The main risk is from wage inflation pressures." Normalization will reduce the risk of an inflationary spike in 2022.

Too Early to Worry about 1970s-type Stagflation
The extended above-trend inflation has sparked some concerns about the prospect of stagflation.
Nobel Prize Laureate (and the author's former economics professor) Paul Krugman argued that "current events don't look anything like the 1970s. Instead, the closest parallel is the price spike from 1946 to 1948." In the New York Times Op-Ed (Nov 11), he pointed out the similarities between 2021 and 1940's: "Then as now there was a surge in consumer spending, as families rushed to buy the goods that had been unavailable in wartime. Then as now it took time for the economy to adjust to a big shift in demand…But the inflation didn't last. It didn't end immediately." Syz Group also agrees that 1970s-type stagflation is very unlikely.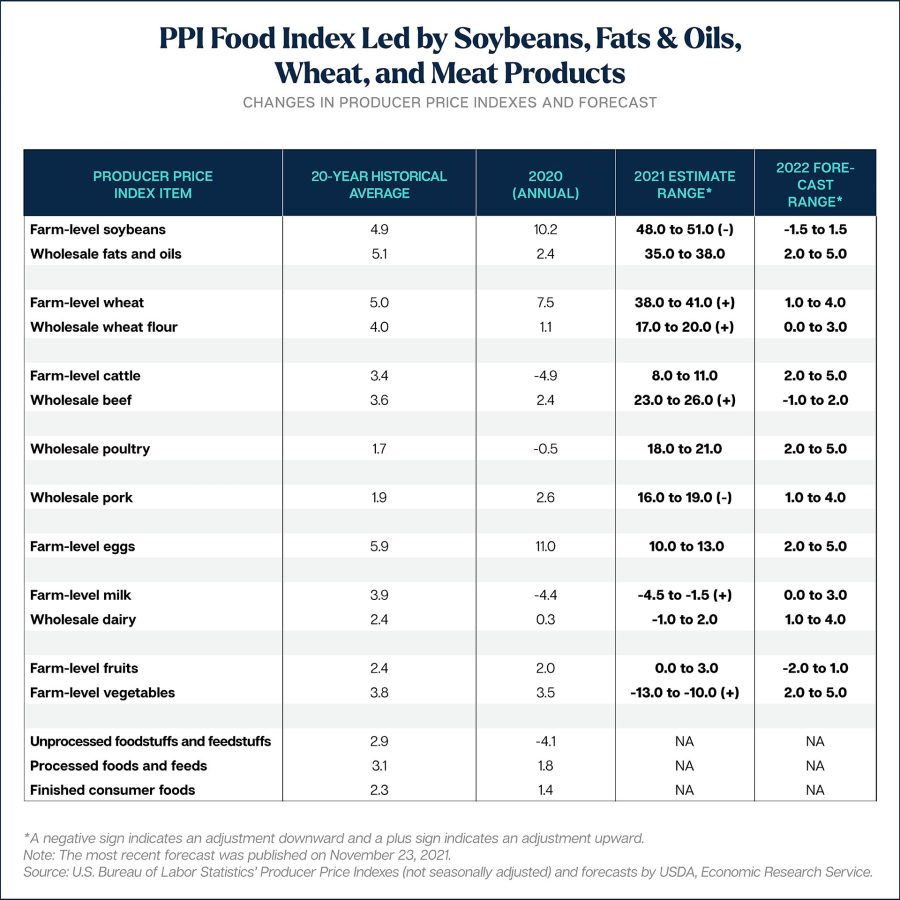 This article is a part of the Food Institute December Report, "Five Trends to Watch in 2022." 
For more economic data and insights, go to the FI Economic Benchmarking.