Here are trending economic and food industry data points, as well as major economic and company earnings releases for the coming week: an interview with Wells Fargo agricultural economist Dr. Michael J. Swanson on a broad range of U.S. agricultural market issues, restaurant reservations, Conagra's earnings outlook, CPG inflation, and more.
---
Wells Fargo Economist Addresses State of U.S. Agriculture
In a recent episode of The Food Institute Podcast, Wells Fargo agricultural economist Dr. Michael Swanson discussed how current market conditions like record heat, extreme drought, and supply chain constraints are affecting farmers.
Swanson said the hot and dry summer will hurt crop yields across much of the nation but farmers, experienced in navigating serious weather challenges, should be able to weather the storm. Regulatory and supply chain issues, however, may prove to be more significant obstacles.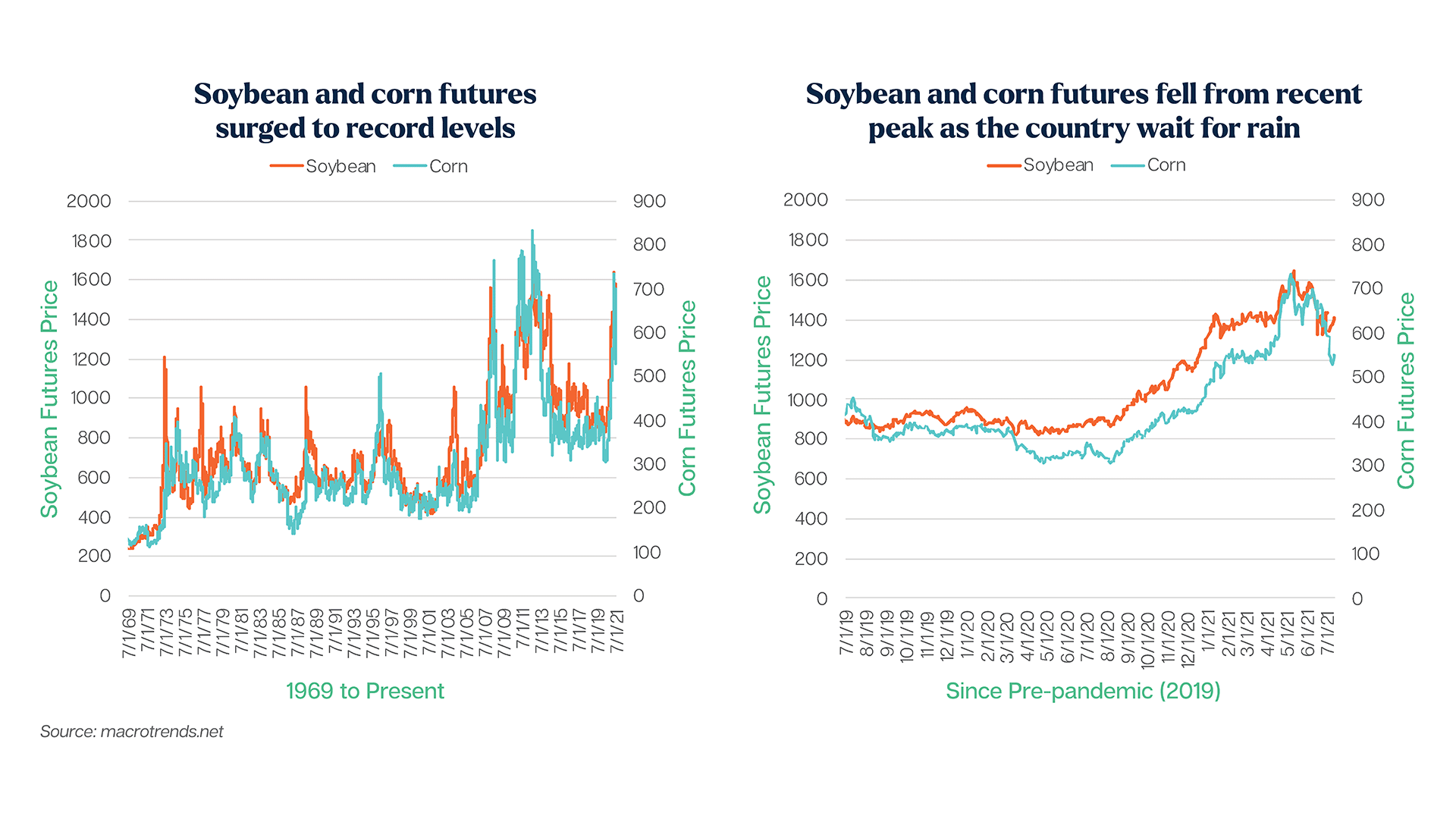 Transportation, Storage Issues Press on Growers
Rising transportation costs are among the top problems facing farmers, with operators forced to either absorb price increases or pass them along to customers, the economist noted. Additionally, farmers are losing opportunities to ship to international markets with container supplies limited and highly priced.
Swanson also said pandemic-related constraints depleted reserve stocks of key commodities, which some operators did not see coming, and COVID-19 exposed vulnerabilities in the "just-in-time" system of inventory management. While the system works well when fully primed, it does not do well with shocks, as showcased in 2020.
Effects of Heat and Drought in California
Swanson said California's current situation is dire because its agricultural system was not designed to handle years without sufficient snowpack. The situation has only worsened under the Sustainable Groundwater Management Act.
In years past, farmers would be able to rely on subsurface water extraction for irrigation needs, but under the legislation, they quite literally cannot return to that well. As such, some agricultural producers have opted to fallow land.
Swanson also said that some farmers are buying properties or utilizing existing farmland with water rights in order to divert irrigation to their most profitable crops. However, with the water situation unlikely to improve in the years to come, he said production in California could plateau, which may require a reassignment of resources among farmers in the region.
---
More About Dr. Michael J. Swanson:
Michael Swanson is an agricultural economist and consultant for Wells Fargo. His responsibilities include analyzing the impact of energy on agriculture and strategic analysis for key agricultural commodities and livestock sectors.  His focus includes the systems analysis of consumer food demand and its linkage to agribusiness. 
---
Upcoming Economic Releases
| | | | | |
| --- | --- | --- | --- | --- |
| | | | Forecast | Previous |
| 7/13/2021 | | NFIB small-business index (Jun) | 100.0 | 99.6 |
| 7/13/2021 | | Consumer price index (Jun) | 0.4% | 0.7% |
| 7/14/2021 | | Producer price index (Jun) | 0.9% | 0.8% |
| 7/16/2021 | | Retail sales (Jun) | 0.0% | -1.3% |
Source: Bloomberg, CNBC, Trading Economics, Food Institute
For more information on CPI/PPI and Retail Sales, go to Food Institute Economic Benchmarking.
---
Select Food & Beverage Industry Data Points
Foodservice – Restaurants
OpenTable restaurant diner growth data (2019 baseline): U.S. = -3.3% as of July 15, 2021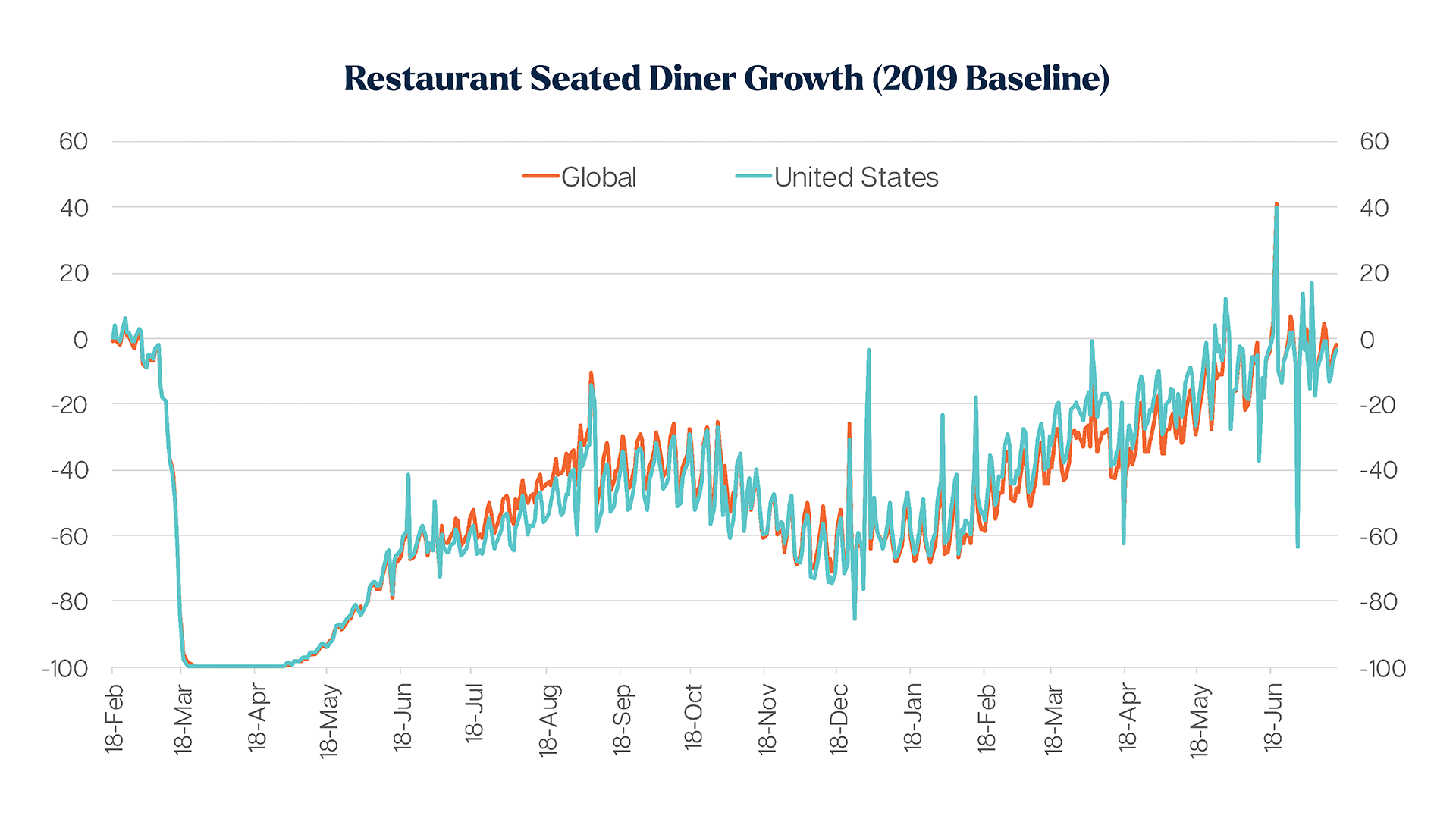 ---
Food Manufacturing – CPG
Conagra Brands, Inc. (CAG) reported Q2 2021 results
Key Takeaways:
Cut its fiscal 2022 outlook due to rising costs
Bank of America Analyst Bryan Spillane: "In our view, FY22 will be akin to a transition year as CAG takes action to combat inflation while at the same time cycles difficult, COVID-related volume comparisons. Management is prudently managing the situation by maintaining its pressure on the consumer (marketing and new products). However, with the inflation-related earnings gap this year, we see the stock being range bound until the market gets a better sense on sales and earnings growth prospects for FY23."
---

Earnings Calendar of Select Companies
| | | | | |
| --- | --- | --- | --- | --- |
| Announce Date | | Company | EPS Estimate | Previous Quarter EPS |
| 7/20/2021 | | Chipotle Mexican Grill, Inc. (CMG) |  $                6.50 |  $                5.36 |
| 7/21/2021 | | The Coca-Cola Company (KO) |  $                0.55 |  $                0.55 |
| 7/22/2021 | | The Boston Beer Company, Inc. (SAM) |  $                6.85 |  $                5.26 |
| 7/22/2021 | | Domino's Pizza, Inc. (DPZ) |  $                2.86 |  $                3.00 |