The deli department was a grocery hotspot in 2021 and retailers are anticipating continued popularity in the year ahead.
According to IRI data, deli department sales totaled $40.8 billion in the 52-week period ending December 26, up 11.1% year over year and outpacing 2019 levels by 13.1% — well ahead of inflation, noted Anne-Marie Roerink in a report by 210 Analytics, LLC.
"The deli department struggled in 2020 amid self-serve prepared food bars, and in some cases, full-service counters being closed down for some or all of the year," said Jeremy Johnson, VP of Education for International Dairy Deli Bakery Association in the same report. "But 2021 was an all-around comeback with gains in each of the four areas within deli."

Department Activity
The prepared food and entertaining categories gave the deli a major sales boost in 2021, as convenience continued to reign supreme with consumers.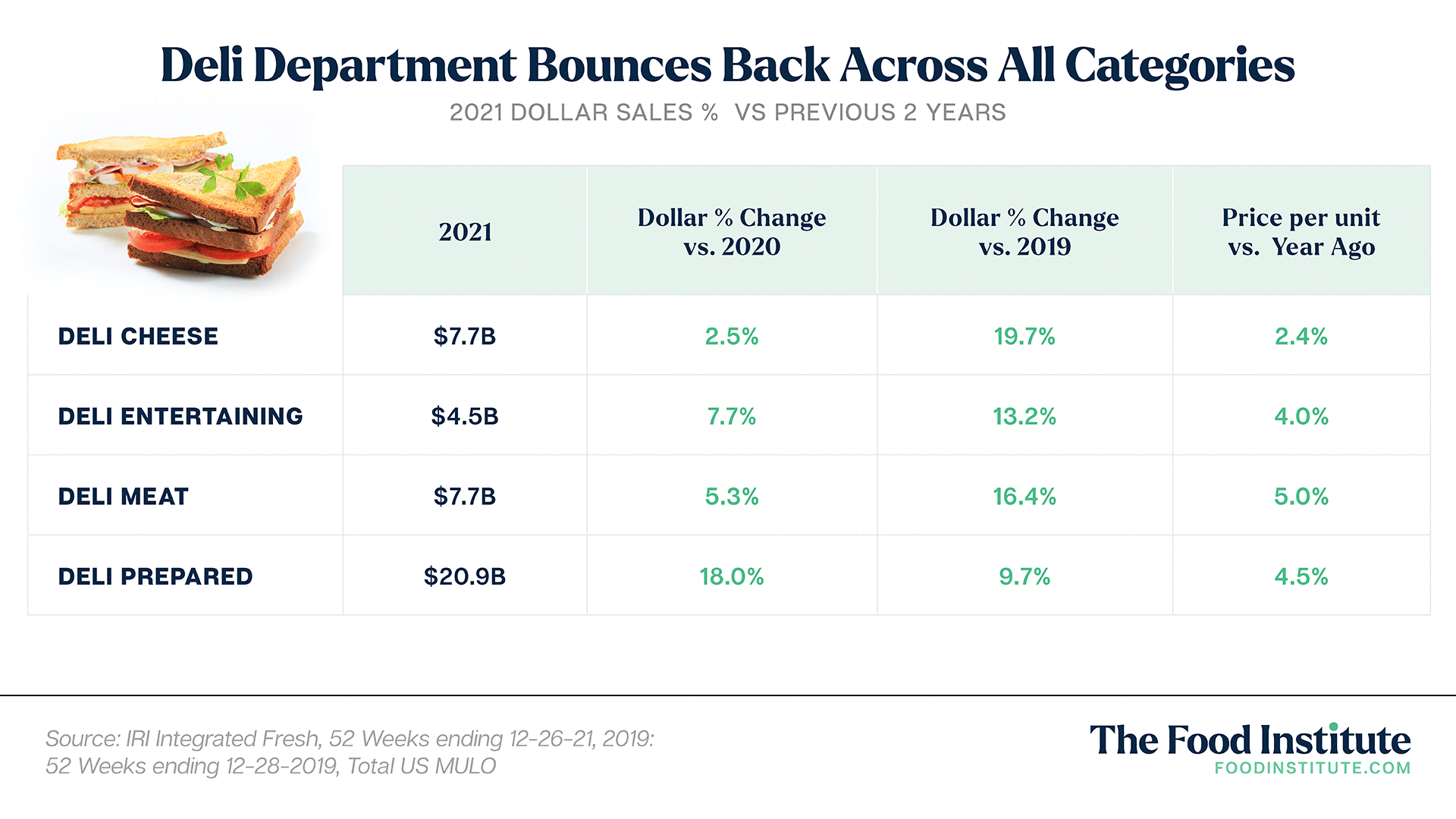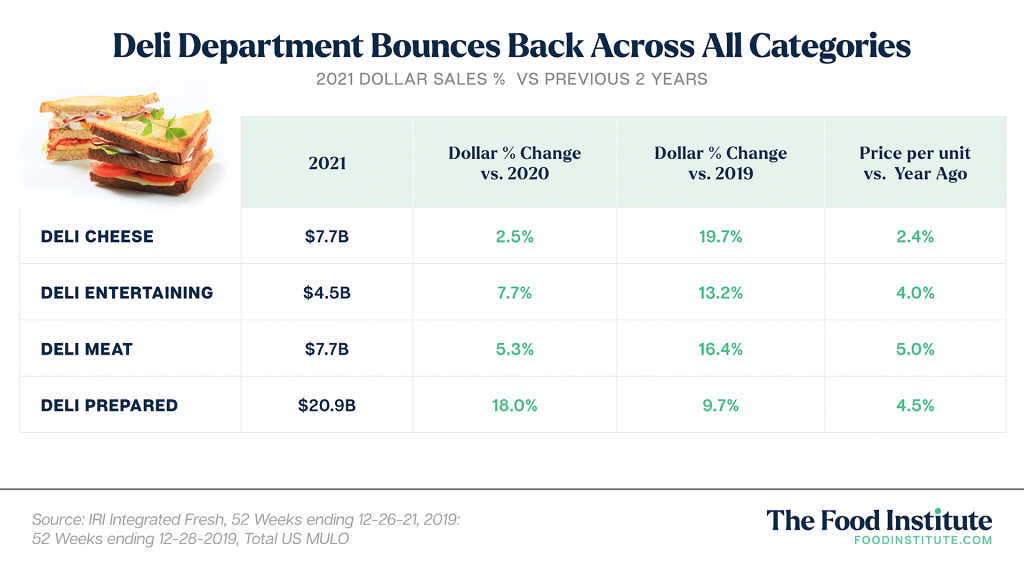 According to the report, prepared foods generated more than half of all annual revenue for the department and increased 18% year over year. The entertaining category also made a big comeback, with sales up 7.7% over the same time.
"In departments around the store, convenience-focused items have performed well as consumers are once more seeking time-saving, delicious foods they can easily prepare at home without a lot of planning, preparation and cleaning up," added Johnson.
Deli meat and cheese — both of which had strong 2020 results — still managed to come in ahead with the 2021 results. This was largely driven by inflation, which averaged 4.4% including cheese, meat and deli prepared but remained nearly one point below total food and beverages.

An Ongoing Trend
According to the Supermarket News 2022 Retailer Expectation Survey, 56% of respondents ranked deli-foodservice as the category they expect to have the most success with in 2022 — second only to fresh produce.
Furthermore, many retailers are renewing their focus on foodservice, with 48% planning to increase their prepared foods offering and 45% planning to diversify that offering with more grab-and-go and prepackaged options.
Operators are also incorporating more international menu items at the deli counter, as global foods like sushi, Italian, Latin and Mexican favorites and Asian flavors are drawing customers to seek convenient experiential meal occasions, reported Supermarket News. (Jan 5)
"Consumers are looking for higher-quality imported items, but convenience is still a factor," said Jim Mitchell, CEO at Rovagnati US in the same article. "Thus, they are looking for retailers to offer international products that are simple to prepare at home so they get to enjoy the quality products without the prep work."