Alternative milks remain the darling of plant-based growth, leading the category in both sales and household penetration. Record high dairy inflation and a steady stream of new alternatives, however, are putting the brakes on product movement.
"'Plant-based milk' is not a monolith; there are many kinds of fruit-, nut-, root-, and oat-based milks that vary wildly in terms of taste and performance," Lizanne Falsetto, founder of precision fermentation-based betterland milk, told The Food Institute. "Families that choose plant-based milks tend to have multiple varieties of milks in the fridge or pantry. For cash-strapped families, [this] might also explain a decline in overall unit sales during inflation."
Alt-Milk Booming in 2022
According to the National Consumer Panel, 41% of U.S. households purchased plant-based milk in 2022, with a repeat purchase rate of 76%.
Globally, dollar sales of plant-based milk increased 6% in 2022 to $19.1 billion, per Euromonitor, while sales by liters grew at a slightly lower rate of 3%. The Asia Pacific region holds the largest overall market share, while Latin America exhibited the highest year-over-year (YOY) growth.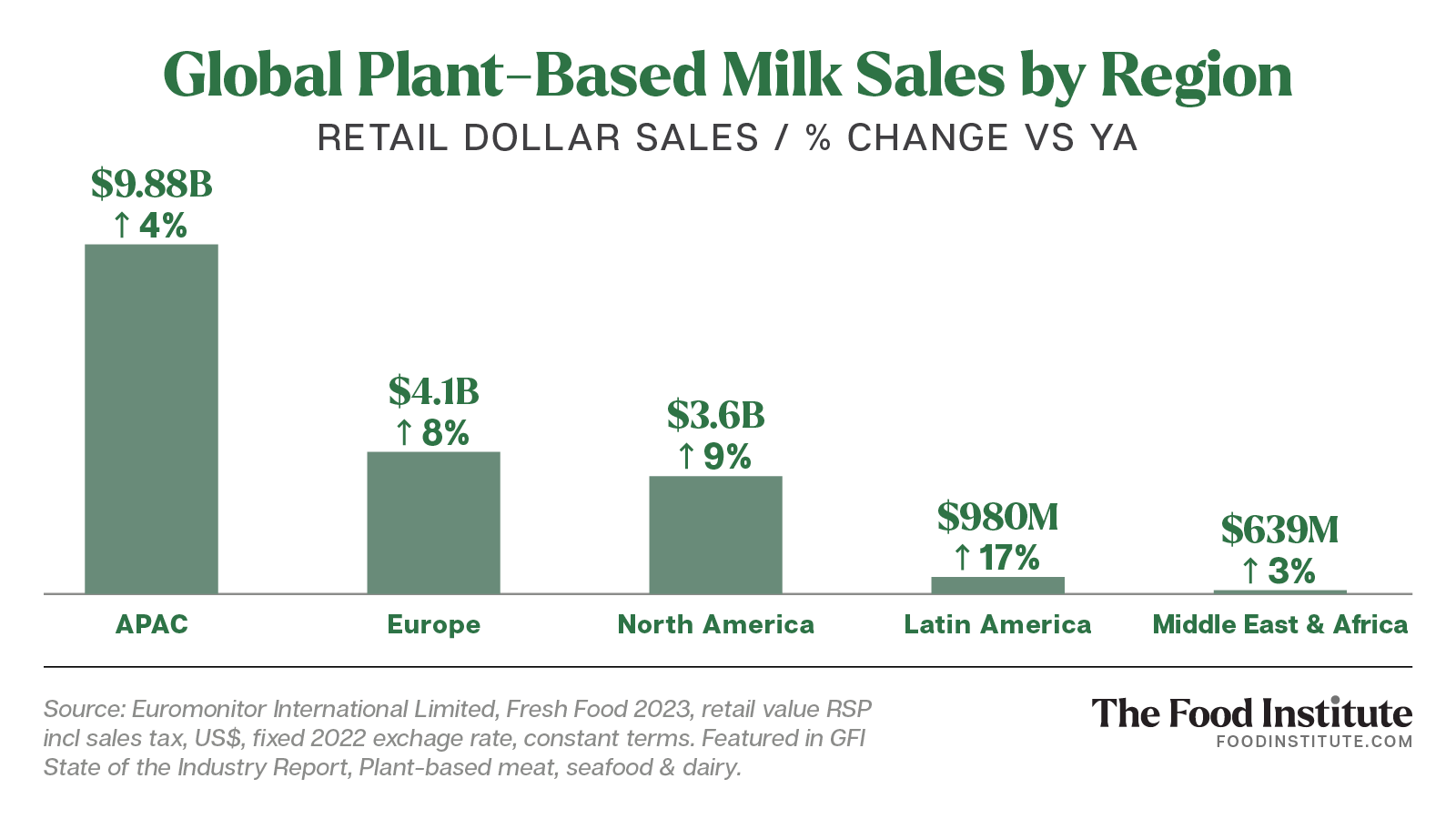 The Price Equation
In line with steady dollar growth, inflation across the dairy department worsened in the second half of 2022, with several categories hitting record highs in December, reported Supermarket News.
Sales figures continue to reflect this trend today. Per Chicago-based marketing firm Circana, U.S. dollar sales for alternative refrigerated milk rose 10.0% YOY in the 52 weeks ending April 30, 2023, while volume sales were down 4.2%.
Adding inflation to the higher cost of alternative milks presents a significant barrier for consumer adoption. Gallon for gallon, the overall price premium for plant-based milk was 87% in 2022, according to an industry report by The Good Food Institute.

At the same time, the current economic environment has boosted sales for private-label manufacturers. Plant-based dairy producer SunOpta, for instance, has invested $200 million in plant-based production capacity in the last three years – and enjoyed substantial returns.
"The majority of SunOpta's plant-based milk sales come from our co-manufacturing and private label business," Lauren McNamara, VP and Assistant GM of SunOpta told The Food Institute. "[Our] plant-based segment experienced a 10.8% growth in revenue in Q4. We had double-digit increases in retail [and] over 30% growth in food service."
Variety Ups and Downs
According to a 2023 report by Morning Consult, almond milk remains the leader among plant-based milks, with 7 in 10 calling it their preferred nondairy alternative. Oat milk, meanwhile, has been climbing the ranks. Two years ago, 19% of nondairy milk drinkers said they most enjoyed oat milk, but that share has increased to 31% as of February 2023.
"Currently, oat milk and almond milk are getting much closer in volume within our portfolio, with oat growing the fastest in particular due to an increase in foodservice usage," said McNamara. "We are also seeing a huge resurgence in soy, as consumers have recognized that it's an effective way of getting nutrient-rich plant protein in a convenient and delicious format."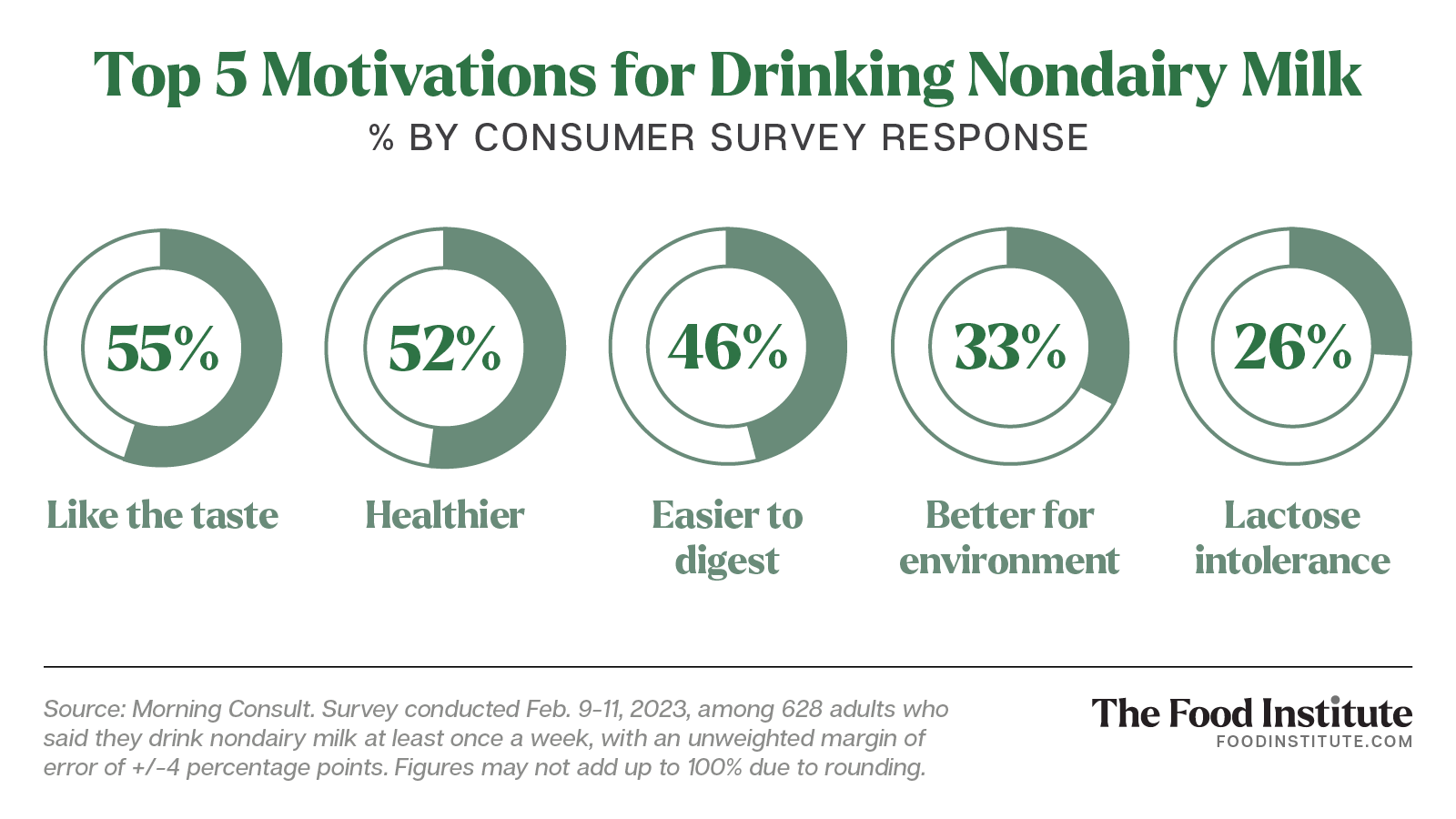 While variety is a key element of plant-based category growth, as Falsetto notes, overcrowding in milk alternatives — which now includes tech-driven methods like precision fermentation — can be a challenge.
"Innovation continues to grow from other raw material sources and retailers are struggling to maintain the growth of the category," said Falsetto. "With so many options, it can be overwhelming for consumers to choose which plant-based milk to try."

Category Outlook and Innovations to Watch
With so much competition, transforming innovation into consumer adoption requires a careful balancing act. As John Crawford, VP of Client Insights-Dairy at Circana noted in a recent blog post, differentiation of plant-based products will be key to success in the year ahead.
"Despite overall trading-down tendencies and budget tightening, consumers will continue to look to indulge affordably on occasion by enjoying premium experiences at home," said Crawford. "Continuing innovations that deliver premium experiences, better-for-you products, great taste, and convenience should remain important areas of focus."
Meanwhile, the SunOpta team is keeping their eyes peeled for the next big thing.
"Currently, we are seeing more grains, nuts, and legumes being innovated into plant-based milk offerings, but we have not seen one emerge as a front runner just yet," said McNamara.
SunOpta is also monitoring milk analogues made from blends that mimic milk in taste, texture, and nutrition.
"There has a been a recent spotlight on the fermentation space, and we'd like to see if it can scale and, if so, if consumers have an understanding of what fermentation can offer from a nutrition standpoint," McNamara added. "We see immense opportunity for continued growth within this space."
Click here to sign up for The Plant-Based Insider – The Food Institute's free plant-based newsletter – to get related news, data, and trends delivered directly to your inbox every Tuesday.