Consumers' perpetual sweet tooth for frozen treats continues to drive category sales, despite equally persistent supply chain challenges.
In particular, the frozen novelty segment has been a powerhouse over the past few years, with April year to date dollar gains up more than 40.5% compared to pre-pandemic, per IRI.
Anne-Marie Roerink, principal and founder of 210 Analytics, attributes this traction to multiple factors.
"Frozen foods altogether have had a very strong pandemic performance and with more people going down the aisle, more eyes are on frozen novelties, as well," Roerink told The Food Institute. "Millennials [also] love frozen food and innovation and novelty is a sweet spot."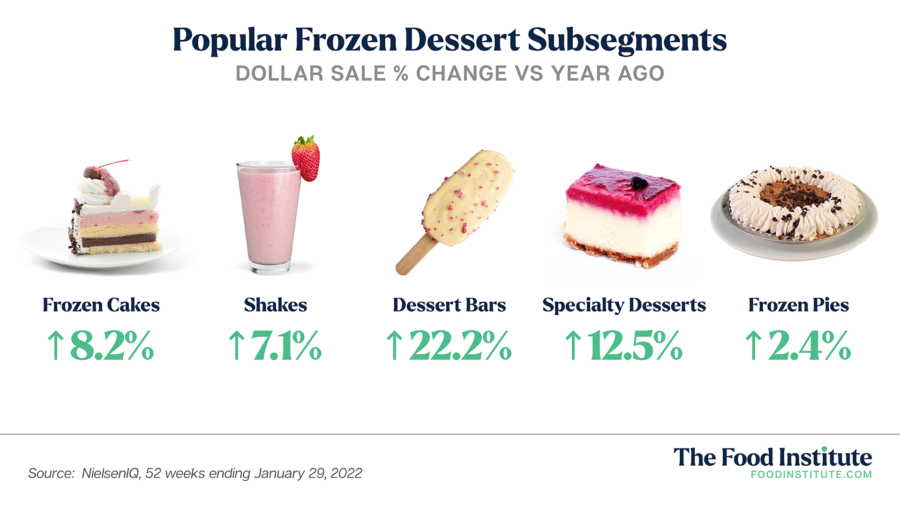 Stronger performance by other frozen desserts can also be attributed to increased restaurant takeout and delivery. "Instead of ordering the main and the dessert from the restaurant, they may purchase the meal, but buy the dessert at the store," said Roerink.

Supply Chain Impacts
Despite consumer demand, supply chain issues have impacted overall in-stock rates in recent months, putting pressure on the category.
Per IRI, unit sales for frozen desserts were down 3.3% year over year for the 52-week period ending May 22. Ice cream/sherbet was the most heavily impacted category (-5%), followed by frozen novelties (-1.7%) and frozen desserts/toppings (-1.6%).
"Novelty is a bit like candy, where people like innovation but also have their proven favorites," said Roerink. "In all, while unit sales are down, they are down less than assortment and inventory, which tells me demand is still very strong."
Trends to Watch
Consumers turn to frozen for a variety of indulgent, nostalgic, and better-for-you treats, and, overall, the department has been keeping pace.
Evolving Health Claims
Innova Market Insights Trends Survey for 2021 found that the "gluten-free" claim was used on 30% of new ice cream and frozen dessert packages launched in 2021, while "GMO free" appeared on 22%.
Furthermore, plant-based was the fastest-growing claim, with an average 67% compound annual growth rate between 2018 and 2021, reported IFT.
Private Label
Amid recent grocery price inflation, frozen desserts are a growing sweet spot for private label. As of May 22, unit sales for store branded frozen novelties are up 6.6% year over year, per IRI.
Several retailers have reported success with their store-brand ice creams, including Albertsons, which has recently introduced more plant-based and indulgent ice cream varieties under its Open Nature label, reported Supermarket News.
Increased Snacking
Consumers also seek frozen treats as small indulgent rewards throughout the day and into the evening.
This trend is driving more crossovers, influencer partnerships, and portion-friendly packages such as pints and individually wrapped multipacks.
It's also inspiring new creations like Tru Fru's chocolate covered frozen berries, which received an Innovative New Product Award at the 2022 Sweets & Snacks Expo.