Stevia is the growing sweetener of choice for consumers looking for natural and healthy products. In 2009, the natural low-calorie sweetener, between 200 and 400 times sweeter than sugar, became commercially available in the U.S. Stevia has become one of the most popular natural sweeteners used in food and beverages on the market today, with an estimated market forecast of $4 billion in 2021.
In 2013, the International Stevia Council (ISC) wanted to understand what consumers were saying about stevia in their online conversations. What were their attitudes and perceptions around the low-calorie sweetener? With so much growth in the category, the ISC decided to conduct its first study analyzing data from June 2013 to Sept. 2015. Published in Oct. 2015, the data analysis revealed that of all the low- and no-calorie sweeteners, stevia was the most talked about one in English-speaking countries.
Since its first study, however, many changes have once again occurred in the category. The ISC was interested to know if consumers still felt the same about stevia as they did five years ago. How were they using it? How had their perceptions evolved?
Stevia Online Conversation Doubles
To find out, the ISC conducted the 2019 Stevia Online Conversation & Trends Analysis that examined data from 2017-2018 compared to the past data from 2013-2015. The results were dramatic: The online social conversation doubled.
The association worked with Kellen, a professional services firm, to conduct the ISC Conversation & Trends Analysis using their researchers and Crimson Hexagon, an AI-powered consumer insights company, to analyze 2017-2018 data.
The analysis revealed that when compared to other low- and no-calorie sweeteners, stevia remains the most talked about sweetener. This was particularly notable when examining the language-specific data. In English-speaking countries, stevia mentions significantly increased, going from 101,697 in 2013-2015 to 258,669 in 2017-2018. In Spanish-speaking countries, the mentions also doubled rising from 38,965 in 2013-2015 to 77,535 in 2017-2018. Specific key findings include:
Positive/neutral sentiment in English-speaking countries around stevia remained at nearly 80%, with the positive sentiment rising to nearly 40%-an increase of 5%.
Positive/neutral sentiment in Spanish-speaking countries around stevia remained 82%, with the positive sentiment increasing to 34%-an 11% growth.
Channel distribution in English has changed significantly: Instagram and Tumblr took away 37% of the conversation from Twitter; mentions in the news increased by 9%. While total mentions on forums went down by 11%, Reddit reclaimed 7% of the total mentions.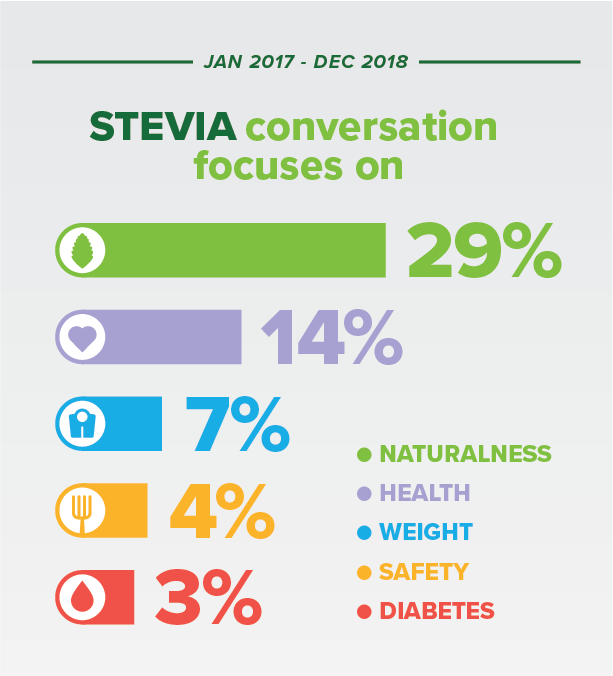 Source: International Stevia Council
A Shift to Health
Since the last analysis, the topics of conversation have also shifted: Less mentions about recipes and taste, and more related to weight loss and diabetes/blood sugar management.
Additionally, stevia was talked about in conjunction with dieting, specifically low-calorie and Keto diets.
The analysis found that many popular diet and fitness apps now prominently mention stevia in the English-speaking conversations, including MyFitnessPal, Diabetes Daily, and Obesity Help. "
Health concerns over the past few years have taken on more importance and we've started to see this on a global level," explained registered dietitian and consultant to ISC, Diane Welland, MS, RD. "As a low-calorie sweetener, stevia is poised to continue growing for many reasons. Not only is it an excellent low-calorie sweetener, but it is also popular among people concerned about their health and well-being."
When it comes to snacks and desserts, stevia was also mentioned as a healthier sweet taste alternative. Compared to other sugar alternatives like sucralose, aspartame, and sucrose, stevia remained a much more talked about topic.
Furthermore, the majority of stevia conversations focused on references to "natural"-appearing in 29% of all posts in English, while the reference to "artificial" was only 15%.
---
By Maria Teresa Scardigli, executive director of the International Stevia Council, which aims to improve the diets and health of people globally by addressing sugars and calories in food. Reach her at globaloffice@internationalsteviacouncil.org.