Main Points:
A look at the past three months of consumer spending data at grocery stores highlights the following trends:
A slow return to historical food spending patterns
Consumers gravitating towards baking and cooking, while at the same time eating healthier
Continued strong alcohol consumption at home with slight growth in shelf stable beverages
Going forward, these trends may have lasting impact over the long term as consumers remain cautious
---
COVID-19 has upended consumer spending in ways we haven't seen in our lifetimes. The latest data from Goldman Sachs and Catalina show a slow return to normal, but overall total food spending is still elevated. A deeper look into each of the food and beverage categories portrays a more diverse spending pattern, some of which are likely to stay for the long term.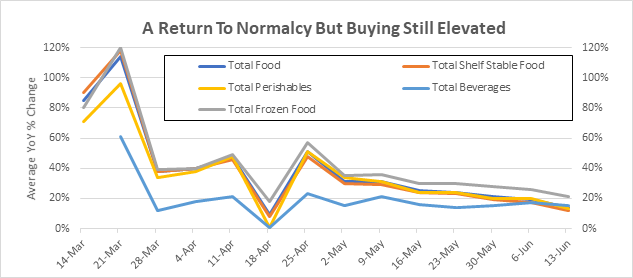 Source: Goldman Sachs/Catalina
Total Food
The overall food category, which includes shelf stable, frozen, and perishables, saw a dramatic rise in late March with year-over-year (yoy) increases of over 100% and a subsequent rise of 50% yoy in late April as government stimulus checks reached consumers' bank accounts. Since the second peak, there's been a steady decline and return to normalcy; however, spending is still elevated with the latest data showing a 14% yoy increase as of the week ending June 13.
Shelf Stable Food
In the shelf stable category, total sales growth peaked in late March at +118% yoy but have gone down significantly with the latest data indicating a growth rate of just +12% yoy as of June 13. However, within the shelf stable category, there was significant variation. Sales for flour peaked at +247% in late March, while seasonings didn't peak as dramatically but rather remained elevated between +50% and +80% for the majority of the three-month period. As of June 13, flour, baking goods, and seasoning sales were within a similar range at roughly +30% yoy.
In addition, diet and healthy foods consistently outperformed most other items with gains of more than 20% yoy. This pattern shows that consumers are adapting to a stay-at-home lifestyle with continual stockpiling and cooking/baking at home while at the same time making a conscious effort to eat healthy.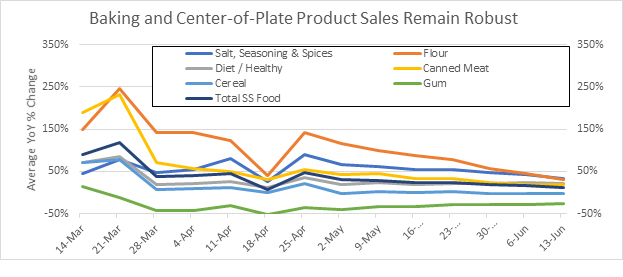 Source: Goldman Sachs/Catalina
 Frozen Foods
Out of the three segments of food covered in the Goldman Sachs report, average sales of frozen foods remained the most elevated at +21% yoy as of June 13, versus shelf stable (+12%) and perishables (+13%). Frozen fruits, frozen meat/fish, and frozen potatoes were the best performing categories. The increased sales in frozen fruits highlights the perceived health benefits of fruit consumption during the pandemic, whereas the meat/fish and potatoes point to consumers' desires to stockpile "essential" food items.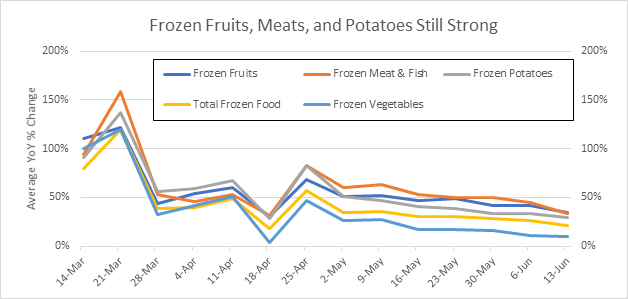 Source: Goldman Sachs/Catalina
Beverages
In the beverage category, alcohol sales continue to remain strong for at-home consumption. In fact, alcohol consistently outperformed all other beverage segments over the latest three-month period. In addition, shelf stable juice and soft drink sales that have historically seen sales decline pre-COVID are showing recent signs of growth as we move into the latter stages of the pandemic season.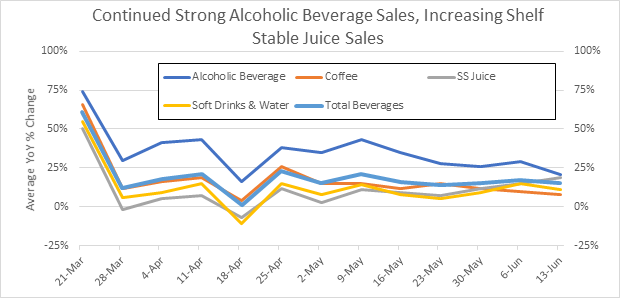 Source: Goldman Sachs/Catalina
Conclusions
Three months into the pandemic, consumer food sales at grocery stores are trending back to historical norms, but overall sales growth rates remain elevated. The spending patterns emphasize the following trends:
Consumers are continuing to purchase baking and cooking ingredients, while at the same time eating healthier through frozen fruits and vegetables
Consumers are also continuing to consume alcohol at home at elevated levels
Shelf stable beverages (e.g., soft drinks, juice) are showing increases in the latter stages of the pandemic
Going forward into the summer months, we expect growth rates to remain elevated but further normalize as consumers are likely to remain cautious and as foodservice restaurants continue to reopen across the country.