As consumer spending buckles under the weight of inflation, store brands must work harder than ever to capture market share.
In first quarter of 2022, consumers across all outlets were spending more but buying less — about 3% fewer units per household, with 6% more dollars spent — and this pattern has been relatively proportional across national and private brands, said Mary Ellen Lynch, principal of Center Store Solutions at IRI in a recent podcast.
Total edible unit sales were down 2.5% for national brands and 2.1% for store brands in the 52 weeks ending May 29, per IRI.
This spending behavior is consistent with a recessionary mindset, along with minimizing food waste and looking for deals, said Lynch. "All of those strategies are starting to kick in."

Historically, private labels gained market share during inflationary periods. However, a combination of challenges including supply chain bottlenecks, higher input costs, and less promotional advantages have narrowed the price gaps between national and store branded products.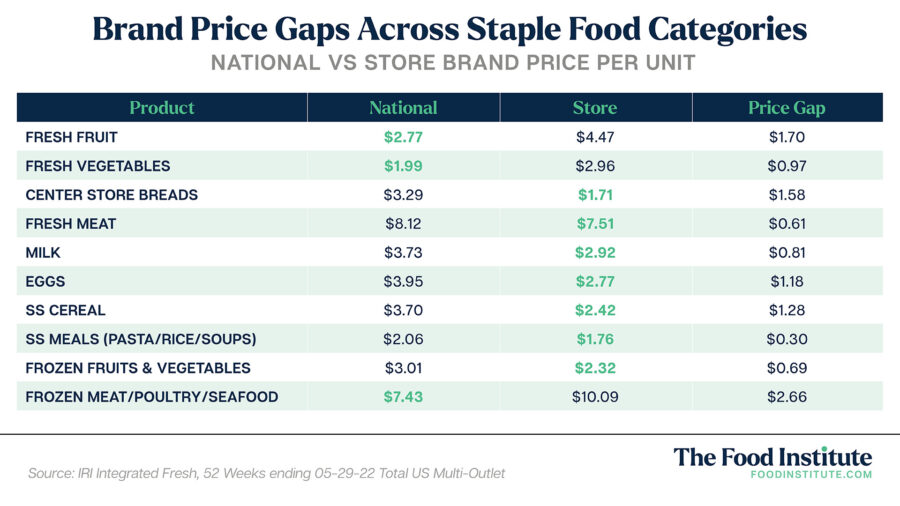 This shift gives shoppers less incentive to view store brands as a greater value based on price alone, said Joan Driggs, Vice President of Content and Thought Leadership at IRI in the same podcast.
Although there are some consistently well-performing categories that retailers can leverage, "it's critically important, because the price has been narrowing, to call out the genuine value propositions of what your store brands offer," said Driggs.
Here are a few related tips from Driggs and Lynch:

Think Like a Bigger Integrated Marketer
"[Retailers] have to be more sophisticated marketers and work with what they have right now," said Lynch.
In some cases, synchronizing digital and in-store marketing teams can yield noteworthy results. For instance, combining shortform video recipes that highlight products in the context of fresh approachable gourmet with end cap displays.
Get Creative with Clearance
Uniquely positioning discounted seasonal, health and wellness, and reduced-for-quick sale products — rather than tucking them away in what Lynch calls the "aisle of shame" — can draw people into the store while improving inventory movement.
Encourage Trial
Making it very economical for shoppers to try samples in the store or purchase smaller sizes helps establish trust in product quality, which is a value proposition beyond the price tag.
As Lynch notes, offering smaller quantities at affordable prices has been a key driver for discount stores as they expand their food offerings.
Seventy-two percent of the population live in small households and a good portion are living paycheck to paycheck. "They may have that last five or six dollars and they need to buy three items," said Lynch. "The smaller pack is a budget solution for them."