With Pantone choosing "Classic Blue" as its Color of the Year and Firmenich calling "Classic Blueberry" its flavor of the year, it is only fitting Naturipe Farms LLC declared 2020 the Year of the Blueberry. The company kicked off the year-long celebration by wishing its customers a "Happy Blue Year" to open the new decade.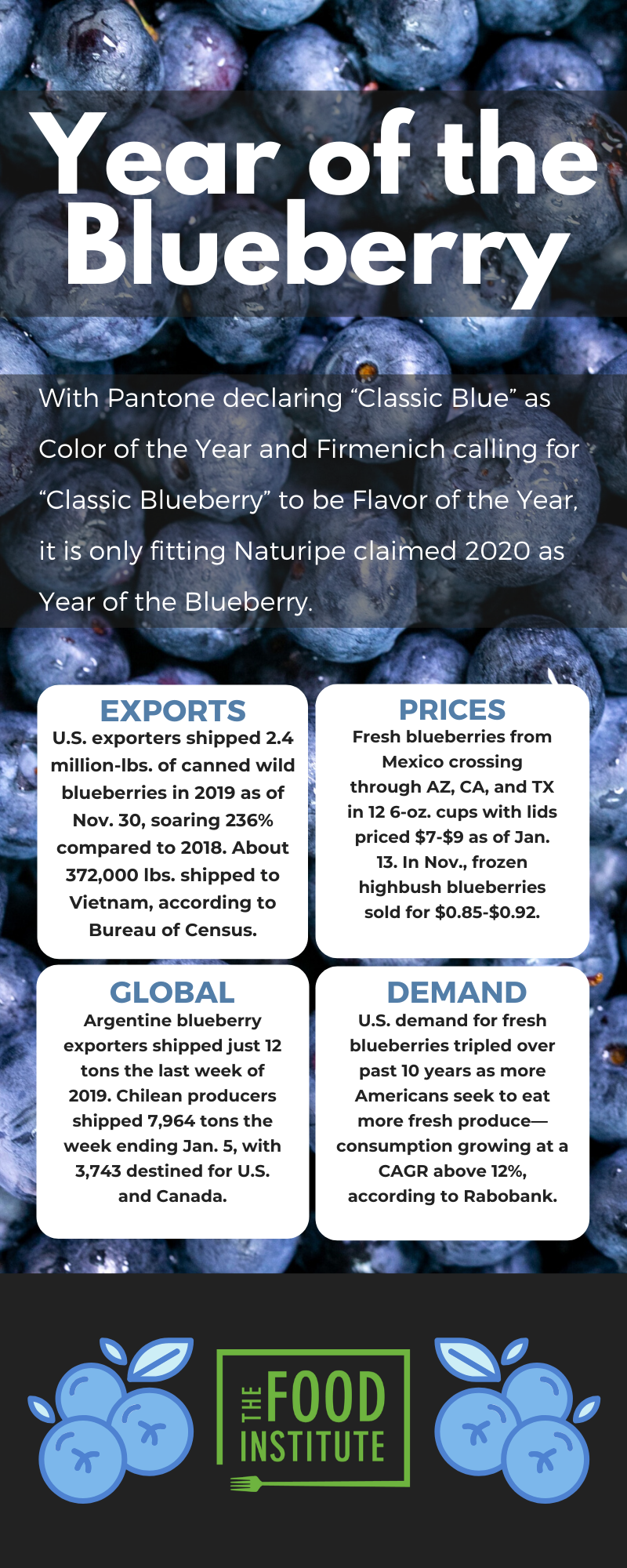 "Blueberries have so much versatility, nutritional benefits, and burst of flavor," said CarrieAnn Arias, VP of marketing, Naturipe, in a news release. "We've seen an increase in blueberry consumption in recent years and with growers across the world, we produce quality blueberries for consumers year-round to support this increase in demand."
Demand for the fruit is on the rise particularly in the U.S., with Rabobank reporting a 12% per year increase in consumption for the past 10 years. In fact, demand is outpacing the growth of domestic production, which it reported as 7% per year. Accordingly, imported blueberries are helping to meet the demand, increasing 15% during the period. Analysts expect the imports would lower prices for the 2019-2020 season, reported The Packer (Oct. 31, 2019).
Per capita consumption data from USDA support Rabobank's claims. Although per capita consumption of the fruit dropped slightly in 2017 (the most recent year with data available) compared with 2016 to 1.75 lbs. from 1.77 lbs., the number rose steadily since 2007, when it was 0.59 lbs. In 1997, per capita consumption was just 0.29 lbs. per person.
"Just a few years ago, Florida was one of the few growing regions that harvested blueberries on a commercial level early in the spring, and now Mexico has a close to 50% market share," said David Magana, analyst for Rabobank. "That doesn't mean that Florida production is declining, it's just that the pie is getting bigger and bigger."
Argentine blueberry exports to the U.S. fell year-over-year, according to the Argentinian Blueberry Committee. In total, the country shipped 12,675 tons in the 2019-2020 crop year as of Dec. 31, with 7,105 tons destined for the U.S. In the 2018-2019 crop year, the U.S. imported 9,326 tons of the country's crop, which reached 15,278 tons overall.
Chile is another nation working to increase exports to help meet this demand. The country's growers shipped 56,284 tons as of Jan. 5, with 27,273-metric tons destined for the U.S. Overall, organic exports from the country increased 40% compared to the prior year, reaching 6,131 tons.
As of Jan. 6, USDA reported Chilean imports of flats filled with 12 1-pint cups with lids mostly sold for $14.00-$16.00, while 6-oz. cups with lids were selling between $6.00-$8.00. Ports of entry included the Los Angeles, Miami, New York, and Philadelphia areas. Regarding prices for flats, USDA reported the same prices for Peruvian imports coming through the same ports. The 6-oz. cups with lids from Peru priced slightly higher in the $8.00-$10.00 range.
Meanwhile, frozen conventional blueberry prices from the Northwest and Midwest were priced around $0.85-$0.92 per. lb. as December came to a close, while organic product priced between $1.25-$1.35, according to a report contact. Pricing remained relatively stable since 2014 as domestic production increased, with similar trends reported for the dried, concentrate, and puree markets.
In regards to canned wild blueberry exports, they totaled 2.4 million-lbs. during Jan. 1-Nov. 30, 2019, representing a 236% increase when compared to the same time period in 2018, according to the Bureau of Census. Value soared 172% to $2.8 million. Vietnam took in 372,000 lbs. worth of product, valued at $638,000.