The global plant-based alternatives market could swell to $166 billion in the next decade, according to an updated forecast by Bloomberg Intelligence.
Bloomberg's May 2022 projections incorporated 2021 results into the Plant-Based Foods Poised for Explosive Growth report and extended the horizon through 2031.
"Since growth is weighted to the outer years in the model and 2022 and 2023 are now a bit more conservative, that pushed the total up by $4 billion," senior analyst Jennifer Bartashus of Bloomberg Intelligence told The Food Institute.
Despite softer performance last year, the updated forecast indicates that the plant-based market could still outpace conventional product growth in the next decade if sales and penetration continue to increase.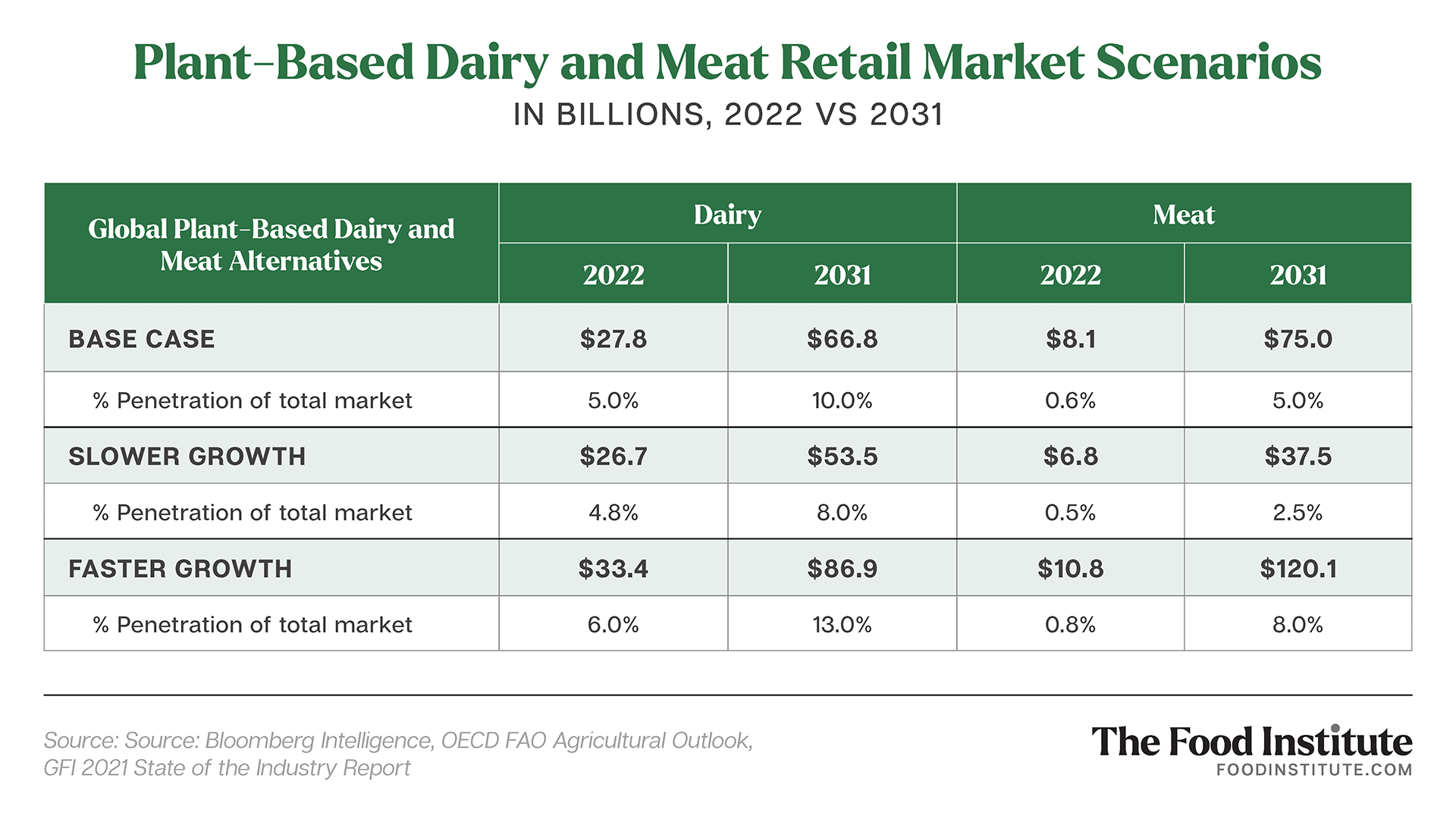 Alternative-meat products could expand to $75 billion if overall growth and penetration mimic the adoption curve of alternative milks when that market was developing.
"Given the softer performance in 2021 and what we expect to be a fairly conservative 2022, we still believe the industry will reach 5% penetration of the global meat market by 2031, but that the growth will accelerate a bit later than our original forecast," said Bartashus.
Plant-based meats accounted for just 0.4% of total meat sales in 2021, while plant-based milks have grown to about 15% of total milk sales after being added to the dairy case.

Meanwhile, the more mature alternative-dairy market still has room to grow, with the global potential to reach $67 billion — enabling 10% penetration of the total dairy market. Currently, sales are largely comprised of milk alternatives but other alternative dairy products – including yogurt, ice cream, cheese, and butter – will aid overall growth.
Finally, other plant-based items which are still fairly nascent, including condiments, dressings, meals, and eggs, may grow to $23.8 billion by 2031, according to the forecast.
Growth Catalysts to Watch
As Bartashus notes, there are three main catalysts on both the supply and demand side of the equation that will help differentiate plant-based alternatives as a long-term trend versus a fad.
Supply:
Greater availability across retailer types. Getting plant-based products in more places where people can buy them is key to growing trial and repeat sales.
Manufacturing capacity expansion. This can be both at manufacturing sites that brands build themselves, along with third-party partners.
Increase in raw material availability. Making more efficient use of existing resources will help unlock growth by reducing cost.
Demand:
Narrowing the price gap with conventional products. A democratization of access to plant-based will be a key driver of growth.
Improved taste and useability. The better it tastes, the greater the repurchase rate and the faster growth accelerates.
Spending power shifting to Millennials/Gen Z. These demographic groups have a greater interest in changing attitudes and consumption patterns, whether that is for sustainability and environmental reasons or for health benefits.
Among these six factors, the addition of manufacturing capacity will be the most critical for market growth over the next 1-2 years as it will help ensure more product is available in more places, along with improving taste and price parity.
"Right now, there are a lot of products coming to market, and if someone tries a product and it tastes bad, it may keep them from coming back or trying other products for a while," said Bartashus. "Getting high quality, good tasting, and convenient options that form a base from which the entire industry can continue to grow is extremely important."