As record high prices put a damper on bacon sales, retailers and producers are leveraging innovation to help drive consumer engagement.
Per IRI data, dollar sales for bacon totaled $6.4 billion in the week ending April 17 — up 3.5% year over year — while slumping unit (-10.1%) and volume (-10.7%) sales reflect challenges for the category.
Meat inflation has exceeded price increases seen across the total store, and percentage change rates for bacon are among the highest in the department, according to a recent report by 210 Analytics.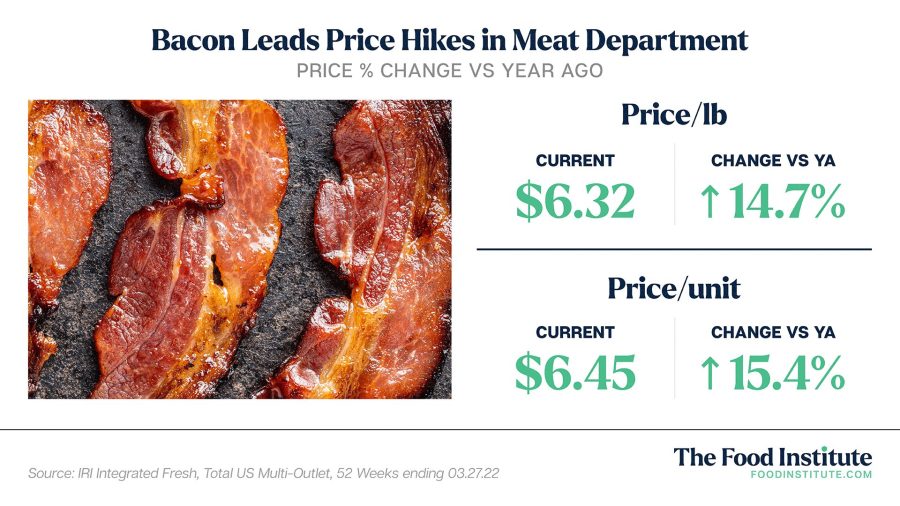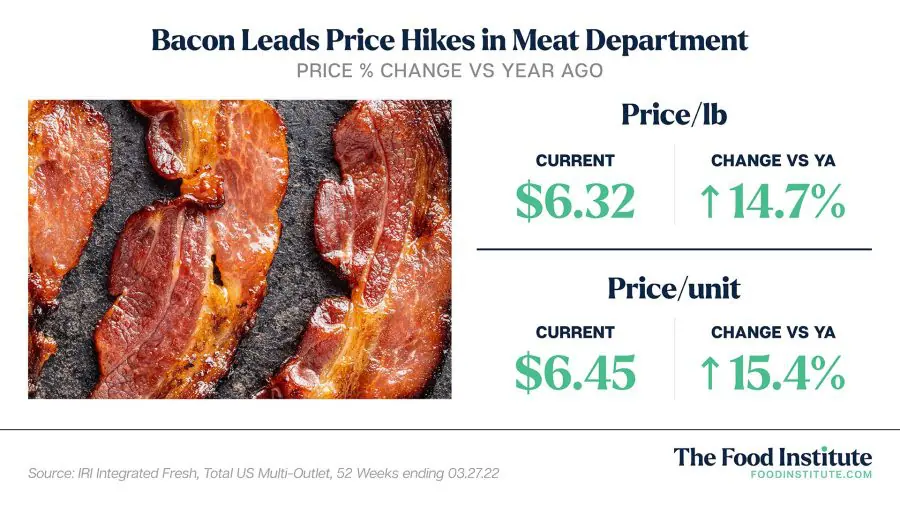 This escalation comes on top of already robust price increases in 2020 — bacon inflation is up 22% compared to two years ago.
While high prices have led to some volume and unit pressure, like all other areas of meat, supply chain challenges play an overriding role, Anne-Marie Roerink, principal and founder of 210, told The Food Institute.
"It's important to keep in mind that bacon has been a pandemic powerhouse and has a tough road to continued growth," said Roerink. "Retailers are still selling about 2% more in bacon pounds compared with the pre-pandemic normal. At the same time, a lot of the demand for bacon coming out of foodservice has geared up again as well."

Occasions Driving Demand
Since the start of the pandemic, shifting meal dynamics have fueled robust consumer demand for bacon, most notably during breakfast and lunch.
More working from home has resulted in breakfasts where on-the-go portability is less important, which strengthen traditional staples like eggs and bacon.
Similarly, people working from home rely more on leftovers and sandwiches for lunch.
"It's not so much your PB&J, but premium sandwiches – much like you would purchase from foodservice – that's where bacon plays a big role," said Roerink. "It also fits right into the high protein/low carb trend."

By targeting new occasions and experiences, retailers and producers are reinforcing bacon's relevance across multiple consumer trends, such as:
Convenience
Since their emergence several years ago, microwavable pre-cooked varieties continue to meet consumer demand for convenient inclusions across multiple dayparts.
Packaging/Company Claims
In addition to cleaner ingredients, consumers are looking for transparency from brands, as well as choices that indicate sustainability and the humane treatment of animals.
Protein Alternatives
Consumers' craving for exploration, along with supply chain shortages for pork bacon early in the pandemic, have also stirred the growth of varieties made with alternative meats, including turkey, beef, and chicken.
Furthermore, advancements in flavor and texture are bringing plant-based bacon ever closer to home.
Non-Traditional Offerings
Experimentation with craft bacon varieties is also on the rise.
"Many are thick-cut slices and have interesting flavors and seasonings," said Roerink. "These different flavors can be leveraged as limited time offers, which drives impulse purchases."