On the heels of a less-than-stellar 2019, California avocado producers are hopeful prospects will improve in 2020.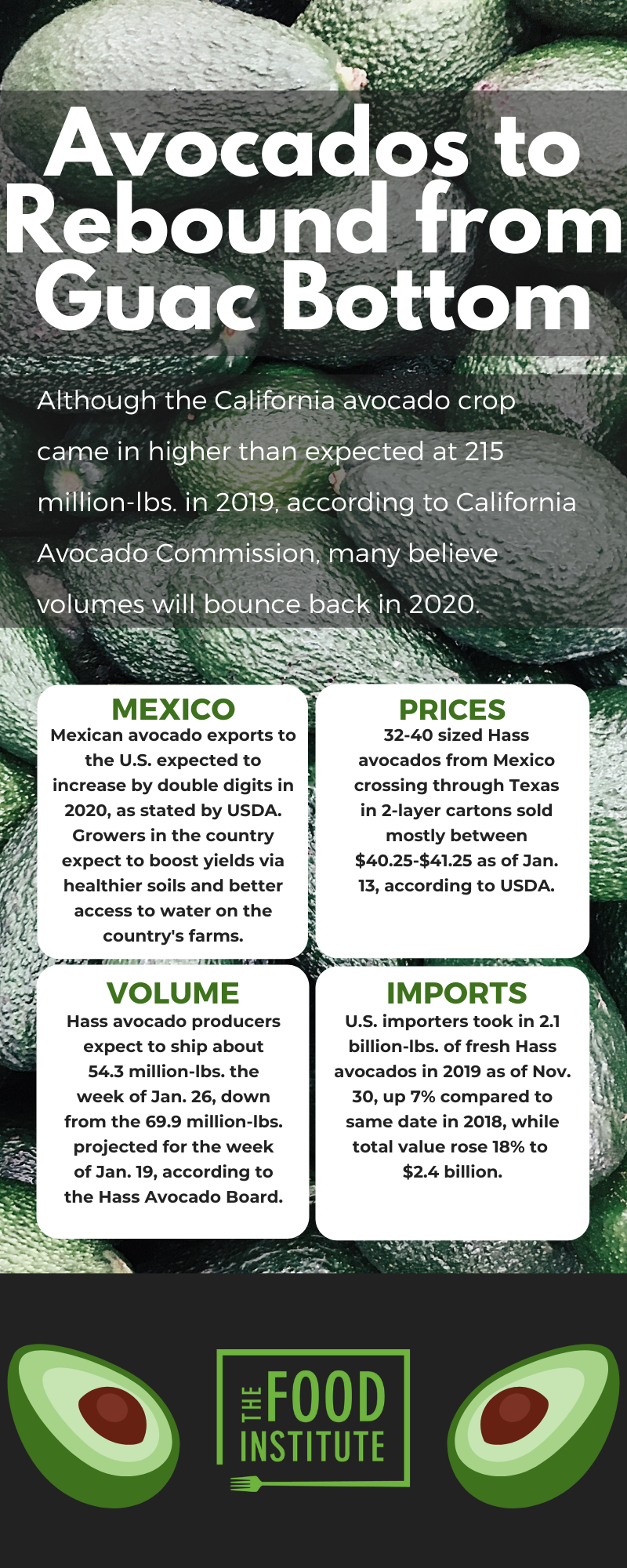 Domestic avocado producers are expected to grow 369 million-lbs. in 2020, according to the California Avocado Commission. The forecast estimated the Hass variety would account for about 355 million-lbs. of the total along with 11.5 million-lbs. of Lamb. Other varieties would account for the remaining 2.5 million-lbs.
Production will be heaviest between April and July, according to the forecast. Producers are expected to ship 60.9 million-lbs. in April; 67.8 million-lbs. in May; 69.7 million-lbs. in July; and 69.2 million-lbs. in July. In August, production is expected to curtail to 37.8 million-lbs. and decline through November, with a slight month-over-month boost in December.
In 2019, California grew about 215 million-lbs. of avocados, according to the commission. While the total was up from initial estimate of 175 million-lbs., it was well below the 2018 crop of 337.8 million-lbs.
The California Farm Bureau Federation noted hot temperatures during the growing season reduced supplies in 2019.
As avocado groves generally produce alternating heavy and light crops every other year, it's useful to gauge 2019 against the 2017 total, which was reportedly 215.9 million-lbs.
However, in 2015, the total reached 279 million-lbs., and in 2013 it reached nearly 500.2 million-lbs.
Marketers of the product can predictably look to Millennials as a prime target for sales. The cohort spent an average of $24.99 on avocados in 2018, representing a 5% increase compared with non-Millennial households, according to a report from Hass Avocado Board. Sixty percent of Millennial households purchased avocados during the year, compared to 51% of non-Millennials households.
"Millennial shoppers are becoming a driving force in the retail marketplace," explained Emiliano Escobedo, executive director of the Hass Avocado Board. "And this study shows that Millennial households are an important segment to the avocado category."
However, the fruit isn't enjoyed by this demographic alone, and consumption has been on the rise for nearly two decades, according to USDA. Between 1997 and 2017, per capita availability of the fruit rose from 1.8 lbs. to 7.5 lbs. The increase is even more drastic when comparing 2017 with 2007, when per capita availability was 3.5 lbs.
As domestic production cannot meet demand, imports of the fruit are becoming more important. During the 1997-2017 time line, imports increased from 133.7 million-lbs. to 2.2 billion-lbs. Only 694.1 million-lbs. were imported at the halfway point of the period, representing a 217% increase.
More recently, imports continued to rise. Importers took in about 2.1 billion-lbs. of the fruit in 2019 through Nov. 30, up 7% when compared to the same time period in 2018. Value rose 18% to $2.4 million.
Hass avocado producers expect to ship about 54.3 million-lbs. the week of Jan. 26, down from the 69.9 million-lbs. projected for the week of Jan. 19, according to the Hass Avocado Board. The board reported shipments totaling 65.4 million-lbs. for the week of Jan. 12.
Pricing was on the rise Jan. 13 when compared to the previous week. USDA reported volumes of Mexican avocados crossing through Texas were on the rise and trading remained active.
The agency reported two-layer cartons of Hass 32-40s priced mostly between $40.25-$41.25, while 48s were mainly $38.25-$40.25. Two-layer cartons of 60s mostly $30.25-$32.25; 70s mainly $27.25-$28.25; and 84s mostly $21.25-$22.25.
Meanwhile, consumers now possess a new tool to help prevent browning in both avocados and guacamole as Westport, CT-based NatureSeal unveiled a special formulation for the fruit, reported The Packer (Jan. 6). The product uses a blend of vitamins and mineral powders to prevent browning on guacamole and cut avocados for up to five days when refrigerated without altering flavor.