In today's omnichannel world, customer loyalty is difficult to earn and just as tough to maintain. With that, keeping pace with customers' evolving tastes is an undeniably tall task.
These issues were analyzed recently during The Future of Food Retailing and the Accelerated Digital Age webinar, presented by Inmar Intelligence in conjunction with The Food Institute.
"As we think about emerging shopper segments, and having to think about how to build a cohesive digital experience, it's all going to come [down to] 'How am I connecting with those shoppers how they want it, where they want it,'" said Craig Rosenblum of Inmar.
The presentation, featuring Inmar analysts Rosenblum and Jim Hertel, provided insights into how companies can effectively engage today's shoppers. In particular, they highlighted that once-siloed strategies – like e-commerce, incentives, audience management, and media – must merge in order to earn customer loyalty.
Sponsored by BMO Harris Bank and Marcum LLP, the webinar also focused on helping brands and retailers prepare for what's ahead and outlined activation strategies that companies must employ in 2021 to successfully respond to ever-changing conditions.
The evolution of the average consumer, of course, intensified during the pandemic. According to Inmar's soon-to-be-released 2021 Shopper Insights Study, 42% of shoppers now make regular grocery purchases online, up from just 12% in 2019. And 28% of shoppers now buy groceries both in-store and online. While pandemic lockdowns no doubt impacted those figures, the shopping habits of many consumers have likely shifted for good.
"This notion today of both in-store and online [consumer purchasing] is not going anywhere any time soon," said Rosenblum. "And Gen Z and millennials really are going to demand, let alone expect, this combined, hybrid experience."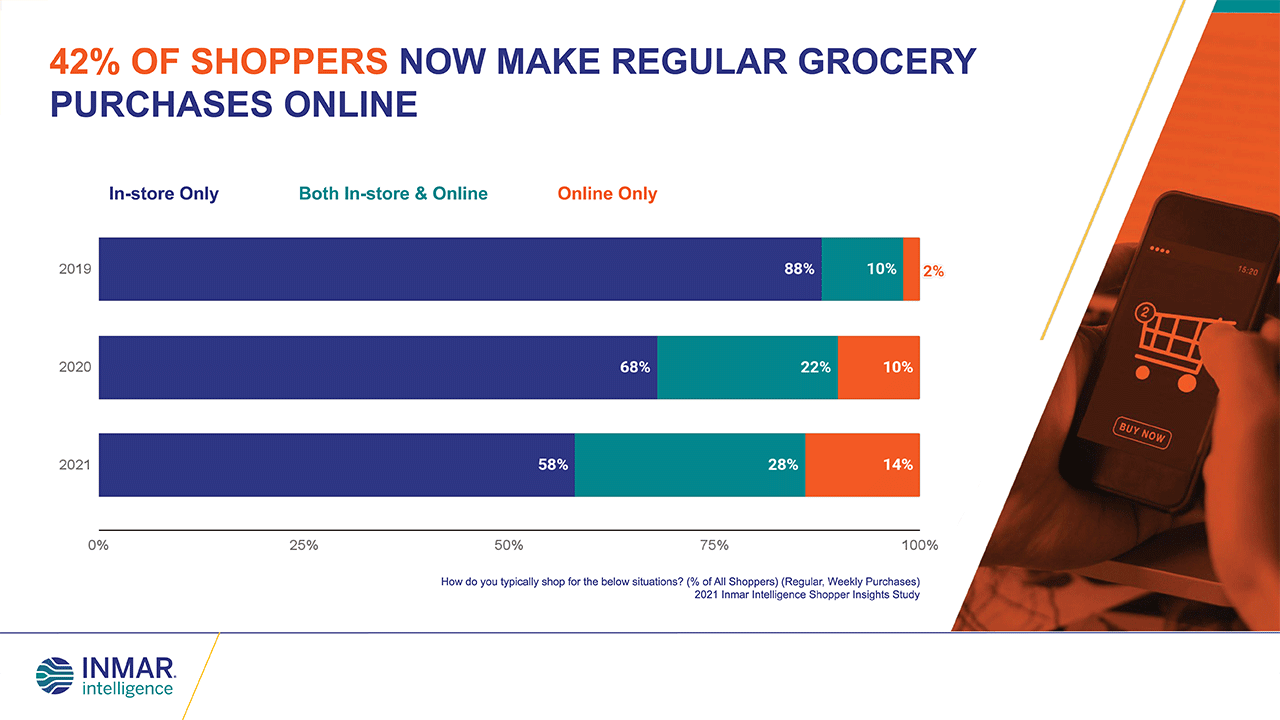 Hertel added, "the ability to provide a seamless and transparent customer experience is becoming a critical determinant between the haves and the have-nots from a retail standpoint."
Inmar says the in-store experience is still critical, but also that a cohesive in-store/online experience is the key to securing future share of wallet. And because millennials are poised to make up the largest shopping segment, meeting their expectations now could solidify loyalty.
Ultimately, Rosenblum and Hertel suggested that retailers and brands jump into the accelerated digital age with both feet, because:
It's what emerging shopping segments demand. The digital age allows the intelligent personalization and targeting across touchpoints that shoppers want.
It enables collaboration and monetization. Brands are paying more attention to where their marketing dollars go, demanding attribution. And, retailers that can offer higher performance are most likely to win.