Innovators are shaking up the alt-meat category with plant-forward innovations that contain more whole foods and less processed ingredients.
"From a general nutrition perspective, the healthiest meat alternative is one that is made from whole food ingredients and doesn't contain lots of isolated additives or fillers," Lizzie Streit, MS, RDN, LD, told The Food Institute. "A meat alternative made with whole legumes, whole grains, vegetables, and seasonings will provide a lot of nutrients."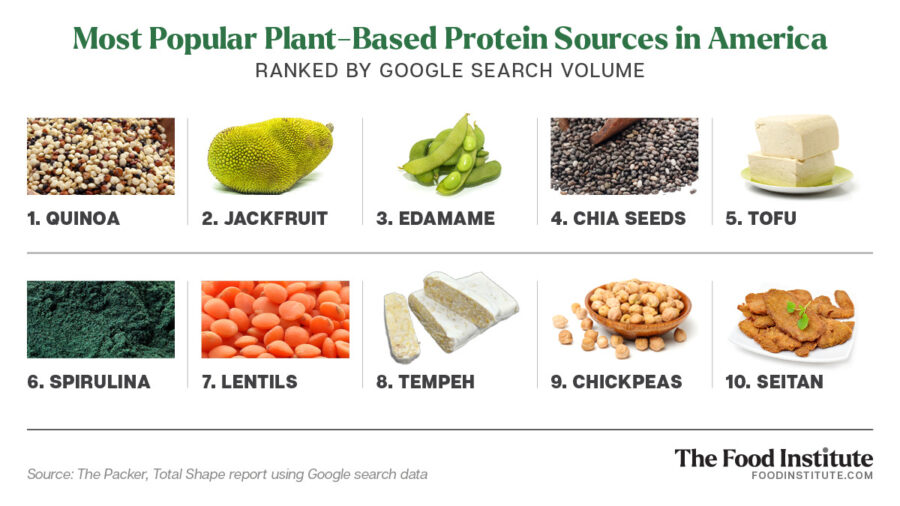 Noteworthy Plant-Forward Products
Actual Veggies crafts "veggie only" burgers that contain a colorful variety of whole foods and spices with zero oils or processed ingredients. Compared to most traditional veggie burgers, the patties also come fresh – not frozen.
The number one ingredient in Akua's burger is kelp — a nutritional powerhouse packed with vitamins, minerals like iodine, and antioxidants. While pea protein is among its top five, it's bookended by whole foods like cremini mushrooms, black beans, and quinoa.

Finland-based Gold & Green's signature product, Pulled Oats, is a plant-based meat made from a short list of ingredients, including yellow peas and fava beans. The product was launched in the U.S. foodservice market through Sysco in 2020 and Fast Company listed Gold & Green among its Top 10 Innovators in 2022.
Prime Roots creates sliceable deli meats with koji, a type of mycelium with long, microscopic fibers. The company offers a range of alternatives with a short ingredient list, including cracked pepper turkey, black forest ham, and pepperoni.
Upton Naturals Shredded Jackfruit
This product by Upton Naturals is made with jackfruit, a tropical tree fruit grown in Asia, Africa, and South America. Jackfruit has been growing in popularity as a meat alternative, particularly as a pulled-pork substitute. Upton's product is highly versatile and lightly seasoned with a very short list of clean ingredients.

Balancing Plant Nutrition with Affordable Staples
As Streit notes, a key nutritional point to be aware of when choosing more plant-forward meat alternatives is lower protein content. By incorporating healthy and affordable side dishes, consumers can balance the overall nutritional value of a meal with a whole veggie product in center plate.
"For example, serving [plant-forward alternatives] with a bean salad, crispy baked tofu, or a sauce made with nut or seed butter," said Streit.
Furthermore, with cost playing a key role in consumer purchases, many affordable pantry staples can also double as convenient meat substitutes without the price tag.
"Options like lentils, chickpeas, edamame, and tempeh offer protein, fiber, and many vitamins and minerals. Steaming edamame pods can be done in the same amount of time it takes to heat a frozen meat alternative, and a can of chickpeas can be transformed into something extra tasty in just 15 minutes by pan-frying them in olive oil and seasonings," said Streit. "If you have extra time, you can even batch-cook this Lentil Walnut Taco Meat and freeze it for quick meals in lieu of reaching for those frozen chicken-less nuggets."
Editor's Note: This is part two of two articles exploring the healthiest meat alternatives. Part one highlights five healthy alternatives that mimic the taste and texture of traditional meat.