According to a new poll, less than 25% of U.S. adults strongly trust information about where their food is grown and how it's produced.
The recent University of Minnesota survey of 1,022 Americans revealed that the trust gap is even wider among Generation Z, at just 17 percent.
"Today's consumers are bombarded daily from all directions with messages about what they should or shouldn't eat and why they should embrace one food but eschew another," said Frances Homans, professor and head of the University of Minnesota's department of agricultural education, communication and marketing.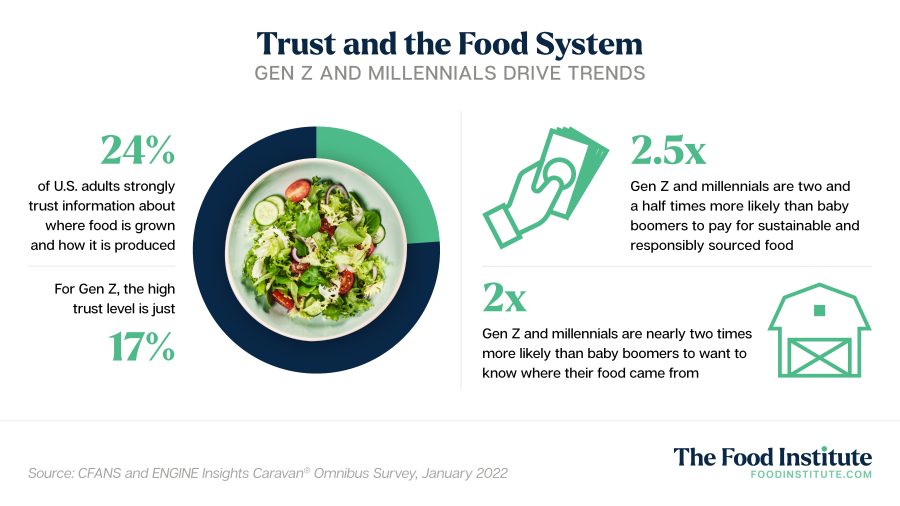 "But," Homans added, "despite this deluge of data, we still see a disconnect in their understanding of what actually happens between farm and fork."
Despite the food industry's push for greater transparency of late, the findings show just 27% of survey respondents reported a "very favorable" impression of agriculture and food production in the U.S.
NARROWING THE GAP
"It's encouraging that despite a gap among adults in trust about where food comes from, there is clearly an increasing interest among young people … in studying agriculture, food, and natural resources and understanding the food system," said Garrett Steede, a University of Minnesota assistant professor.
The survey also showed Gen Z and millennials (38 percent "very willing") are two and a half times more likely than baby boomers (15 percent very willing) to pay more for sustainable and responsibly sourced food that benefits the environment.
"The awareness of the sustainability and environmental impact of our foods is increasing, particularly amongst our students," said Job Ubbink, head of the University of Minnesota's department of food science and nutrition.

"People are increasingly signaling that they want to eat things that are not only good for them as an individual, but that contribute to a sustainable food system."
Costs, however, are often a hurdle, especially amid mounting inflation, Ubbink noted.
Young consumers have become increasingly interested in learning where their food comes from. Gen Z and millennials were nearly twice as likely to want to know where their food came from than baby boomers (almost 25% of Gen Z and millennials said it was extremely important, compared to 13 percent of baby boomers.).
"It's clear that our next generation of consumers is invested in our food system and our environment," said Homans.