Almost 95% of shoppers are purchasing ice cream in stores this summer according to retail data science company and Kroger insights partner, 84.51°. Here are some ice cream trends for the 2023 summer season…and beyond.

Pail Sales Are Rising  
Shoppers are seeking value this season and purchasing ice cream in larger container sizes across brands. Per 84.51° data, dollar sales for six-quart pails increased 20% compared to 2022. While this disproportionate growth is largely due to price increases and inflation, households are also switching their spending from other segments to pails.
"This behavior makes sense in an inflationary environment because a shopper can get 8x the volume of a pint for less than 2x the average price-per-unit of a pint," Melissa Lobaugh, Insights Director at 84.51° told The Food Institute, adding that pail purchase frequency is also improving. "Despite price increases…households are buying pails as a value play, consuming more, and retailers should have assortment to meet the growing pail needs."
Classic Flavors Top State Favorites
A recent data dive by food delivery service Instacart revealed the most popular ice cream flavors purchased by state. Here are the top four: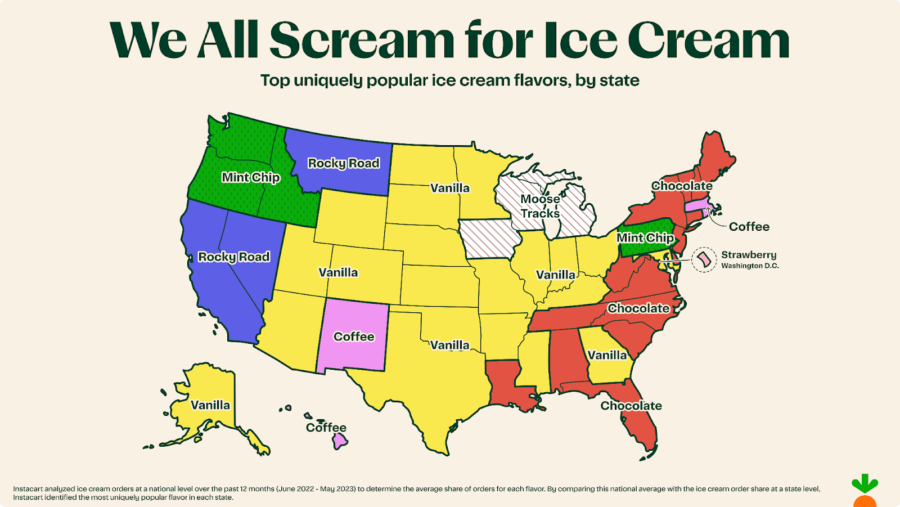 Rocky Road & Moose Tracks: Both unique flavors ranked highest in three states. Rocky road dominated in California, Nevada, and Montana, while Moose Tracks was most popular in the Midwest.
Coffee & Mint: A four-state tie goes to coffee which led in states like Hawaii and Rhode Island. Mint chocolate chip captures the hearts of the entire Pacific Northwest and Pennsylvania.
Chocolate: 15 East Coast states prefer chocolate ice cream, from Maine down to Florida. 
Vanilla: Classic vanilla was the most purchased ice cream across 21 states, making it the most popular flavor in the U.S.
"It's no surprise most states in the country are partial to vanilla ice cream because it's arguably the most versatile of them all," said Laurentia Romaniuk, Instacart's Trends Expert, in a company blog post. "The luscious flavor effortlessly enhances a variety of desserts…and we don't foresee it losing its lead anytime soon!"
Classic flavors are also selling highest by the pail, per 84.51° data, with vanilla taking the lead, followed by chocolate, and Neapolitan.
Other Ice Cream Trends
Vegan ice cream offerings have never been better. As The New York Times reports, creamier, richer, and more flavorful plant-based ice cream is finally gaining a commercial hold in the market.
In 2022, nondairy ice cream accounted for $437 million in sales. As more Americans adopt plant-based diets or seek desserts that accommodate their allergies and dietary restrictions, dairy-free ice cream shops have proliferated accordingly.
Fall is a popular time to buy ice cream. While July 2022 had the highest sales volume of ice cream per 84.51° data, sales grew the most in October, fueled by an increase in units sold, households purchases, and sales per unit.
"This indicates that there were other factors contributing to the growth in October besides just inflation and rising prices," said Lobaugh. "Despite October being considered the off-season for ice cream, our research shows that households responded positively to new and exciting fall flavors and promotional events, which led to an increase in sales."