History of Observing Consumer In-Store Behavior 
The retail industry has long been invested in understanding how shoppers behaved while in their stores: which categories they shopped, which products they bought and did not buy, how they responded to different merchandising and promotional strategies, and where they needed and benefited from personalized interactions. Early efforts to gather these insights consisted of store exit interviews and shop-alongs that were useful, but not scalable. Later came camera technology, which is effective at gathering a massive amount of detailed information, yet continues to be economically difficult to justify for large scale deployment. 
Eventually, a compelling category of solutions leveraging Internet-of-Things (IoT) technologies and Real-Time Location Systems (RTLS) emerged. Using RTLS, the location of shoppers' phones could be tracked anonymously until privacy concerns and slow adoption of mobile apps like self-checkout limited the amount of traffic and behavior data that could be collected on shopping trips.
To fill the gap in data collected from phones, an exciting new approach using low-cost tags on a store's carts and baskets along with a connection to checkout systems has provided a way to capture not only closer to complete traffic coverage of all trips, but also to tie in the actual purchases resulting from each visit. All of this happens without active involvement by the shopper in anything but accomplishing their primary mission and enjoying the store experience.
Benefits of Understanding In-Store Consumer Behavior
So, why is tracking how shoppers behave inside stores so important to retailers? Despite all the technical, implementation, and scaling challenges, why have they continued to pursue the "holy grail" of better insight into customer behavior? Because it will enable retailers and their CPG partners to (1) grow consumer value, (2) increase merchandising and promotional ROI, (3) enhance the impact of retail media inside the store, and (4) improve labor productivity.
Increase Consumer Value 
Provide insights into shopper buying behaviors including: how they journeyed through the store, where and how long did they stop to shop, and where did they stop but not shop. 

View heatmaps and drill down into trends of time spent by each store section. 

AI-enhanced layout/planogram and point-of-sale integration provides for direct sales attribution and performance measurements down to the individual category and product level. 

Such insights improve consumer experiences, increasing their basket breadth, depth, and frequency. 
Increase ROI on Merchandising and Promotional Spend
Compare different shopper flows inside a store and across different stores. Optimize the physical footprint of different stores to continuously address consumer needs. 

Provide insights into

merchandising productivity and performance

including departments, aisles, categories, high-traffic end-aisles, time spent shopping departments, the impact of category adjacencies, product adjacency, and planogram flow on shopper purchase behavior.

Provide insights into

brand and SKU productivity

at the shelf including shopper time to locate and purchase vs. competitor brands, the impact of brand and category breadth of assortment on purchase decision time and basket breadth of SKUs, the secondary locations that perform the best, the impact of multiple and incremental location placement on promoted and impulse purchases.
Enhance Reach of Retail Media Networks (RMN) Inside The Store
Optimize placement of digital and traditional communication points in the appropriate areas of the store.

Place relevant message content targeted to the purchase profile of shoppers in the right place at the right time.

Increase revenue generation of the RMN by delivering timely and in-store location-intelligent brand messaging and offers while measuring the impact of advertisers' spend.
Improve Labor Productivity
Identify, in real time, areas of highest traffic and more efficiently adjust deployment of store clerks to targeted areas to improve shopper experience.  

AI-enable store layout optimization based on shopper in-store behavior dramatically reduces labor associated with store layout resets. 

Continuous tracking of shopper purchasing activities provide insights to predict out of stock levels in more real-time in high traffic areas.

Integrate with employees existing barcode and product scanning activities to update location of products in the store, driving a higher planogram compliance. 

Improve picking efficiency by store and third-party delivery companies via in-store optimized routing and wayfinding of products.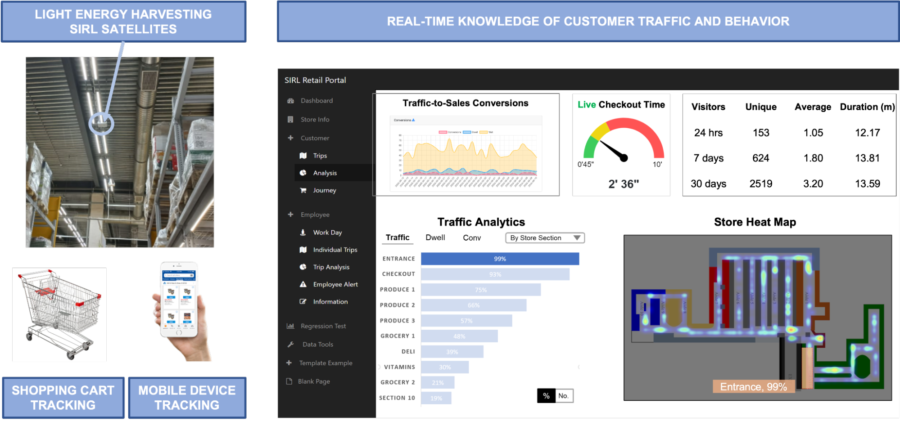 How Emerging Technologies Address the Barrier to Adoption  
Achieving real-time location tracking of shoppers can be complex and requires a blend of different technologies and systems. There have been some critical barriers that had prevented such a solution from truly taking off, but recent advancements in indoor positioning technologies and artificial intelligence have cleared the way for this highly valuable solution to be ready for prime disruption of the retail and foodservice industries. 
Accurately tracking customer shopping behavior used to be expensive and hard to scale.

The cost and ease of setup of the infrastructure required to enable accurate indoor tracking on phones and low-cost IoT tags have improved significantly.

SIRL

offers a unique wireless energy-harvesting infrastructure that's simple to set up, highly accurate, and supports a wide range of asset tags and all modern smart devices. Further, the accuracy of the system is now high enough to identify which checkout counter a shopper used, enabling the powerful tie-in of the shopper in-store journey with the point-of-sales data, unlocking the full potential of shopping behavior insights.  

Tracking a sufficiently large sample of shopper trips used to be infeasible.

SIRL's system can accurately and anonymously track the location of a smart device in the background inside a building for users that have opted into location tracking permissions, without requiring consumer active involvement. Additionally, by tagging the shopping baskets and carts inside a store (or food trays in foodservice establishments), SIRL's system can capture 80% or more of in-store trips. The richness of the data collected from SIRL-enabled stores can help to extrapolate and more accurately predict the performance of other similar format stores.

The raw captured location data used to be challenging for retailers and brands to process. Recent advancements in AI enables the ability for the large set of anonymized shopper in-store behavioral data to be ingested and automatically processed to produce directly useful actionable insights for retailers and their brand partners.
Not only do retailers and their brand partners now have the ability to cost effectively capture a meaningful large set of "holy grail" customer behavioral data inside their stores, they also have the means to efficiently and quickly make key business decisions on this data powered by AI.
About SIRL, Inc. 
SIRL's patented solution is unique on the market in offering a wireless energy-harvesting infrastructure that's a lower cost to set up, highly accurate, supports a wide range of asset tags, all modern smart devices, and functions across indoor and outdoor sites including stores, warehouses and manufacturing plants and their supply chains. NYC-based WestSide Market is rolling out Shopper Insights in 8 Tri-state stores in partnership with CPG brands and a large POS system provider.
SIRL is actively seeking partners and investors to expand its growth opportunities in 2024. For more information, please contact info@sirl.io.