CHICAGO — Restaurant operators looking to add plant-based options to their menus had no shortage of options at the recent National Restaurant Association Show. Plant-based companies showcased items for all dayparts with sunny-side up eggs, chicken sandwiches, steaks, sushi, and soft serve ice cream on the menu.
Here's a look at some of the plant-based offerings on display at the event in Chicago:
Whole Cut Steak
A number of companies offered whole cut plant-based meat alternatives at the show. Though consumer demand for plant-meat alternatives appears to have plateaued, alt-meat producers see promise in whole cut varieties. Foodservice dollar sales of plant-based meat reached an estimated $730 million in 2022, higher than pre-pandemic sales of $678 million in 2019) while volume sales declined from 145 million pounds in 2019 to 144 million pounds in 2022 in the U.S., according to Circana (formerly IRI and NPD/SupplyTrack) data.
Chunk Foods showcased its Chunk whole cut steak at the show, serving sliced steak topped with chimichurri sauce. The company uses solid state fermentation technology along with main ingredients of water, soy flour, soy protein isolate, wheat gluten, and cultures to give it texture and taste of meat. Chunk Foods CEO & founder Amos Golan is optimistic about future prospects for whole cut plant-based meat.
"Whole cut is a very important thing in the growth of the plant-based meat category. There's only so much ground meat people can eat," Golan told The Food Institute. "Plant-based whole cut can become a significant part of people's diet. Hits all the marks as center-of-plate option. Whole cut is bigger segment of U.S. meat market in terms of dollars.
"(The) future is very bright for whole cut, plant-based meat."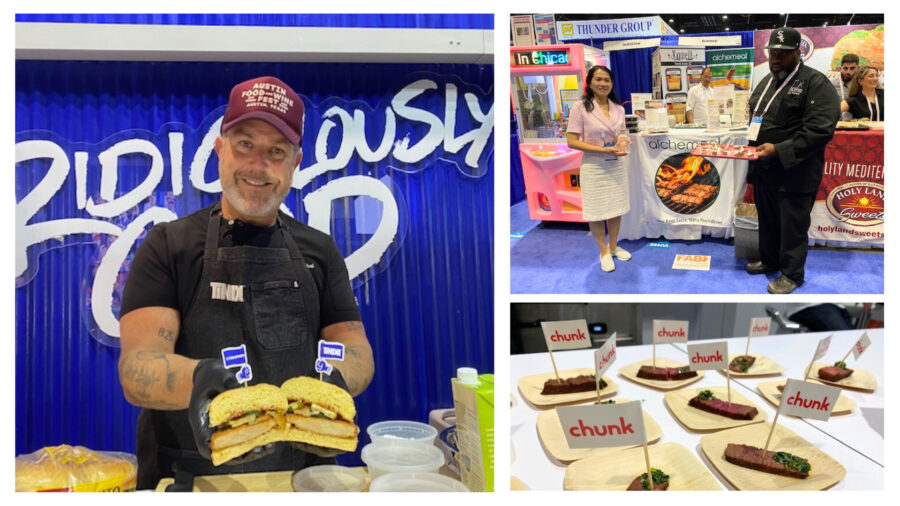 Alchemeat, a National Restaurant Association FABI Award winner, partnered with a number of Chicago chefs to show how its whole cut, plant-based steak can be used in multiple cuisines, including Caribbean (jerk steak), Korean (BBQ), and Mexican (birria). Alchemeat's main ingredients are water, soy, and wheat.
The company's patented technology uses existing food equipment when innovating so that its process can achieve cost effectiveness right away, according to Huan Xia, Ph.D., co-founder & CEO of Alchemeat. Noting how Alchemeat has a similar protein level as steak but with zero cholesterol, less calories, and less saturated fat, Xia told The Food Institute that "Our product is not only for vegans and vegetarians, but for meat lovers. We want them to become flexitarians with our better-for-you steak protein upgrade."
Meati Foods served its Classic Steak and Carne Asada Steak alongside chicken varieties – Classic Cutlet and Crispy Cutlet at the show. The company's Classic Cutlet is a FABI Award winner and judges' FABI Favorite. Meati is an animal-free meat made from whole-food mushroom root (mycelium) protein.
According to the company's website, Meati grows its animal-free whole food in a "clean environment" in stainless steel tanks using a fermentation process that starts with the spore of the mushroom root that is fed water, nutrients, and fuel in the form of sugar. After harvesting, the whole, mushroom root protein is then pressed to remove water before seasoning and other natural flavors are applied. The Meati Classic Steak is composed of more than 95% mushroom root alongside salt, natural flavor, fruit juice for color, oat fiber, vegetable juice and lycopene for color.

Whole Cut Chicken
Whole cut is becoming important in plant-based chicken alternatives, as well. Next Gen Foods, makers of TiNDLE plant-based chicken, introduced its new TiNDLE TrueCut technology at the show.
"TiNDLE TrueCut is our newest technology that utilizes advanced methods in plant-based protein development to deliver the same firm chew and craveable umami flavor as a whole cut of chicken," Andre Menezes, CEO and co-founder of Next Gen Foods told The Food Institute. "… We're in the process of further evaluating and developing our technology with some of the most innovative restaurant chains."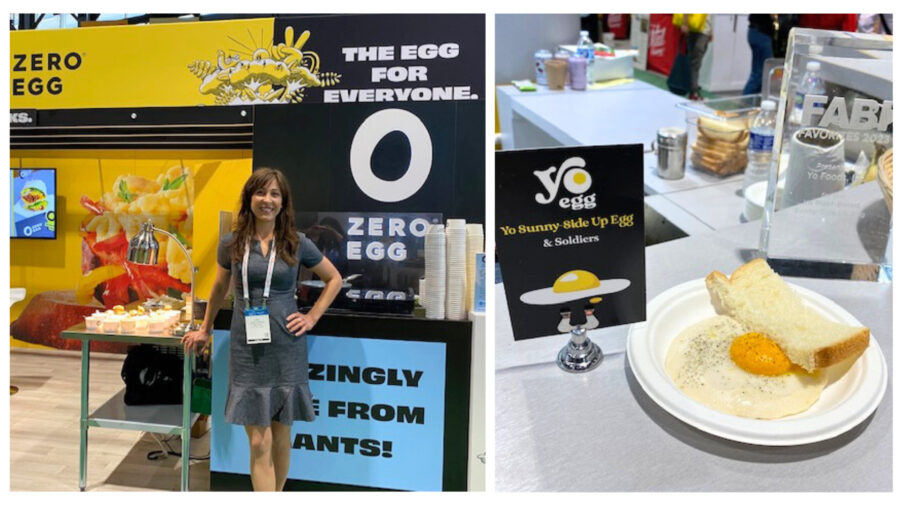 Eggs Poached and Sunny-Side-Up
Plant-based eggs have become one of the fastest growers in plant-based alternatives, aided by the steep price increases in chicken eggs in recent months (due to the avian flu) that have reduced the price differential between plant-based eggs and chicken eggs. Retail dollar sales of plant-based eggs in the U.S. grew from $10 million in 2019 to reach $45 million in 2022, up 14% from $39 million in 2021 while unit sales increased from 1 million units in 2019 to 10 million units in 2022, up 21% from 2021, according to SPINS.
Yo Egg officially launched the world's first plant-based sunny-side-up egg in Chicago, after wowing 2022 show attendees with the world's first plant-based poached egg and sharing a prototype of the sunny-side up egg. Since the 2022 show, "We've improved the texture, shelf life, and durability of the poached egg, and improved the sunny-side up egg," Eran Groner, co-founder and CEO of Yo Egg told The Food Institute.
Both eggs are now frozen instead of refrigerated for easier transport and have a longer shelf life of 120 days. The company also launched an over hard egg and hollandaise sauce at the show and served three sandwich options featuring choice of Yo Egg. The company won two FABI Awards for its Poached Egg and its Sunny-Side Up Egg also deemed a judges' FABI Favorite. Speaking about how Yo Egg's products offer taste, convenience, and health benefits (zero saturated fat, zero cholesterol, and much less sodium than chicken eggs), Groner added:
"Plant-based consumers don't want just plant-based, they want products that taste good, deliver on experience of eating the animal equivalent."
Zero Egg served up breakfast sandwiches featuring its egg patty and scrambled eggs made with its liquid egg product. "We have the most versatile plant-based egg that can replace eggs in scrambled, quiche, frittatas, to baked goods. And a cleaner ingredient list than other players in the market," Liron Nimrodi, CEO & co founder of Zero Egg told The Food Institute. Nimrodi sees huge potential in plant-based eggs.
"We see that the egg category is very similar to the milk category, very different from meat. In meats, you have taste and the craving for meat. Milk is a very mature category; 15% are alternatives. Health concerns draw people to milk alternatives. Once a product is tasty and satisfying, you have growth. Nobody is craving for eggs. In the future, plant-based eggs will not be different from eggs. Sunny-side-up, boiled, and scrambled. The shelf will just expand," Nimrodi added.
Seafood
Plant-based seafood products are a rapidly growing but niche product category. Retail dollar sales of plant-based seafood in the U.S. grew by 15% to reach $14 million in 2022 while unit sales grew by 5% to reach 3 million, according to SPINS.
Boldly Foods showcased what founder Allen Zelden called the widest range of plant-based seafood in the market with jumbo prawns, whitefish, shrimp bites, calamari rings, calamari steaks, salmon, tuna, and crabsticks. The Boldly products are made with konjac, a root vegetable that PlantForm has been working with for 25 years.
"Konjac is a very versatile ingredient that doesn't have a lot of flavor with a texture similar to seafood," Zelden told The Food Institute. He added that because konjac doesn't have a strong flavor profile, it's perfectly suited for foodservice as the calamari can be grilled, fried and battered, or boiled. Zelden aims to reach consumers who are conscious and curious about environmental, animal welfare, and health issues and then surprise and delight them.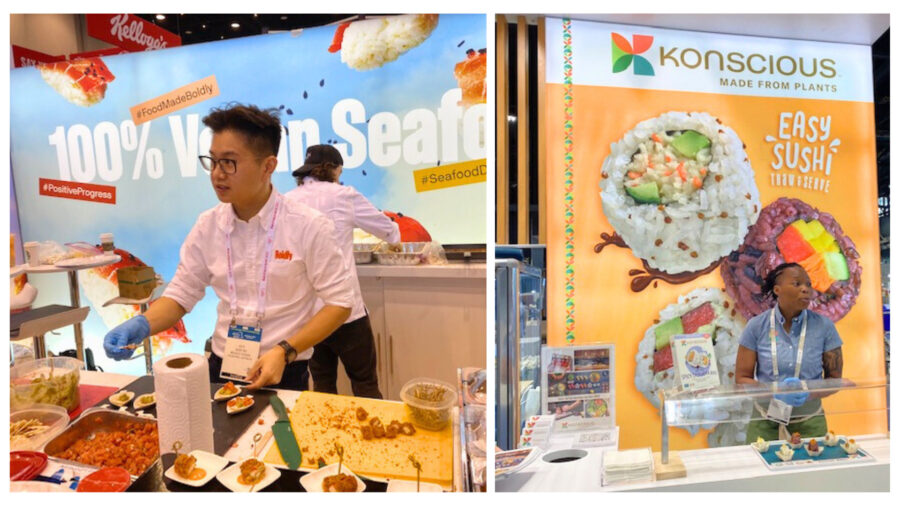 Current Foods, a FABI Award winner and judges' FABI Favorite, showed its Plant-Based Tuna and Salmon. The company's Plant-Based Tuna Filet is made with bamboo and potato for texture, tomato and radish for color, algae for taste and Omega-3's, and peas for protein. Current Foods states that its Tuna and Salmon offer the taste of raw fish without the microplastics, mercury, or planetary strain. During the show, it was announced that Wicked Kitchen, owner of the Good Catch plant-based seafood brand, acquired Current Foods on May 23.
Konscious Foods, maker of the world's first frozen plant-based sushi rolls, onigiri, and poke bowls, served its vegan sushi rolls, onigri, and freshly prepared salmon nigiri at their booth. The company sells frozen sushi rolls in four varieties – California Roll, Spicy California Roll, Tuna Avocado Roll, and Rainbow Roll – and frozen poke bowls in salmon and tuna varieties. For foodservice operators, the company sells blocks of frozen salmon and tuna. The company's founder Yves Potvin is a vegan meat pioneer who created Yves Veggie Cuisine and Gardein.
Virginia Lee is a food & beverages trendspotter and market research analyst. She has advised companies on innovation and market entry opportunities in consumer packaged goods at Euromonitor International, Innova Market Insights, and Brightfield Group. Connect with Virginia on Twitter and Instagram at @VirginiaALee.