During the week of March 8, The Food Institute was scheduled to head to Natural Products Expo West for on-the-ground reporting on the companies, products, and major trends impacting the food industry. However, the illustrious conference was postponed due to the coronavirus outbreak. Despite the inconvenient setback, I decided to do my own local reporting and connect with Ark Foods of Brooklyn, NY. Ark Foods represents a new breed of young companies impacting the food industry through plant-based products.
In this interview, I spoke with founder and CEO Noah Robbins on the company's humble beginnings, its mission, its products, and what the company is doing to change the way people eat vegetables.
Q: Please share a little bit about your background and how you created Ark Foods.
A: I grew up around commercial agriculture. My father was a citrus farmer, providing companies like Tropicana with some of its supplies. When I graduated, I saw that the average age of a farmer was about 58-years-old, and I thought about what opportunities there would be for someone like me in the agricultural industry. I observed farmers markets and found that the vegetables sold at these markets were not commercially accessible. I decided to take these farmers market vegetables and apply commercial growing techniques to them.
The first popular vegetable product of ours was a vegetable called the shishito pepper. We started growing the pepper on 3 acres of farmland and expanded that program by using chefs to be "brand ambassadors." Distributors carried the shishito and chefs put them on their menu. We had a consistent supply and good food safety practices—two of the factors typical of commercial farms.
From there, I used the restaurant menu data to get into retailers, pointing out younger consumers want these vegetables to be accessible—that they are looking for new experiences and not just the normal varieties. No other company was innovating this space, so in comes our brand and it's been explosive growth ever since.
Our growing operations are completely vertically integrated. We have red Fresno peppers and honeynut squash, which is sweeter than a butternut squash but is the size of a Coke can. The skin is also edible. Our focus is on vegetables that people already know and providing them at accessible price points.
When the meal kit industry started to take off, we wanted to make our own version of the meal kit or "heat-and-eat" experience, so about year ago we opened our own fresh cut facility, which is how our veggie bowl line came into fruition. We realized our bowls needed to have "clean" ingredients, so we made our own sauces. The veggie bowl line is basically a meal where a core vegetable, like cauliflower or rutabaga, is paired with our own clean ingredient sauce.
As an aside, the rutabaga was popular in the 1970s, and we consider it to be the underdog vegetable of today. It's also, in my opinion, the best veggie to make veggie spaghetti.
The meal kit also comes in a microwavable bowl that's industrially compostable. Throw it in the microwave for 3 min., mix in the sauce, and you're done.
Since we are vertically integrated, we strive to make these products more accessible. Depending on the retailer right now, the clean ingredient veggie bowl line is retailing anywhere from $4.99 to $5.99 per kit, and we aim to bring that down even more through scale. We've managed to stay true to our mantra of making vegetables as accessible as humanly possible and getting people to eat more vegetables in different formats.
Q: How did the name Ark Foods come about?
A: Well, my name is Noah so I thought it made sense to name the company Ark Foods. There are a lot of generational farms that have "farm" in the background, but I knew that since we view the vegetable as the North Star, we would eventually spin off SKUs around that idea. I thought it was rather limiting to focus on the farm itself, even though that's our lifeblood. Overall, the name was emblematic of who we are and what we do.
Q: Looking at the products and the company website, it seems the product line caters to Millennials and Gen Z. Is that the target market? How has the consumer adoption been?
A: We have a lot of different SKUs. The shishito pepper is geared more towards the foodie who wants a new experience. We always try to check as many boxes as possible to make our products as accessible to as wide an audience as possible so that can drive sales. For example, our veggie bowl lines have clean ingredients, industrially compostable packaging, it's a vegetable people are familiar with, and it's a healthy variation of a dish that people know.
We originally thought the target market for the veggie bowls would the young person looking for convenience in the grab-and-go section, but the customer base has been much broader than expected. The older generations are familiar with what a heat-and-eat dinner is, so they buy our meal kits as an alternative. Sometimes older generations will purchase our veggie bowls and add a protein to it.
Also, celebrities like Beyoncé are eating plant-based now, and parents are buying it for their kids to take to school because the schools have microwaves. We create products that are flexible with peoples' daily lives.
Q: Where can people buy these products? Is it primarily in the Northeast or can people on the West Coast get your items?
A: Because it's a fresh cut item, we're focusing on geographies east of Texas as our facilities are in New Jersey. We are in retailers like Whole Foods and Giant. Since the shishito has been around longer, it's available in Wal-Mart, Costco, and Whole Foods. We hope to build a facility on the West Coast and eventually be a national brand. Because we don't have large capital infusion, we are focused on customer experience and growing the right way.
Q: I wasn't expecting a startup company like yours to have 28 employees. Tell me about the evolution of your staff and where you envision Ark Foods will be in three years.
A: When I started the company, it was just me. And then Ed Mestre, my brother-in-law, joined as our COO. Everyone who joined the team is super passionate about making these vegetables accessible in different formats.
Our team is based in New York because we want employees who view agriculture in non-traditional ways. We want many different types of minds who are interested in agriculture. We view the dirt as a blank canvas. We throw anything at it, and that mantra enabled us to attract a lot of creative people in the industry.
In three years, our company will still be viewing the vegetable as the North Star. We intend to create this dynamic web of different SKUs and various eating formats through the vegetable. What I really love about the vegetable is it's the start of the process. You can create a million different dishes out of it. We have our clean ingredient sauces that are plant-based. We also have veggie bowls, honeynut squash, Jimmy Nardello peppers, and purple bell peppers.
We are always exploring ways to expand the way people eat vegetables, and it's only the beginning.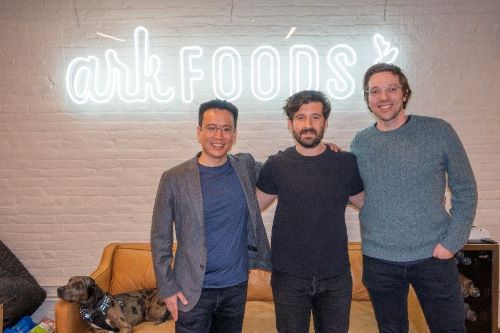 Photo: Food Institute managing partner and CEO Brian Choi (left), Ark Foods founder and CEO Noah Robbins (middle), and Ark Foods COO Ed Mestre (right). (Source: The Food Institute)
---
 The Food Institute Opinion
Our interview with Ark Foods' CEO Noah Robbins and COO Ed Mestre further reinforces these key observations about the current state of the food industry:
• Plant-based foods are here to stay. It's not a fad as some people think. The growth of plant-based foods is driven primarily by Millennials and Gen Z who represent about 50% of the U.S. population. Social media influencers, like Beyoncé, have driven faster adoption of plant-based products.
• The young generational cohorts (i.e., Gen Z and Millennials) are looking for innovation and authenticity in the products they buy. Ark Foods is a prime example of a company that took the familiar (e.g., vegetables) and added a twist to it (i.e., flavors and ingredients). The company's authenticity comes forth from the vision of its founder and CEO Noah Robbins.
• There are many driving forces behind the plant-based movement. The main motives behind consumers' decision to purchase plant-based are the following: taste, health, environmentally friendly, convenience, and an affordable price point.
The digital video of the interview will be uploaded soon on www.foodinstitute.com. Please contact managing partner and CEO Brian Choi with any questions. He can be reached at brian.choi@foodinstitute.com.