Sysco, Performance Food Group, and US Foods are the three largest foodservice companies in the U.S., representing a third of the industry collectively. In the past week, all three reported quarterly earnings and shared their views on the current state of their businesses and of the overall food industry. Their CEOs shared how the industry has changed due to the pandemic, and how their business models have shifted as a result. These are the key takeaways from their reports.
Organic Case Growth by Customer Group and Week (YOY % change)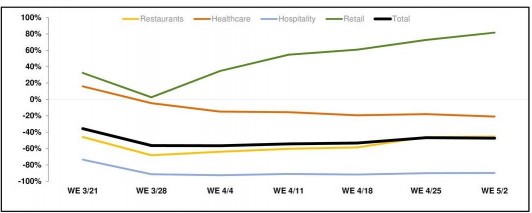 Source: US Foods Quarterly Presentation
Significant Decline and a Slow Recovery
The chart above from the US Foods presentation is an adequate snapshot of how the overall foodservice industry has been impacted by COVID. All three companies indicated declines of about -50% to -60% during the last two weeks of March. Since the bulk of their revenues comes from the restaurant sector, it is no surprise the impact has been so severe, especially when considering that most states issued stay-at-home orders. Since the March lows, the restaurant industry has seen slow and gradual improvement with US Foods reporting 15% sequential weekly growth and Sysco indicating similar growth numbers.
The recovery in the restaurant sector has come from multiple sources: food businesses receiving the SBA loans, individuals getting their stimulus checks, and restaurants taking advantage of curbside pickup and delivery. The increase in drive-thru sales has also been a factor, which points to the relative advantage that quick-service restaurants (QSRs) and drive-thru restaurants have had in the new environment.
Looking forward, the CEOs remain optimistic of a recovery. Many restaurants are expected to reopen over the next few weeks, consumer foodservice spending is increasing, and customers are wanting to eat out again based on recent polls.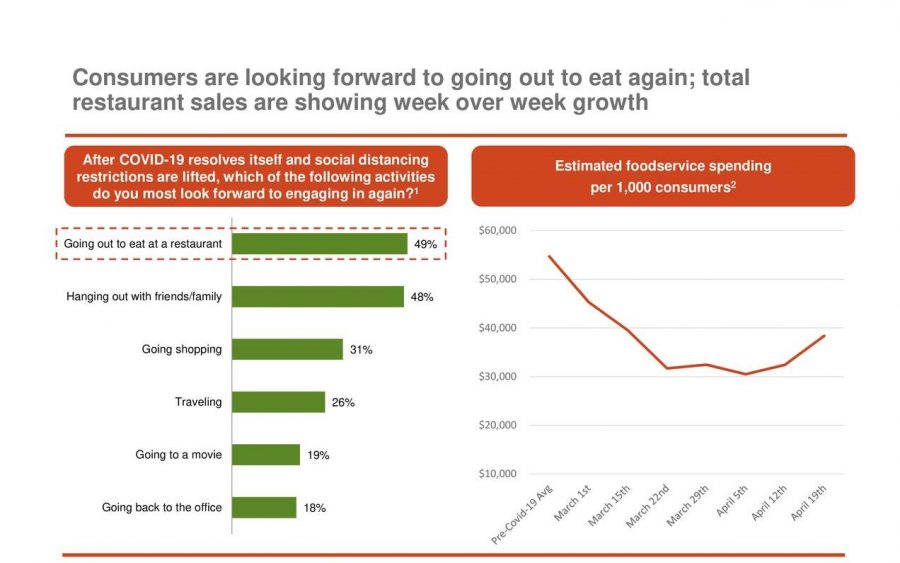 Source: US Foods Quarterly Presentation (Technomic Survey April 24, 2020)
Above and Beyond Customer Service
The big three foodservice distributors also shifted their approach to customer service during the pandemic. They included significantly more "value-added services" for their customers through various means:
Educational webinars on the CARES Act
Website development
Social media training
Digital sales training
Training and assistance with delivery and curbside pickup
New menu design
All these efforts are helping their customers navigate the challenges and complexities of the current environment. These ancillary services will likely prove to be a differentiating factor as we move into a post-pandemic economy.
Retail/Grocery Channels: A Growth Engine in Foodservice
Another interesting trend is the significant growth in the retail/grocery segments, as more consumers have spent time cooking at home and avoiding large public spaces. US Foods reported signing 30 new grocery retail partnerships, PFG signed 25 new retail partnerships, and Sysco also echoed similar growth in new retail accounts. The above chart highlights the growth in the retail segment, showing 80%+ growth in the week ending May 2.
Within the grocery segment, one new development is the increase in sales to the restaurant section in grocery stores ("grocerants"). US Foods and Sysco reported this trend as a potential new opportunity going forward.
Direct-To-Consumer: A New Platform for Foodservice
Due to the impact of the COVID pandemic, Sysco started rolling out direct-to-consumer (DTC) sales, an area of business that they did not participate in pre-COVID. Two of their companies (i.e., Buckhead Meat and FreshPoint) implemented several pop-up events that sell specialty meat and produce direct to consumers. Furthermore, through Sysco's new websites, onthefly.com within the U.S. and Sysco@HOME in Canada, consumers can now purchase restaurant-quality steaks to be delivered direct to their home.
Sysco also started offering will-call opportunities from their physical locations through web-enabled ordering. Customers can purchase product directly from one of their operating companies and pick up the product themselves. And lastly, within the consumer space, Sysco partnered with third-party logistics services to offer pre-packaged meal boxes, which consists of specialty produce delivered straight to the customer's front door.
Other distributors such as Baldor and Chef's Warehouse are also offering DTC sales. This is a trend that will likely continue as distributors search for more revenue opportunities.