Berries were a powerhouse throughout the pandemic and the category continues to thrive as convenience and nutritional appeal keep consumers coming back for more.
According to an April report by IRI, fresh berries are the number one category driving absolute dollar growth in the produce department. They also hold the third highest level of household penetration.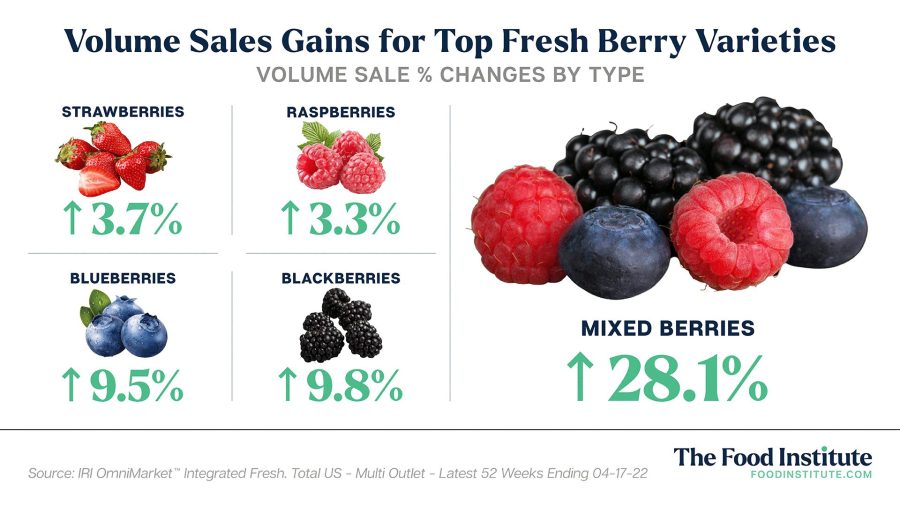 Dollar sales for fresh berries totaled $8.5 billion for the 52-week period ending April 17, per IRI data, outperforming apples ($4.2 billion) — the second largest grossing fruit category — by 50%.
While dollar figures were up 13.7% year over year, boosted by inflation, volume sales also increased 5.7% with significant gains across top performing varieties.

Inflationary Considerations
Price increases were seen across all top fruits and vegetables over the last 13 weeks and, as the report notes, there is no immediate indication that this trend will subside.
As of April 17, average price per volume for fresh berries was $4.15 — 6.6% higher than it was in 2021.
Nonetheless, "people are still looking to invest money in fruits," said Kate Allmandinger, a consultant at Fresh Center of Excellence, IRI in a related webinar. "Especially … when it comes to mixed fruit, which while only representing 3% of the total fruit category sales, is up 34% in dollars from a year ago."
Furthermore, consumer response to price changes varies by product, and berries are among a handful of fruits — including cherries, kiwis, and tangerines — that are less likely to feel the inflationary impacts.
"Shoppers may view these as more essential household items, so therefore they're less sensitive," said Robert Morales, principal and team lead for produce at IRI in the webinar, adding that retailers should keep these items in mind as potential store traffic drivers when thinking about promotions.

Growth Opportunities
By taking berries beyond traditional use occasions, retailers can further boost consumer purchasing frequency.
Examples include:
Offering different varieties, mixes, and pack sizes to intrigue shoppers
Leveraging merchandising to present buyers with enticing new ways to enjoy familiar favorites.
The e-commerce space is also ripe with opportunity.
Berries rank third in sales share across the top ten online fresh categories, with strawberries, blueberries, and raspberries all pulling slightly higher sales percentages online versus in store.
Products like strawberries are relatively easy to buy online, while items such as avocados, bananas, watermelon align with a more hands on consumer experience, noted Allmandinger.