Deck the Halls with International Delight and Elf
International Delight is partnering with the classic holiday movie Elf to transform fifty lucky fans' homes into their own winter wonderlands inspired by Buddy the Elf.
International Delight is delivering decorating kits inspired by Buddy. The at-home experience comes with magical décor including items such as twinkling lights, sparkling garlands, paper snowflakes and a "World's Best Cup of Coffee" sign. Winners can also find International Delight's take on the four main food groups for elves: candy, candy canes, coffee and creamer. Full Story
---
Automated Healthy Snacks
NatureBox launched an automated corporate snacking service for sending healthy snacks to remote teams ahead of any virtual Zoom meeting.
To get the snacks, the meeting host adds zoomsnacks@naturebox.com to any meeting. ZoomSnacks sends an automated opt-in message for attendees and arranges a Snack Pass for guests to choose from over 60 healthy amazing snacks at NatureBox.com. Snack boxes then arrive ahead of the meeting. ZoomSnacks recipients also enjoy a free annual membership to NatureBox. Full Story
---
Chick-fil-A Brings Back Seasonal Favorites
Chick-fil-A brought back the festive Peppermint Chip Milkshake and Chicken Tortilla Soup for a limited time.
First added to the menu in 2008, the Peppermint Chip Milkshake has become an annual tradition. The shake combines Chick-fil-A Icedream dessert with chips of peppermint bark topped with whipped cream and a cherry. The Chicken Tortilla Soup, which debuted in 2012, features shredded chicken with navy and black beans in a white creamy base with a blend of vegetables and spices.  Full Story
---
Give the Gift of Virtual Coffee Tasting Parties
Driftaway Coffee is offering Virtual Coffee Tasting Parties as a new gift offering for the holiday season.
Hosted by James McCarthy, 2013 World Coffee Brewer's Champion and Driftaway Coffee Educator, the Virtual Tasting can host up to 5 screens / 10 participants at one time, over Zoom. Driftaway sends coffee tasting kits to all participants just in time for their Virtual Tasting. In addition to the Virtual Tasting Parties, Driftaway will also host weekly tastings on Instagram Live for anyone to join. Virtual Tasting Parties are available now on the Driftaway Coffee website. Full Story
---
Bite-Sized Thanksgiving Turkey
With Thanksgiving already looking a little different this year, Perdue is trying something new.
ThanksNuggets are a limited-time offering that packs the flavors of the holiday into two nuggets: Breaded Breast Meat Turkey Nuggets and Breaded Dark Meat Turkey and Cranberry Nuggets. The drumstick-shaped dark meat nugget is inspired by traditional sides like cranberry sauce and stuffing, while the turkey-shaped white meat nugget is inspired by everyone's favorite Thanksgiving vegetable: sweet potato. Full Story
---
Red Lobster Gets Festive for the Holidays
Red Lobster is kicking off the 2020 holiday season with the release of limited-edition, festive gift boxes filled with Cheddar Bay Biscuits.
Starting Nov. 16, customers can order a half-dozen Cheddar Bay Biscuits To Go from RedLobster.com, which can be picked up in restaurant or conveniently sent to the recipient's door, via touchless delivery, where available. For $1 more, guests can select Half Dozen Cheddar Bay Biscuits in the limited-edition, festive gift box from the Biscuits & Extras section of the online ordering page of the website, while supplies last. Full Story
---
Pringles Turns Up the Heat 
For the first time, the Kellogg Co. is introducing a full collection of spicy Pringles.
The new Pringles Scorchin' lineup adds fiery heat to three Pringles originals: Cheddar, BBQ, and Chili & Lime. The chips are deigned to deliver a bold flavor followed by a heat that builds over time. For an even bolder experience, fans are encouraged to add Scorchin' crisps on their favorite Pringles stack to create the perfect spicy combination. The flavors will be available through a limited release in retailers nationwide beginning in December with a full release, including Grab & Go size, in 2021. Full Story
---
Cook All Things MTN DEW
PepsiCo's MTN DEW is launching its first-ever cookbook in time for the brand's 80th birthday.
The cookbook, titled the Big Bold Book of MTN DEW, is a compilation of fan-made, fan-inspired, and fan-favorited creations that includes nearly 40 dishes. Recipes range from quick and easy items, like two-ingredient cupcakes, to more advanced ones such as the Code Red Brisket. The cookbook will be available for a limited time for $30 on the DEW Store website the week of Nov. 16. Full Story
---
Dare to Pour on World's Hottest Canned Chili?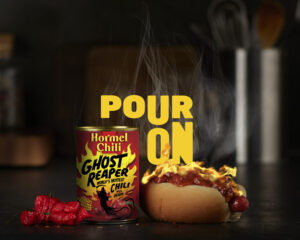 Hormel is now selling a limited-edition Ghost Reaper World's Hottest Chili with Beans.
Hormel took its signature chili with beans and added two of the world's hottest peppers: ghost and Carolina reaper. The combined peppers total more than 3 million Scoville Heat Units, so this chili packs a punch. It's sold as a two-pack alongside a can of Hormel Chili Hot with Beans—a spicier blend of America's No. 1 chili. Starting at 7 a.m. on Oct. 25, the hot offering will be available while supplies last on Target.com. Full Story