Food Institute members have unlimited access to past recordings – Webinar Library.

  
Not a Member? For as little as $99 you could have access to all webinar recordings – Learn more.
What's Ahead In 2021?
December 16, 2020 @ 2:00 pm

-

3:00 pm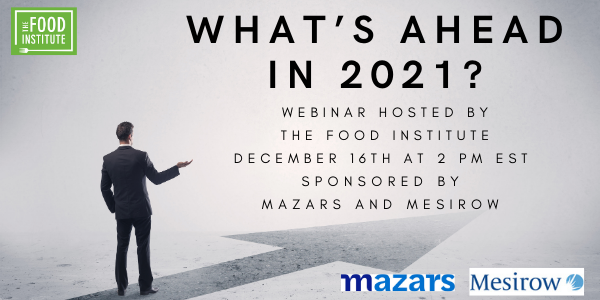 The food industry has gone through tremendous change over the past 12 months. 2020 has shown us that this industry can adapt quickly and pivot in the face of adversity. Join the Food Institute on December 16th as we host a panel discussion on what lies ahead for 2021.
The webinar brings together a panel of experts who will discuss some of the major trends they are seeing going into 2021. The panel will delve into some of the hotter trends in the food industry, including:
Health and Wellness and how this trend will affect food manufacturers, retailers, and foodservice establishments
How consumer habits and shopping trends are shifting buying patterns
The push towards the value spectrum and what food manufacturers and retailers are doing to capture market share
---
Featured Presenters
Bill Bishop
Chief Architect, Brick Meets Click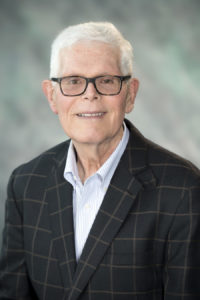 Willard (Bill) Bishop's interest in grocery retailing began while at Cornell University, where he developed a computerized supermarket model for supermarket site selection. After graduation, he was a Captain in the US Army doing systems analysis on projects ranging from helicopters to weapons systems, as the special assistant to the Deputy Commanding General of the Army Material Command. He began consulting to grocery retailers and CPG brands in the 70's with the goal of becoming an expert in some of the developments impacting grocery including capturing the benefits of UPC scanning, applying activity based accounting to item profitability, identifying strengths/vulnerabilities of new store formats and developing pricing models. Bill felt the impact of digital on online shopping early and wanted to help its impact. He's been deeply involved in the digital transformation of grocery since co-founding Brick Meets Click in 2011.
Robyn Carter
CEO of Jump Rope Innovation (JRI)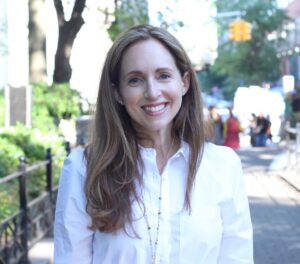 Robyn Carter is the founder and CEO of Jump Rope Innovation, a trends and innovation consultancy that brings consumer and category trends together in service of smart innovation. Robyn is also co-founder of IT! Factor, a tool that brings social media Influencers together with brands for future-forward research and idea development. Jump Rope serves some of the world's top CPG companies – including Unilever, Mondelez and Mars Wrigley – as well as clients in other industries such as nutritional supplements and foodservice.
Robyn founded Jump Rope Innovation in 2005, shortly after her son was born, so she is well versed in some of the parent-while-you-work challenges that many are facing today.
Before founding Jump Rope Innovation, Robyn's previous life was spent in advertising, working in both Account Management and New Business, helping to create and implement communications strategies for some truly iconic brands such as Capri Sun, Red Stripe, and Maxwell House. She graduated from Cornell University with a BS in Industrial & Labor Relations.
When she's not working (and sometimes when she is, as her husband joined her at Jump Rope as Managing Partner in 2018), Robyn enjoys spending time with her family, which includes her husband John, five kids, and a dog who thinks he's human. She loves travel, cooking and fitness, and in spite of her admittedly questionable athletic ability, she's completed three half-marathons with her daughter, Catherine. (All three in her hometown, Brooklyn, New York.)
Phil Lempert
CEO Retail Dietitians Business Alliance, Host of USFRA's Farm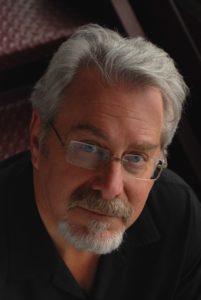 For more than 25 years, Lempert, an expert analyst on consumer behavior, marketing trends, new products and the changing retail landscape, has identified and explained impending trends to consumers and some of the most prestigious companies worldwide. Known as The Supermarket Guru® Lempert is a distinguished author and speaker who alerts customers and business leaders to impending corporate and consumer trends, and empowers them to make educated purchasing and marketing decisions.
As one of America's leading consumer trend-watchers and analysts, Phil Lempert is recognized on television, radio and in print. For twenty plus years Phil has served as food trends editor and correspondent for NBC News' Today show, reporting on consumer trends and showcasing new products, as well as regular appearances on ABC's The View, FOX Business, Dr. Oz, The Oprah Winfrey Show, 20/20, CNN, CNBC, FOX, as well as on local television morning and news programs throughout the country. For almost two decades, he hosted the syndicated show Shopping Smart on the WOR Radio Network and now hosts the weekly podcasts Lost in the Supermarket and the U.S. Farmers & Ranchers Alliance Farm, Food, Facts available on iTunes, Stitcher, SoundCloud, Spotify, Google Podcasts and Alexa.
---
This Webinar Is Sponsored By:
Mazars
Mazars USA provides food and beverage companies with the specialized expertise required to venture further in this dynamic industry environment. The more than 200 leading food and beverage manufacturers, distributors, restaurants, and importers who call us their trusted advisors are a testament to our deep market knowledge and global capabilities. We give you a competitive edge to maximize results. For more information please visit https://www.mazars.us/Home/Industries/Consumer/Food-beverage.
Mesirow Financial Investment Banking
Mesirow Financial Investment Banking focuses exclusively on middle-market transactions and serves both public and private companies in merger & acquisition advisory, debt advisory, restructuring, and special situations, fairness and solvency opinions, the board of directors advisory, and special committee representation. Our practice combines rich industry knowledge and long-standing relationships with an entrepreneurial desire to develop tailored solutions designed to deliver measurable results. For more information, please visit www.mesirowfinancial.com/investmentbanking