Food Institute members have unlimited access to past recordings – Webinar Library.

  
Not a Member? For as little as $99 you could have access to all webinar recordings – Learn more.
The Journey of Selling Your Business: Key Takeaways from a Founder's Perspective
May 18 @ 2:00 pm

-

3:00 pm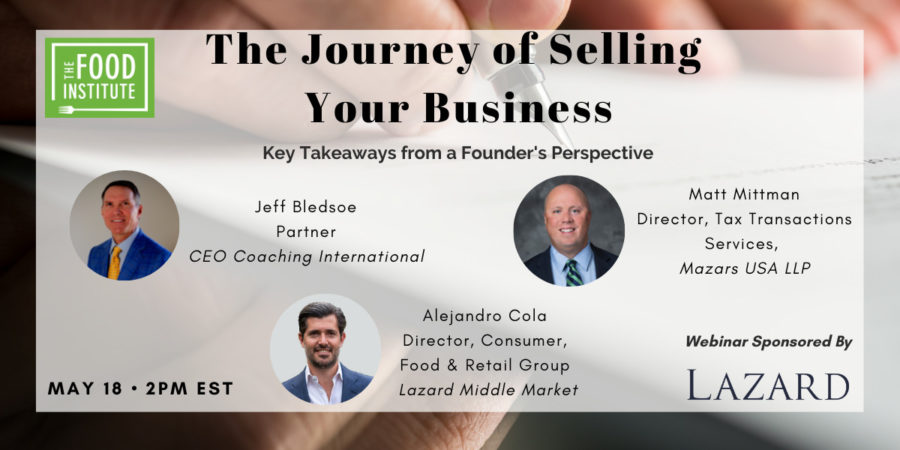 The Journey of Selling Your Business
Key Takeaways from a Founder's Perspective
With strong M&A market conditions and likely significant tax changes, 2021 may be the ideal time to explore a liquidity event. Are you and your business ready for an exit? Our panelists will discuss the steps to prepare your business for an M&A transaction, current market conditions, and the tax changes that may be enacted in 2022.
Jeff Bledsoe, former CEO and Founder of Five Star Custom Foods, will share his experience and provide valuable insights into the intricacies of selling a business and the lessons learned – before, during, and after – his successful sale.
The process of pursuing a liquidity event is time-consuming and has several nuances in each of its stages. You and your team will embark on an emotional journey for which you need to be prepared and surrounded with the right advisors. Alejandro Cola of Lazard Middle Market and Matt Mittman of Mazars will share their experience in helping business owners navigate the process.
The proposed tax changes could go into effect on January 1st, 2022, and the process of selling your business could take between six and nine months – so the time to act may be now!
This event will be recorded and sent to all registrants.
This webinar is sponsored by:
Lazard Middle Market LLC
Lazard Middle Market LLC, a subsidiary of Lazard Ltd (NYSE: LAZ), provides customized advice on mergers and acquisitions, debt and equity recapitalizations, and financial restructurings to mid-sized companies across a broad range of industries. Our food-dedicated bankers have played key advisory roles in some of the most important, complex, and industry-defining transactions. For more information about our Consumer, Food & Retail Group, visit here.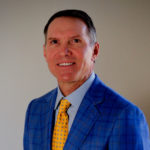 Jeff Bledsoe
Partner, CEO Coaching International
Jeff Bledsoe is a proven CEO and entrepreneur with success creating value and solid business relationships. Jeff was a founding partner and CEO of Five Star Custom Foods, a custom food manufacturing company where he grew the business from start-up to over $200MM in revenue with manufacturing locations in two states. Jeff led his business through a successful sale to Cargill in 2016.
As CEO of Five Star Custom Foods Jeff raised capital, managed cash flow and led the company to rapid growth and quick profitability. He managed the business from the start-up, entrepreneurial stage through the growing pains associated rapid growth and scale. He successfully grew the capital-intensive business by attracting world class talent and leading the team to exceptional performance. He is passionate about personal development and helping others clarify their objectives and achieve their potential by challenging, supporting, and guiding them to their definition of success.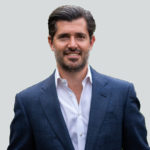 Alejandro Cola 
Director, Consumer, Food & Retail Group, Lazard Middle Market
Alejandro Cola is a Director and senior member of the Consumer, Food & Retail group at Lazard Middle Market. He has more than 17 years of investment banking experience advising public and private companies on M&A and capital markets transactions.
Prior to joining Lazard Middle Market, Mr. Cola worked at KeyBanc Capital Markets where he covered the food and beverage space working on a variety of transactions, including financing and M&A. Some of Mr. Cola's clients included Chobani, Pulmuone, Ajinomoto, Mizkan, ThreeHouse Foods, KeHE Distributors, and Lipari Foods, among others. Prior to that, he spent several years advising companies and investors across Latin America and working as a teaching assistant in the Department of Corporate Finance at Universidad de la República in Uruguay.
Mr. Cola holds a Master of Business Administration degree from the Owen School of Management at Vanderbilt University and an Economic degree from Universidad de la República in Montevideo, Uruguay.

Matt Mittman
Director, Tax Transaction Services, Mazars USA LLP
Matthew Mittman is the Director, Tax Transaction Services at Mazars USA LLP. Matthew has over 20 years of experience providing tax consulting and advisory services. He has worked with clients in several industries, including private equity and alternative investments, manufacturing and distribution, professional services and technology. These services have included buy- and sell-side tax risk assessment and due diligence, transaction structuring and planning.
Matthew has advised several large and middle-market national and international private equity and alternative investment funds and various underlying portfolio companies. He regularly works with other Mazars' tax and advisory professionals throughout the United States and internationally. Matthew's writings are also frequently published in well-respected trade magazines related to current tax matters.