Food Institute members have unlimited access to past recordings – Webinar Library.

  
Not a Member? For as little as $99 you could have access to all webinar recordings – Learn more.
The Future Of Plant-Based Foods
January 27 @ 2:00 pm

-

3:00 pm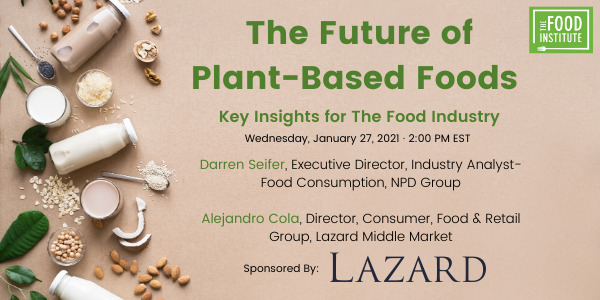 With plant-based meat products stepping to the forefront in 2020, many food industry insiders expect plant-based foods to become an even larger part of our diet moving forward. This webinar will provide an overview of the current state of plant-based foods, and where they're headed in 2021.
Co-presenters Darren Seifer of NPD and Alejandro Cola of Lazard Middle Market will offer expert insight into the subject. Darren will explore the growing popularity of plant-based meat, dairy and grain products, along with rising demand for next generation plant-based alternatives. Alejandro will examine the M&A activity in plant-based foods and its key drivers, as well as strategics' distinct approach to enter the space, with a look into the future of the market.
---
Featured Presenters
Alejandro Cola
Director, Consumer, Food & Retail Group, Lazard Middle Market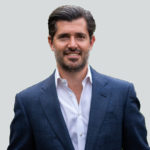 Alejandro Cola is a Director and senior member of the Consumer, Food & Retail group at Lazard Middle Market. He has more than 17 years of investment banking experience advising public and private companies on M&A and capital markets transactions.
Prior to joining Lazard Middle Market, Mr. Cola worked at KeyBanc Capital Markets where he covered the food and beverage space working on a variety of transactions, including financing and M&A. Some of Mr. Cola's clients included Chobani, Pulmuone, Ajinomoto, Mizkan, ThreeHouse Foods, KeHE Distributors, and Lipari Foods, among others. Prior to that, he spent several years advising companies and investors across Latin America and working as a teaching assistant in the Department of Corporate Finance at Universidad de la República in Uruguay.
Mr. Cola holds a Master of Business Administration degree from the Owen School of Management at Vanderbilt University and an Economic degree from Universidad de la República in Montevideo, Uruguay.
Darren Seifer
Executive Director, Industry Analyst-Food Consumption, NPD Group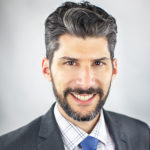 As the food & beverage industry analyst for The NPD Group, a leading market research company, Darren provides insights based on NPD's ongoing food-related research to organizations and companies across the country. Prior to joining NPD in March 2007, he was an analyst with IRI, and spent over seven years examining consumer packaged goods trends, and worked with a variety of industry leaders covering dozens of food and beverage categories. He is the author of several NPD reports and provided the analysis for NPD's recently published study, The Future of Plant-based Snapshot: The Seeds for Growth Are Planted.
---
This Webinar Is Sponsored By:
Lazard Middle Market
Lazard Middle Market LLC, a subsidiary of Lazard Ltd (NYSE: LAZ), is a leading middle market investment bank that provides customized advice on mergers and acquisitions, debt and equity recapitalizations, and financial restructurings to mid-sized companies across a broad range of industries, including consumer, food/agriculture, and e-commerce/retail. Our Consumer, Food & Retail Group bankers have played key advisory roles in some of the most important, complex, and industry-defining transactions. Since 2000, they have completed more than 300 transactions for entrepreneurs, private equity groups, and corporations, many of which are award-winning, strategic, and cross-border. The firm leverages the global resources of Lazard, which include professionals in 40 offices across 25 countries in North America, Europe, Asia, Australia, South and Central America. For more information, please visit www.lazardmm.com.