Food Institute members have unlimited access to past recordings – Webinar Library.

  
Not a Member? For as little as $99 you could have access to all webinar recordings – Learn more.
2020 Food Labeling Seminar
October 7, 2020 @ 1:00 pm

-

October 9, 2020 @ 4:00 pm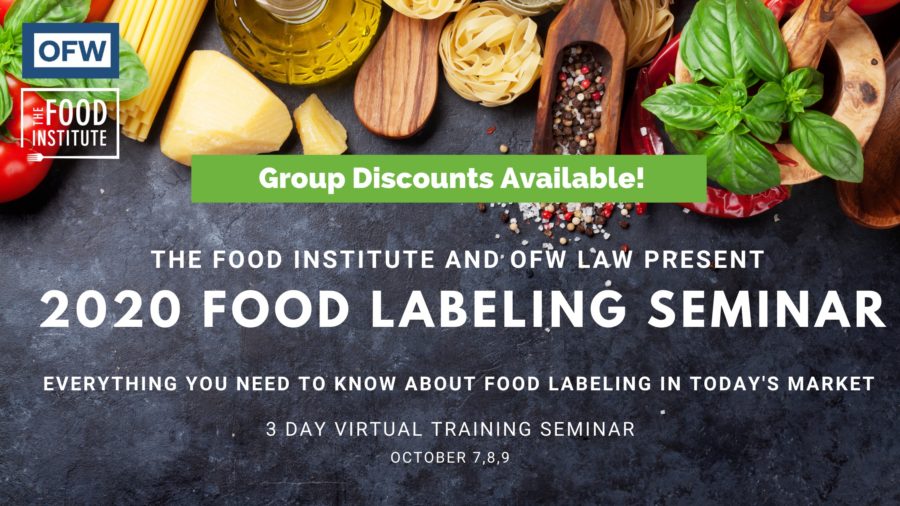 The Food Institute and OFW Law are presenting their popular U.S. Food Labeling Seminar.
Attendees will first learn the basics of FDA's and USDA's food labeling requirements.   Attendees will then explore the rules for authorized food labeling claims (such as healthy, gluten-free, organic) and requirements for GE labeling and country of origin labeling.  The seminar will next cover the murky area of undefined claims such as natural, artisan, and wholesome.  Special attention will be given to FDA enforcement, compliance actions by self-regulatory authorities, and lawsuits brought by class action attorneys.  Special sessions will be devoted to clean labels, the impact of nutrition labeling, and future trends and developments.
---
3-Day Virtual Training Seminar.
• Wednesday, October 7, 1:00pm – 4:45pm ET (Sessions 1 & 2)
• Thursday, October 8, 1:00pm – 3:30pm ET (Sessions 3 & 4)
• Friday, October 9, 1:00pm – 3:00pm ET (Sessions 5 & 6)
---
Why should you attend?
Online access – This year's labeling course will again be held virtually, making it easier than ever to attend.
Customization – Access the full seminar or choose which sessions are most important to your business.
Replay on-demand – You will have the option to attend live or on-demand.
Q&A session – You can ask an experienced lawyer your specific labeling questions. (All questions submitted during the webinar will be answered within 48 hours
---
Speaker: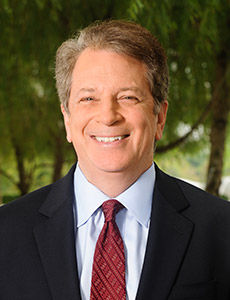 Bruce Silverglade is a principal at OFW Law. His practice includes resolution of competitive disputes involving food labeling and advertising claims, proactive responses to FDA regulatory proposals, management of class action lawsuits, FDA and FTC enforcement actions challenging food labeling and advertising claims, implementation of FDA food labeling regulations, matters concerning economic adulteration, and federal nutrition policy.
Bruce has extensive experience with such issues on both the national and international levels working with top officials at FDA, FTC, USDA, the Canadian government, the Japanese government, the European Commission, and international agencies including the Codex Alimentarius Commission and the World Health Organization. He speaks and lectures extensively on such issues, and is often quoted in the media as a recognized expert in the field.
This online seminar series features six sessions. You can register for the full seminar below. All sessions will be recorded and available for replay.
---
Agenda
Session 1: Food Labeling – The Basics (90 minutes)
(October 7, 2020 1:00 PM ET)
A soup to nuts session detailing mandatory labeling requirements that all food companies must comply with, including the name of the product, net weight, name and address of manufacturer, ingredient labeling, and nutrition labeling. Get your product on the market now and know that you are in compliance with all of FDA's basic requirements.
Session 2: Food Labeling Claims Part I – What FDA and USDA will let you say (120 minutes)
(October 7, 2020, 2:45 PM ET)
Includes a comprehensive discussion of the rules for health claims, structure/function claims, nutrient content claims, no added sugar claims, as well as GE, organic, fresh, healthy, gluten-free, made in the USA label statements.
Session 3: Food Labeling Claims Part II – what else can you say on a food label and who will be watching (90 minutes)
(October 8, 2020 1:00 PM ET)
Undefined claims;
The class action trap;
Case studies
How to avoid becoming a target.
Session 4: Nutrition Labeling 2020 (45 minutes)
(October 8, 2020, 2:45 PM ET)
How FDA's new Nutrition Facts label is influencing marketing trends and consumer purchasing decisions.
Session 5: Clean Labels – What they mean and what they don't (45 minutes)
(October 9, 2020, 1:00 PM ET)
What is a clean label?
Legal status
The evolving nature of clean labels
Newest trends and developments in clean labeling
Session 6: What's Ahead – The Food Labeling Frontier (60 minutes)
(October 9, 2020, 2:00 PM ET)
What's coming up – the newest developments on food labeling trends; the impact of Covid-19 on food labeling requirements, front of pack labeling, standards of identity revisions, claims on social media, labeling of products containing CBD, and other cannabis-derived substances.