Food Institute members have unlimited access to past recordings – Webinar Library.

  
Not a Member? For as little as $99 you could have access to all webinar recordings – Learn more.
Food Industry M&A: What to Expect in 2021 & Beyond
March 17 @ 2:00 pm

-

3:00 pm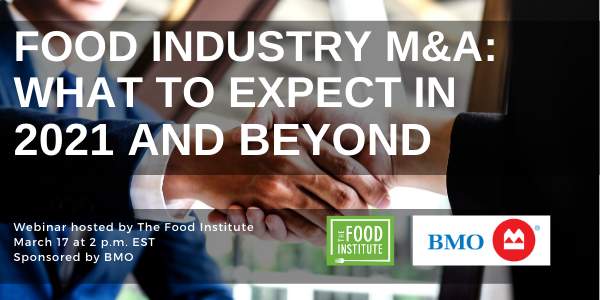 Food Industry M&A: What to Expect in 2021 & Beyond
Key Takeaways for the Food Industry!
This webinar, hosted by the Food Institute, will look at the major trends among food industry M&A in 2020 and 2021, current market conditions and the overall M&A landscape, featuring presentations by Lech J. Czerski of BMO Capital Markets and David Schoeder of The Food Partners.
Lech J. Czerksi will discuss the current M&A market conditions for the major food industry segments and companies, reflecting on recent transactions, as well as the status of the equity and debt markets, and other industry conditions.
David Schoeder will give an update on M&A in the food retail sector, taking a look at out how the supermarket landscape is changing and what the future may bring for food retailers over the next year.
The topics covered in the webinar will include the following:
M&A interest levels among both strategic and investor groups
Capital availability on corporate balance sheets and investment funds
Portfolio rationalization among major food companies
National vs. regional fundamentals in the food retail space
Consolidation trends in food retail
Valuation multiple expectations in 2021
This webinar is sponsored by:
BMO Harris Bank
Food, Consumer and Agribusiness Group
Whether you're a producer, processor, retailer or distributor, every company throughout the food continuum needs a financial partner that understands the factors that can impact their business. From emerging consumer trends and industry consolidation, to commodity fluctuations and economic cyclicality, our experienced team of specialists understands the issues affecting your company. We use that knowledge to develop tailored solutions that address your needs and helps you achieve your vision. To learn more about how we can help, visit bmoharris.com/food.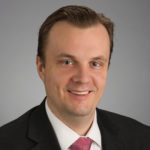 Lech J. Czerski
Director, BMO Capital Markets Mergers & Acquisitions Group
Lech J. Czerski is a Director in the BMO Capital Markets Mergers & Acquisitions Group. Lech has over 13 years of M&A experience advising clients on both public and private assignments, including buy-side and sell-side M&A, divestitures, strategic partnerships, joint ventures, take privates, and spin-offs. Prior to joining BMO Capital Markets in 2014, Lech worked in the Mergers & Acquisitions Group at Bank of America Merrill Lynch in New York. Previously, he was in the Corporate Strategy Group at State Street Corporation in Boston. Lech has an MBA from the NYU Stern School of Business, an MS in Finance from Suffolk University, and a Bachelor of Science from Boston College.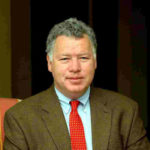 David Schoeder
Principal, The Food Partners
David Schoeder is the Principal at The Food Partners. David has over 30 years of investment banking experience within the food industry specializing in acquisitions, divestitures, debt restructuring, private placement, and strategic advisory services. He is also a leading national expert on capitalization and governance issues relating to cooperatives and private companies.
In addition, he has extensive experience with the installation of ESOP's for companies in the food sector. Prior to founding TFP, he served as managing director at both KPMG Retail Ventures and the Cooperative Funding Corp., the investment banking affiliate of National Cooperative Bank.

This event will be recorded and available for replay.