Food Institute members have unlimited access to past recordings – Webinar Library.

  
Not a Member? For as little as $99 you could have access to all webinar recordings – Learn more.
Food as Medicine: A Transformative Approach To Health & Wellness
April 15 @ 2:00 pm

-

3:00 pm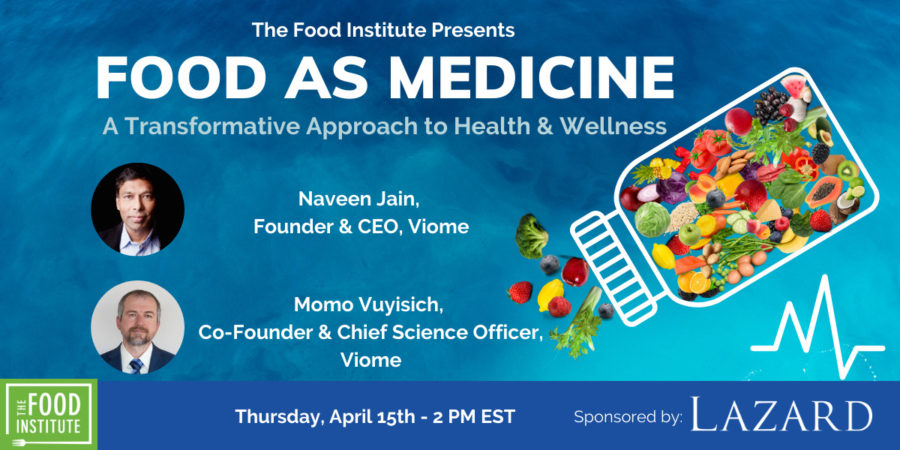 Food as Medicine: A Transformative Approach to Health & Wellness
A Discussion with the Founders of Viome!
"Let food be thy medicine and medicine be thy food." — Hippocrates
The "food as medicine" concept has been around for some time but has gained significant traction recently, as consumers put their health and well-being front and center, especially in the midst of COVID 19. The concept generally refers to the idea of using diet and nutrition to promote overall health and wellness.
In this Food Institute webinar, we invite two leaders in the food as medicine industry — Viome executives Naveen Jain (CEO) and Momo Vuyisich (Chief Science Officer) — to share how their company is tackling health-related issues with the latest science behind the gut microbiome.
Find out how Viome is specifically leveraging the science behind gene expression to deliver truly personalized insights, food recommendations, and supplements. The ultimate goal: to help prevent, manage, and even eliminate the effects of some of the world's most chronic illnesses.

This webinar is sponsored by Lazard Middle Market.
Lazard Middle Market LLC, a subsidiary of Lazard Ltd (NYSE: LAZ), provides customized advice on mergers and acquisitions, debt and equity recapitalizations, and financial restructurings to mid-sized companies across a broad range of industries. Our food-dedicated bankers have played key advisory roles in some of the most important, complex, and industry-defining transactions. For more information about our Consumer, Food & Retail Group, please click For more information, please visit here.


Naveen Jain
Founder & CEO, Viome
Naveen is an intensely curious entrepreneur who is not afraid to take on the audacious ideas that will push humanity forward. He is the author of the award-winning book Moonshots: Creating a World of Abundance. His current moonshot adventures are Viome and Moon Express. As a serial entrepreneur, he previously founded InfoSpace, Intelius, and TalentWise.
Viome's singular mission is to "make illness optional." Viome has built an AI-driven platform that analyzes the interaction between food, our microbiome, and our human cells in order to develop precision nutrition to prevent and reverse chronic diseases.
Moon Express is the only company globally with permission to harvest resources from the moon—developing the infrastructure needed to push humanity forward towards a true multi-planetary society.
In addition to his current moonshots, he is the Vice Chairman of the Board at Singularity University, where he focuses on educating and inspiring leaders to utilize innovative technologies to address humanity's greatest challenges. He is also on the Board of the XPRIZE Foundation, an organization that uses incentivized prize competition to push the limits of what's possible — to change the world for the better.
Naveen has been the recipient of many honors for his entrepreneurial successes. These include: "Entrepreneur of the Year" by Ernst & Young, "Most Creative Person" by Fast Company, "Top 20 Entrepreneurs" & "Lifetime Achievement Award" for the leadership by Red Herring. "Medal of Honor" by Ellis Island, and "Top 50 Philanthropists" by Town & Country Magazine.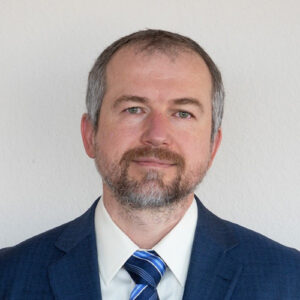 Momo Vuyisich
Founder & Chief Science Officer, Viome
Momo is a scientist and entrepreneur whose motto is "the only way to predict the future is to build it". He wants to spend the rest of his life building a better World, where all people will be free of chronic diseases and cancer, have access to advanced education, and have an equal opportunity at a great quality of life. He also wants to create a peaceful World, where political leaders cannot create wars for their personal gain and send innocent people to their deaths.
Momo's PhD training in biochemistry enabled him to understand the human body as an ecosystem, whose complexity goes far beyond the human genes. As a government scientist at the prestigious Los Alamos National Laboratory, he led large international teams of brilliant scientists to develop the most advanced genomic technologies and apply them to a variety of applications, such as infectious diseases, cancer, toxicology, human physiology, microbiology, virology, etc. To make a global impact, Momo left his government job and co-founded Viome, where he now leads many complex product development and clinical research programs. His teams of scientists and technologists will enable Viome to make illness optional and create many other applications towards a healthier World.
This event will be recorded and available for replay.