Food Institute members have unlimited access to past recordings – Webinar Library.

  
Not a Member? For as little as $99 you could have access to all webinar recordings – Learn more.
Chile Connected – Food Innovation
September 21 @ 11:00 am

-

September 23 @ 1:00 pm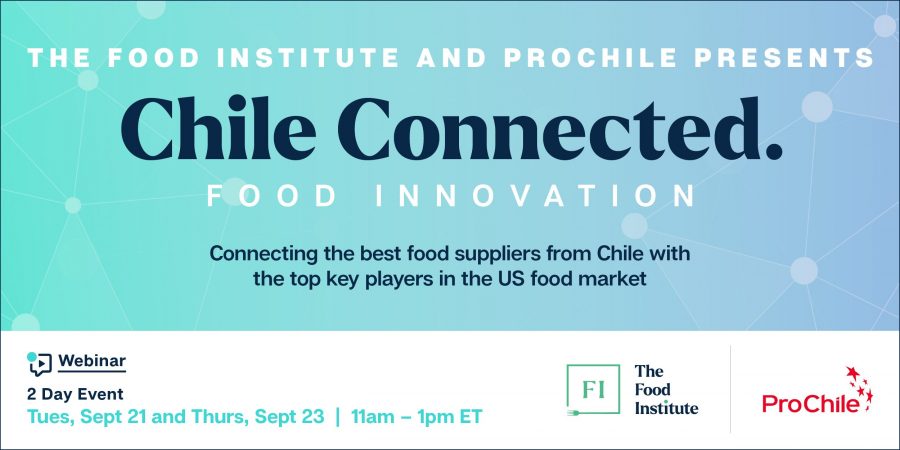 Chile Connected – Food Innovation 
The Food Institute is pleased to partner with ProChile to put together an education and matchmaking program designed to highlight some of Chile's most innovative food companies and products. The program is designed to help educate and facilitate virtual meetings with prospective US partners (e.g., retailers, importers, distributors, brokers, etc.)
The program will feature company presentations from 14 leading Chilean companies that manufacture innovative products such as plant-based meats, functional foods, berries and fruit juice derivatives, low-sodium salt, spices, and superfood protein bars.
Who Should Attend?
• Food Retailers
• Food Distributors
• Brokers/Sales Agents
• Importers
• Investment Partners
2 Day Virtual Event. Dates and Times Below:
• Tuesday, September 21, 11:00am – 1:00pm ET
• Thursday, September 23, 11:00am – 1:00pm ET

Virtual B2B Matchmaking
The virtual B2B matchmaking experience aims to create direct connections between Chilean producers of healthy food and beverage products and US based buyers. This initiative will also include a series of company presentations where participants will be able to learn about Chile's most recent trends in food innovation. The categories for B2B matchmaking include:
Fresh Fruits, Organic and Regular
Frozen Fruits, Organic and Regular
Frozen Fruit pulp, Organic and Regular
Fruit Juices, Organic and Regular
Functional Ingredients (I.E. Freeze dried super fruit powders)
Healthy Consumer packaged food
Plant-Based Foods
Organic Teas
Salt and Spices
To register for matchmaking, please follow the instructions on the following link and feel free to browse the brochure of companies and products.
Participating Chilean Companies
• Andes Wisdom Chile
• Aukas
• Bayas del Sur
• Berrysur
• Brota Superfoods
• Cormo Alimentos
• Etnia
• Garden of Andes
• Myco Bites
• Nativ for Life
• Quelp
• Sow Seeds of Wellness
• Vilkun
• Wild Protein
We look forward to supporting Chilean food and beverage producers through this initiative and look forward to having you participate!

If you have any questions about this event, please contact:
Brian Choi, The Food Institute
CEO/Managing Partner
brian.choi@foodinstitute.com
Paola Garcia, The Food Institute
Business Development Director
paola.garcia@foodinstitute.com
Ron Tanner, The Food Institute
Senior Advisor
ron.tanner@foodinstitute.com
Christophe Desplas, ProChile
Chile Trade Commissioner New York
cdesplas@prochile.gob.cl