Food Institute members have unlimited access to past recordings – Webinar Library.

  
Not a Member? For as little as $99 you could have access to all webinar recordings – Learn more.
Carbon Labeling
February 4 @ 1:00 pm

-

3:00 pm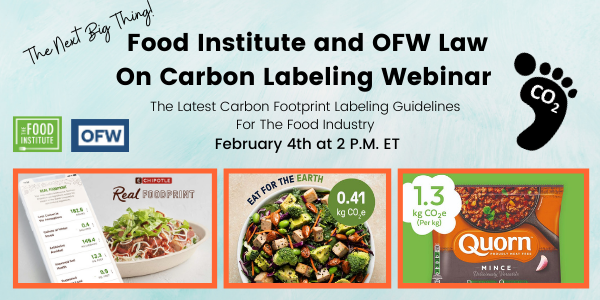 Carbon Labeling
Carbon Footprint Labeling for Food Manufacturers and the Food Service Industry
It's the Next Big Thing
Consumer demand for information regarding the foods they eat is continually evolving.  Over the last 25 years, demand for nutritional information, bioengineered disclosures, and "clean" ingredient listings have all had a major impact on marketing in the food industry.
Today, companies of all sizes, ranging from Quorn (a meat substitute producer) to PepsiCo and Nestle, are implementing or considering carbon rating programs that inform consumers on the impact a particular food can have on the environment.  The trend has spread to other companies in the foodservice industry such as Panera and Just Salads, who have rolled out carbon ratings for many of their menu items.
Consumer interest on the environmental impact of foods is rising given the new emphasis on combating climate change.  Global warming is caused primarily caused when there is too much carbon and other air pollutants and greenhouse gases collect in the atmosphere.  These gases spread around the planet like a blanket, keeping in solar heat that would otherwise be radiated out into space.  Consumers are increasingly discovering that about 25% of global carbon emissions come from food production.
More and more consumers are recognizing that they can help slow climate change by choosing foods that produce fewer carbon emissions. Industry members that address consumer concerns by providing carbon ratings on processed foods and menu items can gain a distinct advantage in the marketplace.
Get ahead of the curve with this webinar, sponsored jointly by the Food Institute and OFW Law, which will provide a step-by-step guide on how to plan and responsibly implement a carbon footprint rating system for your products, while staying within regulatory boundaries that can be difficult to ascertain.
The webinar will provide a comprehensive look at this emerging labeling trend and will include:
A review of the impact of food production on climate change
Parameters of a carbon labeling program
The origins of carbon footprint labeling for foods
What companies are now doing to provide carbon labeling of processed foods and menu items
Factors to consider when deciding whether to provide carbon footprint rankings
How to choose a third-party accreditation and certification program
A review of the legal framework for carbon rating disclosures
The role of the US Department of Agriculture, the Federal Trade Commission, and the Food and Drug Administration
Best practices and safe harbors for providing carbon footprint ratings
Who Should Attend:
Food and Beverage Industry Professionals – Develop a carbon labeling program for key product lines
Food Manufacturers – Learn about specific examples of how companies provide carbon ratings
Retail Executives – Examine marketing strategies for implementing carbon rating programs
Regulatory Affairs Professionals – Learn the legal boundaries of carbon labeling programs
Chief Sustainability Officers – Develop best practices for a carbon labeling program Quality Assurance VPs – Learn how to choose a dependable certification program
Foodservice Operators – Gain insight into how certain restaurant operators have started to leverage carbon ratings
Eco-Business Consultants – Get ahead on the latest marketing strategies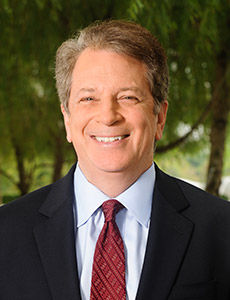 Speaker: Bruce Silverglade
Bruce Silverglade is a principal at OFW Law. His practice includes tracking food labeling trends, resolution of competitive disputes involving food labeling and advertising claims, proactive responses to FDA regulatory proposals, management of class action lawsuits, FDA and FTC enforcement actions challenging food labeling and advertising claims, and implementation of food labeling regulations.
Bruce has extensive experience with such issues on both the national and international levels working with top officials at FDA, FTC, USDA, the Canadian government, the Japanese government, the European Commission, and international agencies including the Codex Alimentarius Commission and the World Health Organization. He speaks and lectures extensively on such issues and is often quoted in the media as a recognized expert in the field.
This online course will be recorded and available for replay.