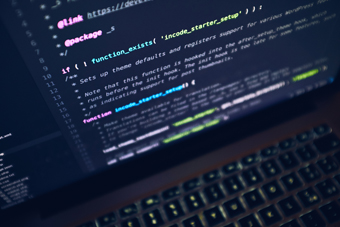 Foodborne illnesses are a major problem in the food industry, as they can be difficult to track and catch in a timely manner. The most recent available data from the CDC shows that in 2015, there were 902 foodborne disease outbreaks reported, resulting in 15,202 illnesses, 950 hospitalizations, 15 deaths, and 20 food product recalls. Fish, chicken, and pork were the most common single food categories implicated, and the most outbreak-associated illnesses were from seeded vegetables, pork, and vegetable row crops.
The industry has been working for years on a solution that will help curb these outbreaks, and it may finally have an answer: blockchain technology.
In the words of IBM, "blockchain is a ledger with an algorithm that enables a distributed network of nodes to continuously reach consensus on the content of blocks of data. When this algorithm is deployed, the blocks are ordered to form a constantly growing linear chain, in which each block is linked to a previous block and can only be appended to the end of the chain. This gives rise to an immutable append-only log of operations that take place during the deployment."
In simpler terms, a blockchain is a public database that is continually updated, easily verifiable, and virtually impossible to be corrupted. As IBM puts it, "blockchain...produces 'one version of truth' that cannot be easily tampered with and which is constantly being distributed across the network to all parties." It was originally created for the digital currency Bitcoin, but is now being discovered by other industries as a way to increase transparency and improve data management.
A group of food companies are now teaming up with IBM to explore how to apply blockchain technology to their supply chains. The coalition includes retailers and food companies such as Walmart, Unilever, Nestle, Dole, Kroger, McCormick and Co., McLane Co., Driscoll's, Tyson Foods, and Golden State Foods. The companies aim to use blockchains to maintain secure digital records and improve the traceability of their products, reported Fortune (Aug. 22).
Walmart has been working with IBM for a little while now, and has run two blockchain tests so far. It tracked Chinese pork and Mexican mangoes, and was so impressed by the results that it began reaching out to other suppliers and retailers to increase use of the technology. Howard Popoola, Kroger's VP of corporate food technology and regulatory compliance, noted that the industry is "ripe for a solution" like blockchain, adding that Walmart's experience with the software gave the tech "legitimacy."
Food companies are hoping the technology will allow them to simplify their supply chains with automatic tracking of important information, such as temperature and quality of goods, shipment and delivery dates, and safety certifications of facilities. While no trials have been announced yet, this partnership is expected to greatly boost the adoption of blockchain technology in the industry.