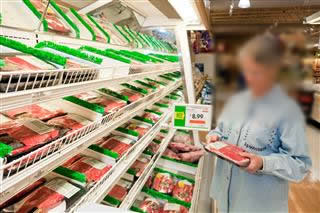 Most consumers agree protein is an important part of any meal, but not everyone uses it in the same way. Dinners used to consist of a one protein at the center of the plate, such as roasted chicken or a steak, with other items like starches and vegetables as sides. Now, households are changing the layout of their meals, and putting the traditional meat on the sidelines.
Consumers are buying less meat and using it more as an ingredient than the focus of the meal. According to The NPD Group, 51% of meals that use meat feature it as an ingredient instead of in the center of the plate, up from 47% 10 years ago. Pounds of fresh meat sold in the U.S. has also fallen four out of the past five years, according to IRI. As a result, supermarkets and meat suppliers are focusing more on cuts that are easier to prepare and take less time. For example, Omaha Steaks developed a slew of new products that are pre-made, pre-portioned, or easier to cook, such as its a rapid "roast line" that can go directly from the freezer to the oven. Hy-Vee also added value-added products to its butcher counter such as fajita mix, three-cheese chicken breast "grillers" and bacon-wrapped corn on the cob.
Industry analysts say there are a few factors leading to the shift. Time is one, as many consumers find less time to prepare a large cut of meat. That is also balanced with cost. Even though beef prices are high, Americans are willing to pay more for pre-made meats that are convenient. They are also looking for value added meats, and ones that offer unique flavors. There is also more competition, especially as people turn to healthier foods and are eating more yogurt, eggs and snack bars as their protein.
The most popular meats are also always changing, especially as prices for beef and pork fluctuate. Hog farmers are facing low pork prices as overproduction after the Porcine Epidemic Diarrhea virus (PEDv) outbreak in 2013 led to a surplus. Lean hog futures prices on the Chicago Mercantile Exchange dropped 42% from July 2014, which saw record highs. As competition grows overseas and herds continue to get larger, combined with a strong dollar, prices are projected to get even lower.
With prices so low, pork sales were up 12.5% in June over the previous month, while chicken only increased 3% and beef fell 2.2%. Some supermarkets are even promoting pork more to deal with the increase in supply. The National Pork Board found retail advertisements for pork increased 16 percent in June compared to a year ago. Experts say the increased market share for pork is unlikely to last, though, as protein sales are mainly tied to price.