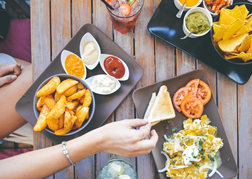 A lot of research goes into figuring out how to market to Millennials because, let's face it, no one really understands them. As a Millennial myself, I can't even tell you what we want, mainly because I'm not sure who even qualifies as a Millennial (some say it ranges from those born between 1980-1995, while others say it goes from 1985-1999). In addition, given the technological and cultural changes that have happened in those 15-20 years, the people who qualify as a Millennial may be quite different. For example, a person at the older end of the spectrum would be over 30 years old, possibly married with children, who grew up in the late 80s and early 90s with no cellphones, and early-stage computers and internet. But on the other end of the range, someone born in say 1997, would still be under the legal drinking age, most likely in college, and growing up never knowing a world without smartphones and social media.
While it still may take some time to pin down just what Millennials are thinking (and by that time a new, younger generation will probably be of more concern), a common thread among demographic research seems to be that Millennials are willing to spend money on things that will save them time and create a memorable experience. In the food industry, that comes down to two things: foodservice and e-commerce.
New research from Acosta shows that 23% of older Millennials (ages 30 to 34) and 14% of younger GenXers (ages 35 to 39) are considered frequent CPG e-commerce shoppers because they purchase groceries online an average of 50% or more of the time. The study also found that 70% of frequent e-commerce shoppers have children and 68% of frequent e-commerce grocery shoppers in urban areas have taken advantage of direct-to-home grocery services and 67% have used third-party delivery.
Still, 97% of all CPG dollars are spent in brick-and-mortar retail stores. Grocery shoppers continue to prefer brick-and-mortar retail when they want to personally select their produce and when they seek fresh meats, cheeses and other chilled categories. Grocery purchases remain concentrated in grocery retailers and mass retailers, while natural channel shoppers and drug channel shoppers are most likely to purchase groceries online.
All of these metrics again point to Millennials. The most frequent online grocery shoppers are people with children, living in urban areas, who like to shop at natural channel stores. Sounds like a Millennial consumer to me.
Other research finds that Millennials on average dine out at least three times a week, compared to 40% of all Americans who say they only eat out once a week, according to a survey from Bankrate.com. Over half of younger Millennials (ages 21-26) go out to a bar once a week and 29% of Millennials ages 18 to 26 buy brewed coffee around three times a week.
Regardless of who you think is classified as a Millennial and what their background might be, it is clear that experiences, like going to a bar or restaurant, and conveniences, like shopping online, are things that definitely should be geared to Millennials to make the most of the spending power of this influential generation.