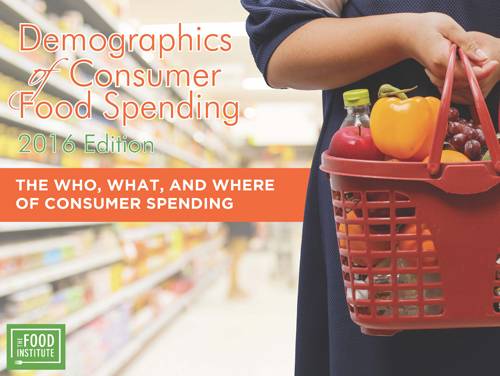 Retailers and manufacturers are constantly trying to figure out what demographic groups should be the focus of their marketing. It is important to know who spends the most, and in what categories they are most likely to center their budgets on. Recently, Millennials (those currently between the ages of about 18-35) have been the target of most of the hype, touted as the group that companies most need to impress. However, marketers might need to shift their gaze to another large demographic: Hispanics.
A study by Morgan Stanley analysts found that Hispanics will exceed the shopping totals of Millennials by 2020, due largely to their growth in income and population across all ages. Hispanics are expected to increase their retail spending by 1.6 percentage points in the next five years, outpacing Millennials' 0.6 percentage points and whites over the age of 65's 0.4 percentage points. One of the main areas analysts predict will see increases is food at home.
While Hispanics may be poised to outspend Millennials, it is also important to note that the majority of Hispanics in the U.S. are also Millennials. The average age of the U.S. Hispanic population is 29, and about 60% of Hispanics are Millennials or younger. And don't forget: All Millennials Hate Being Grouped as Millennials, anyway.
Morgan Stanley analysts predict Starbucks Corp., Panera Bread Co., Wingstop Inc. and Jack in the Box Inc. stand to benefit the most from Hispanics' increased spending, even though the group tends to eat at home. They forecast an increase in convenience, with restaurants offering more meals to go and an investment in delivery. Casual dining restaurants such as Olive Garden and Outback Steakhouse face a more difficult future, as the majority of their customers are in older age groups.
According to the Food Institute's Demographics of Consumer Food Spending 2016, consumers under the age of 25 spent about 56% of their food budgets on food at home in 2014, while Hispanics spent about 62.5% on food at home. Hispanics also spent more of their budgets on food overall, as consumers under 25 spent about 13.5% of their overall annual expenditures on food, while Hispanics spent about 15.1%. Both group's spending on food was down from the previous year, though, as in 2013, Millennials spent about 14.2% of their expenditures on food, while Hispanics spent about 16.1%.
Region may also be an important demographic for manufacturers and retailers to note. Consumers in the Midwest spent the highest percentage of their annual expenditures on food at 13.3%, but those in the West actually spent about $280 more on food than people in the Midwest. Shoppers in the Northeast are the biggest spenders in the meats, poultry, fish and eggs category, while those in the West spent the most on fruits and vegetables.
While it can be difficult to pin down exactly which consumer group is the biggest spender, it is important for the food industry to take note of each demographics' preferences so companies can focus their efforts on those most likely to become customers.