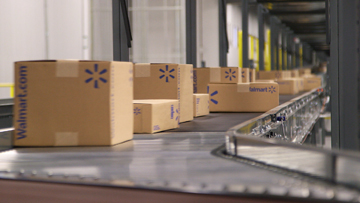 Since its inception, Walmart has always been a behemoth in the brick-and-mortar retail industry. It quickly became one of the top retailers for a whole host of products, including grocery items. However, with the advent of e-commerce and the emergence of companies like Amazon, being a leader in brick-and-mortar is no longer enough. Now, Walmart is trying to innovate in the e-commerce space, to maintain its place at the top of the retailing industry.
One of its more widely-covered pilot programs was its in-home delivery service, which aims to not only deliver fresh groceries and other items directly to customers' homes, but also enter shoppers' homes with a digital lock and place perishable items in the fridge. This announcement is still receiving a lot of press, almost three weeks after it was posted, as many people are concerned that this is one step too far in the name of privacy. However, the company has been making many other moves in the online retailing sector of which other retailers and CPG companies should take note.
Walmart will add 1,000 locations for shipping online grocery orders in fiscal 2019. It currently ships online orders from more than 900 U.S. locations, reported Reuters (Oct. 10). The company's U.S. online sales grew 60% in its latest quarter, and it expects 40% online sales growth in fiscal 2019.
Additionally, Walmart will launch a new in-store returns service called Mobile Express Returns. The program allows shoppers to return items in the store by logging the purchase on the Walmart app, generating a QR code for the transaction, and then walking into a physical Walmart store to return or exchange the items quickly, reported TechCrunch (Oct. 9). The service is due to launch in November and will roll out to all of Walmart's stores in the U.S. It aims to expand the same returns service to cover third-party sellers on Walmart.com's online marketplace.
The retailer also acquired Parcel, a last mile delivery startup. Parcel delivers packages with same-day, overnight and two hour windows, and will be used by Walmart for deliveries of both merchandise and groceries in New York City. Walmart plans to expand Parcel's customer base and scale over time, and leverage its partnerships with meal kit, grocery, and e-commerce companies, and employ its services like scheduled evening delivery and custom text message notifications. It anticipates the acquisition will allow the company to continue testing ways to offer fast delivery while lowering its operating costs.
Walmart is also looking to increase grocery sales on its Jet.com subsidiary, with the launch of a private label brand featuring 60 food and household items, according to a person familiar with the matter. Walmart is selling its own branded products on Jet.com, but they are not resonating with younger consumers, according to industry experts, reported New York Post (Sept. 28).
The new line, called Uniquely J, will include "essentials like coffee, olive oil, laundry detergent, paper towels, and more," according to a statement from the company. Sources expect the products will be sold exclusively on the site for the first year and will later sell on Walmart.com. They may also one day be sold in Walmart stores, further bridging the gap between online and offline sales.